This page may contain affiliate links and we may earn a small amount of money from any products bought. Our reviews, however, remain independent and impartial.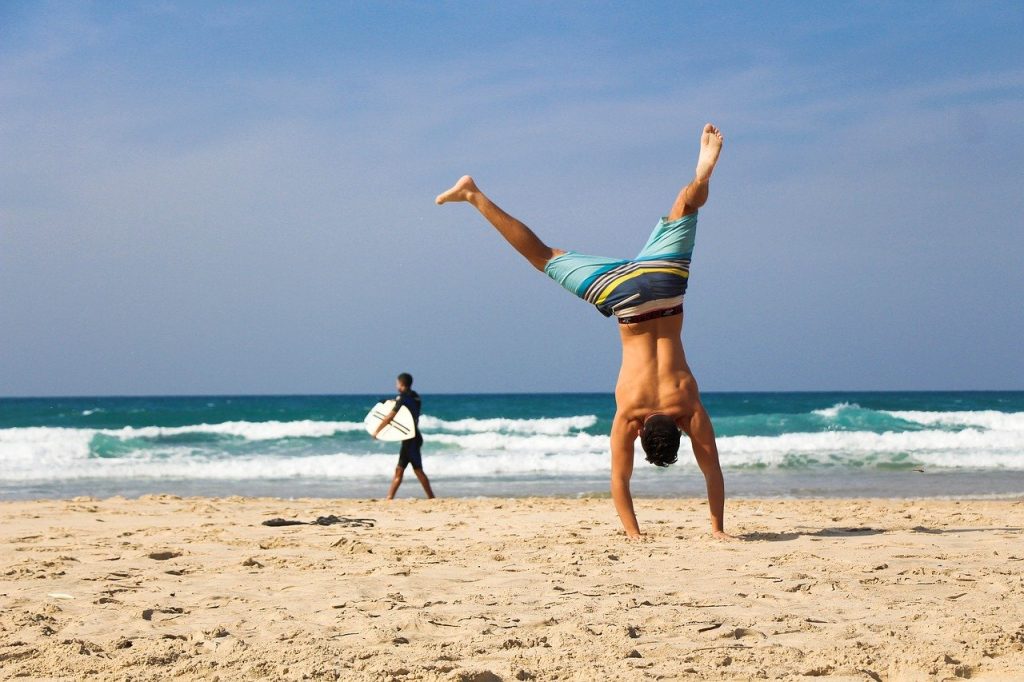 There are days where I feel I am dragging myself along. Other days, I'm doing fine until the inevitable 4pm lull, which is when I find myself reaching for the chocolate or the caffeine (often both!) to get me through the rest of the day. I don't like energy drinks and I worry about drinking too much coffee… but what other (safe) alternative is there?
Sound familiar?
If this is a common concern for you, rest easy, because now there are options. Safe stimulatory and non-stim alternatives to downing several vats of coffee a day. Where you don't have to worry about negative side effects (jitters, anxiety) or developing a tolerance (so you need more and more to get the same effect). Where you can take a pill to boost both your physical and mental energy. Allowing you to get on with your day without crashing or flaking out.
In short, a new generation of energy supplement or stack that focuses on keeping you energized and healthy. We're fans of two products in particular, Performance Lab Energy and Performance Lab Stim.
Before we examine both in detail, let's look at recent developments in the market…
Energy Boosting Trends for 2020
Energy at a cellular level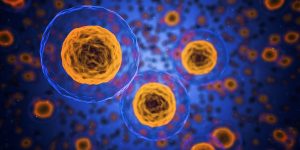 The supplement market is awash with stim products that flood your nervous system and hype you up, but the new energy trend for 2020 is something much calmer, and healthier. Pioneering manufacturers are creating natural energy boosters that work with your body, encouraging it to produce more of the natural ATP energy it already creates to power your every action.
By working with the body's own mitochondria, these products create energy at a cellular level, which is then used to do, well, pretty much everything in the body. The mitochondria traditionally convert the fatty acids and glucose in your food into this ATP energy.
The difference between this form of energy booster and stimulants? Stimulants provide an instant boost of energy, but it tends to be at the cost of long-term physical and cognitive performance. In contrast, energy boosters that focus on mitochondrial energy not only boost said energy but actually promote long-term health and improved performance.
A choice between strengthening your body or weakening it. A simple choice when we put it that way, isn't it?
Safe Stimulants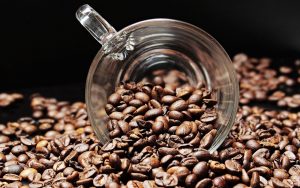 While caffeine isn't a true nootropic, there's no doubt that it works – at least in the short term – as a boost to energy, as well as cognitive and physical performance. It's why we need our coffee fix first thing in the morning.
Taking a stimulant stack every day, however, isn't necessarily ideal for all the reasons we mentioned above. Our advice would be to take a non-stim energy supplement as your base — such as our recommended Performance Lab Energy – and back it up with a stim-energy stack as and when you need a little extra boost.
The key is to choose a stim stack that uses a healthier, cleaner version of caffeine, with safer customizable doses and additional ingredients to help balance the caffeine and aid recovery. If it also helps to tackle the impact of stress on the body, even better. Such as a mix of caffeine and l-theanine, or caffeine and l-tyrosine.
We believe we've found all the above in Performance Lab Stim, a 'vitality pill' that is already designed to work perfectly in sync with Performance Lab Energy.
Both recommendations come from one of our favourite supplement manufacturers, Opti-Nutra.
About Performance Lab
The Performance Lab range by Opti-Nutra prides itself on being one of the cleanest, purest but effective supplement ranges on the market. Their range stems from multivitamins to nootropics to energy, vision and sleep supplements, all the way to traditional sports supplements, such as Protein, Carb, Pre- and Post-Workouts and more.
All products are 100% vegan friendly, free from GMO, soy, gluten and other allergens, are produced in FDA-approved laboratories to GMP standards, and, down to a single product, have been scientifically researched and carefully formulated.
They are premium products and, in a world full of bunk and overhyped supplements, it's nice to find a supplement manufacturer you can trust. That's how we feel about Performance Lab.
Yes, they are a business at the end of the day so need to make money, but they have ethical principles and a commitment to the customer that we find inspiring.
For now, we're going to focus on two of its products specifically… Performance Lab Energy and Performance Lab Stim.
First though, a brief caveat. If you're up parting until 4am, drinking alcohol or a dozen coffees a day, there's a limit to how much these supplements – indeed any supplements – can do for you. You need to take care of the basics first.
Natural Ways to Boost Energy
Sleep more (if you can) for more energy. 7-9 hours a night is ideal. Trouble sleeping? Introduce a healthy pre-sleep routine which involves no blue light from telephones, laptops or tablets at least an hour before bed. No coffee after mid-afternoon will also help. You may want to consider an all-natural sleep supp like Performance Lab Sleep.
Talking of light, make sure you get enough exposure to natural light throughout the day. Your natural circadian rhythm – which dictates your sleeping and awake hours – responds to sunlight.
Eat healthy. Make sure you get enough protein (ideally with every meal) and make at least 60% of your meal fruits and vegetables. They are easier to digest than processed foods and will give you more natural energy.
Doing the above will also help to make sure you are taking in the right vitamins and minerals to keep your body going. A lack of magnesium (a common problem for many of us) can cause fatigue, among other issues. You can find magnesium in nuts, whole grains, seeds, bananas, fatty fish, leafy greens, legumes and avocado. Vegetarians and vegans may also struggle to gain enough vitamin B12, as it's mostly found in fish, meat, eggs and milk. A lack of B12 can make you feel extremely tired. If you're not eating these foods, you may want to consider supplementing with a B12 or magnesium supplement, or a multi-vitamin to ensure you're getting all the minerals and vitamins you need. We recommend Performance Lab Whole-Food Multivitamin for men or women.
If you're doing all the above as well as you can, the following two energy stacks should make a significant difference to your day…
Best Energy Stacks to Buy in UK in 2020
Performance Lab Energy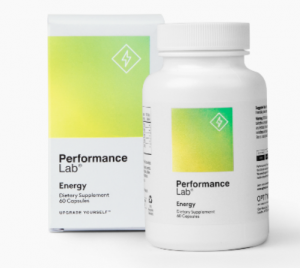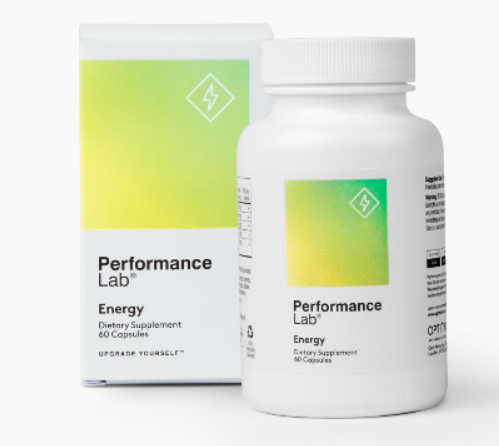 A ready-made non-stim boost in energy when you need it…
Why we like it: Performance Lab Energy doesn't just load you up with stimulants to kickstart your energy. No, it tackles your energy dearth at a cellular level, offering support for the mitochondria which generates your body's natural ATP (adenosine triphosphate) energy.
About Performance Lab Energy
Effective mitochondria are needed to convert the food we eat into the nutrients and fuel to generate energy. This ATP energy, the original source of energy in the body, fuels the muscles, brain and almost every single process or action our bodies make as we go through the day. Lots of energy available and you can power through life. A shortage and you may suffer mental and physical shortcomings, poor thinking, and more.
Performance Lab Energy, therefore, aims to address the underlying causes of fatigue, without relying on stimulants.
It does so via a mixture of key supplement shown to help mitochondrial health, such as:
ALCAR (Acetyl-L-Carnitine), 750mg
ALCAR is ideal for both energy production at the cellular level and promoting muscle energy. It transports fatty acids into the mitochondria where they are converted into energy. 95% of carnitine in the body is stored in the muscles, helping to power muscle tissue and protect it too. ALCAR is also a known nootropic.
R-Lipoic Acid, bio-enhanced,150mg
As well as being an antioxidant, this natural form of lipoic acid is needed for the mitochondria to work effectively. It helps to activate the enzymes needed for the energy processes in the body.
Coenzyme Q10 (CoQ10), 100mg
CoQ10 is present in every cell of the body, most concentrated in areas that require high energy such as the brain and the heart. Supplementation of CoQ10 helps to boost its energy-giving qualities. CoQ10 encourages new mitochondrial cell growth, helps to generate new ATP energy and also acts as an antioxidant.
It has been shown to help with memory and brain fog, acting as a nootropic, and to boost exercise too.
Helps existing mitochondria to function effectively and encourages the growth of new ones. Acts as an antioxidant to counter oxidative stress on the cells. Another recognized nootropic, which shouldn't be a surprise as the brain has the most mitochondria cells of any area in the body. PQQ, therefore, can also aid thinking, alertness and memory; it also helps the growth of new neurons.
BioPerine, Black Pepper Extract, 2.5mg
An excellent addition to this formula, BioPerine is so valuable because it helps the body to absorb more of the nutrients within Performance Lab Energy. Making it more potent.
Performance Lab  Energy works on several fronts – at its heart, it is a clean all-natural energy booster that tackles your lack of energy at a cellular level. It doesn't need stimulants therefore you avoid the inevitable energy crashes or side effects that come with stimulant formulas. It provides more of your body's natural energy, making it readily available for the processes in your body.
Another benefit is that as most of the mitochondria are situated in the brain, it works as a nootropic in several different ways. Giving the brain more energy and banishing fatigue, helping you to think clearer, perform better and remember more.
You may also find that the BioPerine included in Performance Lab Energy helps with the absorption of other supplements or medicines you are taking. ALCAR also boosts testosterone so may give your sex life a boost too.
Read our Full Review of Performance Lab Energy
BUY: Direct from Performance Lab
PAIRS WELL WITH:
Performance Lab Stim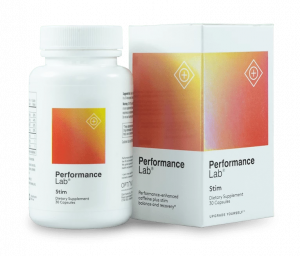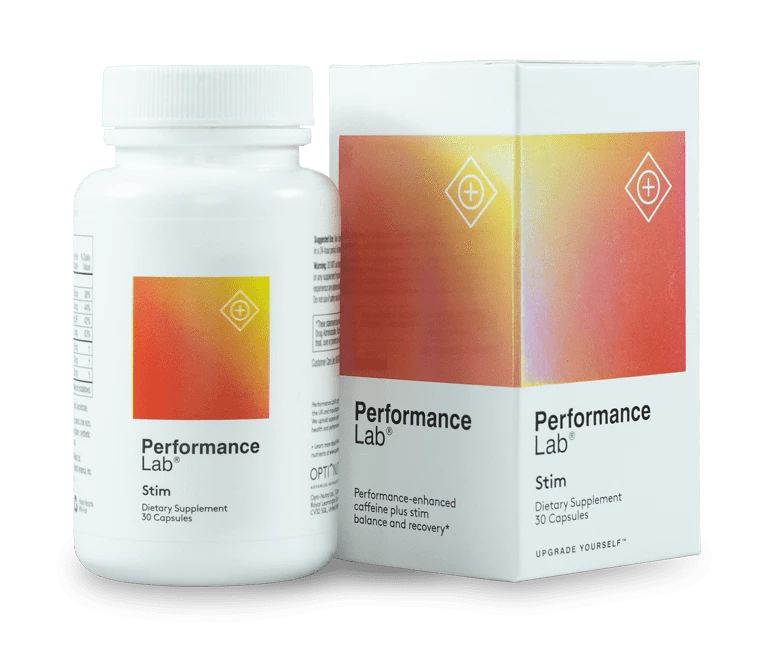 A gentle boost of 'smart caffeine' for those days when you need more
Why we like it: Performance Lab are known for all-natural stim-free products, but with Performance Lab Stim they've decided to opt for stimulants… and, thanks to a very clever formula, they have managed to create the ultimate crash-free clean energy pill. Providing more physical and cognitive energy with sharpened focus without the post-energy slump or brain fog.
About Performance Lab Stim
Stim is Performance Lab's first product made with caffeine. It's quite a departure for the company, which has numerous stim-free sports supplements, nootropics and more. But with Performance Lab Stim, they've provided an energy pill/ caffeine pill which gives a caffeine boost without the crash, jitters or side effects. Providing safe, clean and effective stimulation.
The impressive thing about Stim is its versatility.
Each pill provides 50mg of natural caffeine – a low enough dose to give you a gentle buzz but also customizable, allowing you to decide your down dosage. You can take one, two or three pills, however much you need on a given day, without overdosing. When many other formulas include a whopping 200mg caffeine, making you take a huge amount per serving, Performance Lab Stim offers you the chance to customize your own dose, and/ or to mix it safely with other stim, or non-stim, supplements. Such as Performance Lab Energy.
Includes L-theanine for balance to create 'smart caffeine' – studies show caffeine and L-theanine work together more effectively than if they are included alone. Caffeine offers the energy bump you need, while L-theanine not only helps to promote the improved focus and energy, but also to reduce any potential side effects, such as anxiety, jitters and more. The combination offers you a 'calm alertness' that helps you deal well with stress. The 2:1 ratio included here is optimum.
Performance Lab Stim also includes L-tyrosine for recovery, helping to replenish depleted neurotransmitters (norepinephrine, dopamine), typically burnt out or diminished when operating under stimulants. Again, avoiding the post-energy crash.
B-vitamins (B2, 6, 9 and 12) are related to bioenergy and neurochemical synthesis and tend to be depleted by caffeine intake. Supplementation is very useful.
As a result of all the above, Performance Lab Stim is not just a basic caffeine or energy pill, but also offers nootropic brain support. Helps you to multitask, boost your memory, mood and alertness and deal with stress.
Also provides energy for exercise, endurance and focus, especially if paired with a good pre-workout. We recommend Performance Lab SPORT Pre, a stim-free pre-workout. The beauty of Performance Lab is that all products are designed to be used safely in conjunction with one another if you so choose, allowing you to stack supplements.
Read our Full Review of Performance Lab Stim
BUY: Performance Lab Stim
Performance Lab Stim + Performance Lab Energy Stack
Here's your perfect energy stack: Performance Lab Energy PLUS Performance Lab Stim.
Yes, you can take either supplement on its own and enjoy some impressive benefits but combine them and you have an ideal vitality formula. A cellular energy boost, courtesy of Energy, with a customizable dose of safe caffeine in Stim.
A one-two stack that boosts your energy, nourishes the brain and promotes improved cognitive power. Helping you to get through the day without crashing, flagging or brain fog.
A perfect combination.