This page may contain affiliate links and we may earn a small amount of money from any products bought. Our reviews, however, remain independent and impartial.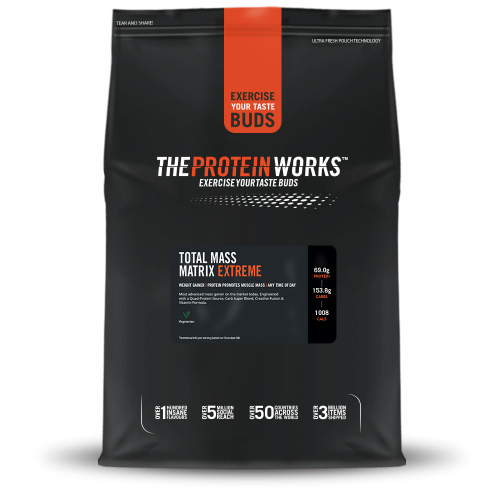 The Protein Works is a relatively big name in sports nutrition. They've nabbed a couple of awards along the way, achieving number 1 sports nutrition brand on Trustpilot, and their Whey Protein 80 has previously won Best Protein of the Year.
Their Total Mass Matrix Extreme (not to be confused with the less extreme Total Mass Matrix) has been causing stirs, being touted as the most nutrient and calorie-dense mass gainer on the market. Mass gainers are all about high carbs and protein, acting as a calorie boosting supplement to get you into a calorific surplus, so this is a strong claim.
But what we're all about here at Supplement Reviews UK is exactly what those nutrients are, and whether they work together to deliver.
So, is this the big shake that all ectomorphs have been looking for, or is it as gut-churning as the 265g serving suggests…? Let's take a look.
---
» See the #1 Mass Gainer This Year «
---
Ingredients
          TPW™ Quad-Blend Protein Source
Whey Protein Concentrate
The least processed form of whey, and therefore the cheapest, whey protein is typically found to have between 35-80% protein (mainly closer to the latter) and is a crucial ingredient for the majority of dairy-based protein shakes and mass gainers.  It has been seen in a number of studies to boost muscle protein synthesis when consumed alongside resistance training.
You know the deal with whey: fast absorbing, highly researched and bursting with amino acids, the proteins in whey are the building blocks that your muscles need post workout.
Micellar Casein and Milk Protein
Where whey is fast, casein is slow. With longer chain proteins that take time to break down and the nature of how casein forms a 'gel' in the gut, casein provides long-lasting protein for muscles long after the initial flood needed post-workout. It's for these properties that may athletes and gym-goers value casein over whey.
Milk protein is a less processed form of milk derived protein, and so has more milk-carbs and fat than whey or casein, usually containing an 80/20 split of casein to whey. It's a cost-effective source protein that's widely used in mass gainers as the extraneous carbs and fats are actually beneficial to boosting the calories of the shake.
The combination of the two is great, cost effective, calorie-boosting and a great way to get your slow-absorbing protein in your mass gaining diet.
Soy Protein
This is an odd one to see.
Similar to whey, soy protein also comes as a concentrate and an isolate and also has a comparable rate of absorption. The Protein Works don't provide us with which kind this is, so it's probably safer to assume it's the cheaper concentrate.
Either way, soy protein is a viable non-dairy option, but it has less Essential amino acids than whey protein — and more importantly for muscle building — less BCAAs. In fact, it has a whole 30% less Leucine than whey protein (Leucine being our muscle protein synthesis-promoting BCAA).
So… the only thing I can think of is that in the large amount of powder, the texture of the soy protein provided a thinner more mixable consistency than with just more whey. Either way, this isn't a non-dairy shake, and for the shakes purpose, whey would be better.
          TPW™ Multi-Source Carbohydrate Blend
Maltodextrin
Maltodextrin is a fast absorbing, very high GI carbohydrate (GI of 130); it's a long chain of glucose molecules made from starch. It's favoured in mass gainers that try to pack as much calories into the shake as possible thanks to its dense calories but isn't an ideal carb for frequent consumption due to its ability to dramatically spike blood sugar.
Oat Flour
Oats are a great source of low GI carbs, even in their powdered form. This is most likely where a fair chunk of the enormous 153.5g of carbs in Total Mass Matrix Extreme comes from, and that's a good thing. A quality source of carbs, oats are also high in beta glucans which are sugars that have been shown to reduce (LDL) bad cholesterol, as well as risk of heart disease and stroke.
Whey Permeate
Whey permeate is a by-product of making whey protein. It's a spray-dried bulking agent used in instant soups, confectionery and powdered beverages. There's not much research into it, so there's not too much to say other than it provides some of the protein in their blend but it's not particularly effective when it comes to muscle building. It's most likely included to aid in the mixing of the huge quantity of powder.
Dextrose
Dextrose, unfortunately, is another name for glucose. 100 in the Glycaamic Index. This'll spike blood sugar. This mass gainer has a listed 55.3g of sugar… which is very high when considering the NHS recommends not exceeding 30g of sugar a day.
TPW™ Supergrains
A blend of Buckwheat Flour, Flaxseed, Kamut Flour, Freekeh Flour, Chia Seeds, Amaranth, Quinoa Powder, Spelt Flour, Teff.
This is a thoughtful addition. This blend of grains provides a variety of complex carbs, vitamins and minerals. Many of these grains will also contain plenty of fibre, which is something that will be needed in a bulky shake like this. The total fibre per serving is about 8g, which isn't bad.
Medium Chain Triglycerides
MCTs are a man-made fatty acid processed from coconut and palm kern oil that are incredibly calorie dense. It's probably this attribute that sees its inclusion in Total Mass Matrix Extreme. However MCTs have also been linked to increase exercised performance and, conversely, fat loss.
Creatine Monohydrate
One of the most researched fitness supplements available, creatine is a must-have when it comes to quality mass gainers. Saturating your muscles with the front-line energy they need during intense exercise (phosphocreatine), creatine boosts your power output, allowing you to breakdown muscle more effectively in the gym.
A real shame is that The Protein Works don't list the amount of Creatine per serving. For such an important supplement this is a shame as you're now at risk of under or over dosing.
Glutamine
The most abundant amino acid found in the muscle, Glutamine has been used by strength athletes for years and is common in mass gainers. It's an understandable ingredient, allowing for quick absorption post workout, but whey and casein are extremely high in glutamine, so it's not vital.
---
---
Pros
High protein content
Micellar casein and milk protein for long lasting protein
Oat flour is a quality carb for mass, low GI
The Supergrain blend is a great addition that elevates the carb profile and adds fibre
Medium chain Triglycerides for dietary fat and performance
Contains creatine
Vitamin and mineral blend for general health and recovery
Cons
Very high sugar content. Twice RDA
Contains both maltodextrin and dextrose
Soy protein seems unnecessary and adds another allergen
Not a huge amount of reviews on amazon
No weight of creatine listed
Reviews 
Safety/ Side Effects
Always read the allergens listed, but other than this, you shouldn't experience any side-effects.
Some people report stomach upset and bloating with mass gainers, and this is probably going to be a factor here. The serving size is huge.
How to Take It?
To a shaker containing 600-700ml of water or milk, add (wait for it) 5 large scoops, or 265g, and shake well.
The Protein Works recommend taking between 1-3 servings per day.
Who Takes It?
Total Mass Matrix Extreme is a mass gainer for people who struggle to eat enough to put on muscle. At 1000 calories per serving, this is for hard gainers.
Conclusion
The Protein Works Total Mass Matrix Extreme definitely earns the 'Extreme' in its name. For me, it somewhat embodies the perceived image of mass gainers from the last decade — thick, calorie-dense and full of sugar.
I don't want to be too harsh on TPW, this has the hallmarks of a great protein recovery shake: great blend of fast and slow acting protein, quality carbs, the Supergrains blend is something I really like, and overall it serves the purpose it's marketed to. But the great things about Total Mass Matrix Extreme are overshadowed.
The fact is, a quarter of the carbs listed in this shake are from sugar, coming in at 55g. But this is exacerbated by the maltodextrin as it technically isn't a sugar. This is a grey area in sports supplementation, but the long and the short of it is that this  means maltodextrin isn't listed in the nutritionals under 'sugar', but when it comes to blood sugar and the negative impact of free sugar, it has a similar impact.
We don't know how much maltodextrin is in Total Mass Matrix Extreme, but the sugar content is already almost double the RDA… and The Protein Works recommends taking up to 3 servings a day… that is a lot of sugar.
The Protein Works Total Mass Matrix Extreme is definitely extreme, and extreme things are not recommended for everyday or for extended periods. But, taking away the sugar content, this is a quality mass gainer that will help get people struggling to build mass unstuck from the plateau.
---
» See the #1 Mass Gainer This Year «
---