This page may contain affiliate links and we may earn a small amount of money from any products bought. Our reviews, however, remain independent and impartial.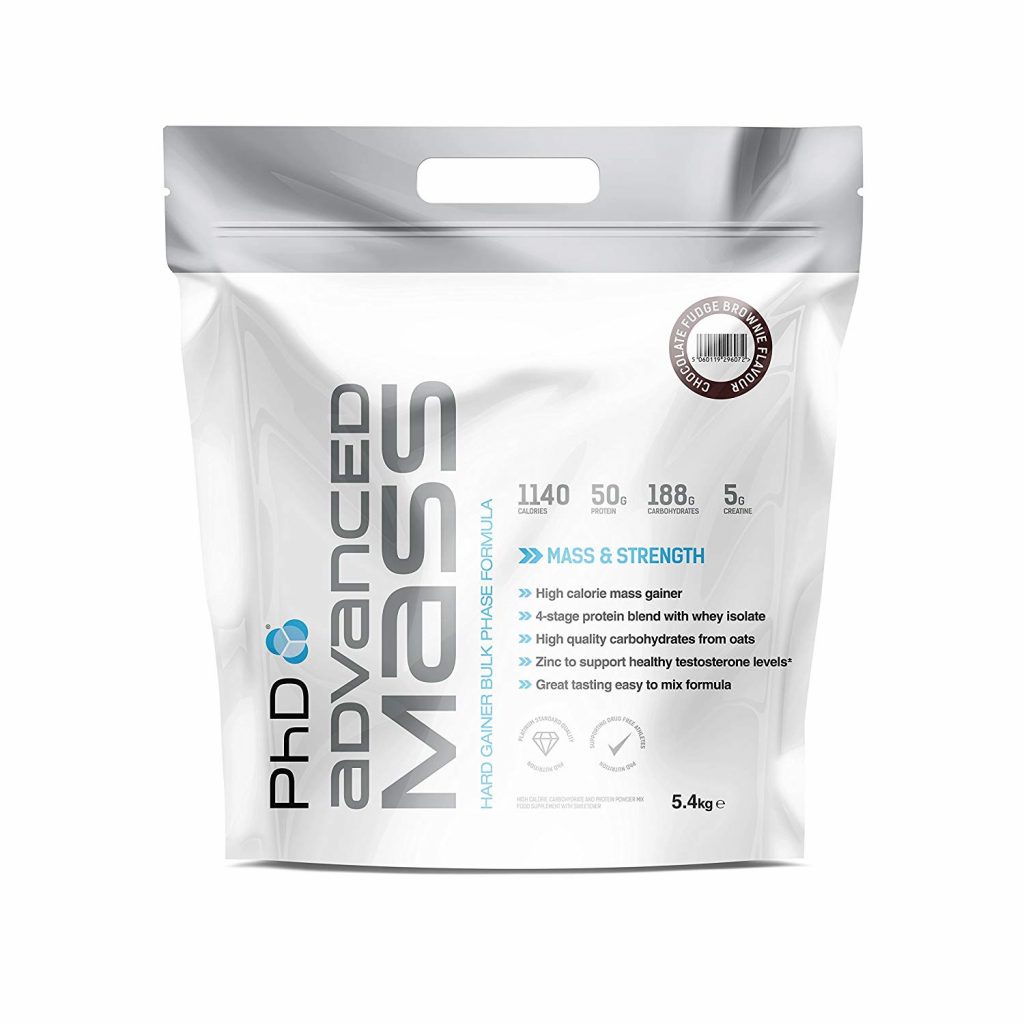 PhD Nutrition has been manufacturing high quality performance supplements in the UK for 13 years and has become a trusted name. PhD's extensive range includes mass gainers, pre-workouts, and a variety of protein shakes and bars.
We've all heard of mass gainer shakes… right? Thoughts of sugar-laden shakers of sickly-sweet gloop come to mind? Think again. The mass gainer market has come a long way, and PhD approaches Advanced Mass with intelligence and determination… so let's see how it fares…
---
» See the #1 Mass Gainer This Year «
---
The Ingredients
All dosages listed relate to a 300g serving or portion (three scoops) of PhD Advanced Mass.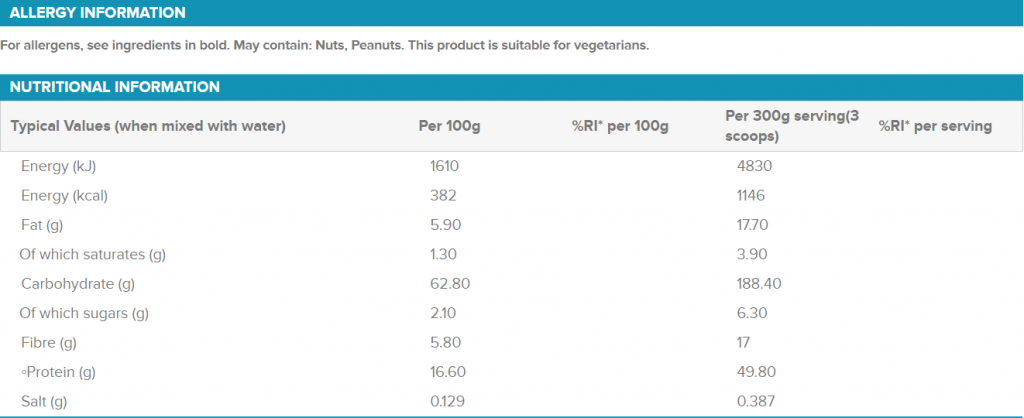 Carbohydrate Blend
The intelligent use of high-quality carbs is one of the core pillars that makes this an extremely effective mass gainer. Its 300g serving hits you with a weighty 188.4g of carbs. The blend is listed from high GI (Glycaemic index) to low.
Maltodextrin
Maltodextrin is a complex carbohydrate, but it's soluble in water and has a GI of over 100, which is equivalent to pure glucose. But because it's required in small amounts, it gives you the injection of energy you need to initiate recovery post workout without giving you a GI rush and sugar crash.
Waxy Maize Starch
Contrary to the belief that its heavy molecular weight boosts absorption, waxy maize starch is slow absorbing. WMS is a complex carbohydrate containing high amounts of amylopectin, a branched starch that contributes to slow digestion.
Unfortunately, there is no study on the true GI of WMS, but absorption rate can differ depending on its preparation, e.g. cooked absorbing more readily than uncooked. PhD Advanced Mass uses WMS to solve a problem: it acts as an intermediary between the fast-acting maltodextrin and the much slower releasing oat flour.
Oat Flour
Different degrees of heart health have been associated with oats. This is due to a plethora of secondary reviews and meta-analysis of studies into oats and wholegrains, as well as other studies taking all whole grains into consideration.
Oats contain beta-glucans which lower cholesterol, reduce risk of heart disease, and diabetes. But importantly here — although milled into a powder, the oats still have a relatively low glycaemic index — they release energy steadily, smoothing over the transition from the maltodextrin and the WMS, and sustaining carbohydrate levels until your next meal.
Protein Blend
PhD Advanced Mass delivers 49.8g of protein per serving, which is an optimal amount post workout if you're looking to build muscle without over-consuming and wasting quality protein.
Whey Isolate and Concentrate
Highly researched and widely used thanks to its proven lean-muscle-supporting abilities and bioavailability. One of two proteins derived from milk (see casein below), whey is fast absorbing and soluble in water and proven to increase lean mass.
The inclusion of the highly refined isolate boosts the lean protein content of Advanced Mass and aids digestion, especially with those who find it difficult to drink a large shake of whey concentrate.
Micellar Casein
We've had the whey, so here are the curds. The second protein derived from milk, casein is slow absorbing thanks to slow gut mobility and its nature to form a gel-like structure (ever made casein pudding?). This slow absorption means protein is delivered over a period of hours after consumption and is used efficiently to repair the damage done in the gym.
Whole Egg Powder
Eggs are the old staple of bodybuilders and athletes and many people still hold to them. Raw eggs after a workout, anyone? Maybe not. But research into whole eggs alongside exercise and recovery has shown higher stimulation of myofibrillar protein synthesis (muscle building) when consuming whole eggs, rather than just egg whites. It's a great addition and broadens the available sources of protein in PhD Advanced Mass.
Magnesium

Magnesium has been proven to raise testosterone levels, and Advanced Mass delivers a big 375.21mg per 300g serving (three scoops). It supports the immune system, promotes the lowering of blood pressure and increases insulin sensitivity.
Insulin being an anabolic hormone, along with the (obvious) free testosterone that magnesium increases, this is a nice addition to a muscle building supplement. Despite this magnesium oxide is a poorly absorbing form of magnesium, which is a real shame.
Zinc
An anti-oxidant and another powerful testosterone boosting mineral, zinc also boosts the immune system and has been seen to improve mood. However, like magnesium oxide, zinc oxide is not easily absorbed, and at the small dose of 10.09mg (per 300g serving) it is insufficient for most benefits of zinc supplementation.
Creatine Monohydrate
Creatine is the well-known molecule that binds to phosphate groups to produce chemical energy in the muscles; such energy is depleted during a workout and creatine monohydrate is the cheapest, most effective form for supplementation.
Supplementing with creatine has been shown to increase power and strength. Creatine increases water retention and can sometimes be mistaken as muscle. But even in the studies where this becomes an issue, creatine does appear to boost lean mass.
The average person should take about 5g of creatine a day (after a loading phase), and PhD Advanced Mass gives you exactly that, 5g per serving. Which is a solid but unsurprising addition.
Flaxseed
Flaxseed is rich in Alpha Linolenic Acid, a plant sourced and essential omega 3 fatty acid, and PhD gives us 6g per portion. It's shown to prevent, and even treat, heart disease, heart attack, and high blood pressure.
Medium Chain Triglycerides
Found in coconut oil, MCTs have been linked to an increase in fat oxidation and a decrease in fat mass. More importantly for PhD Advanced Mass, MCTs have been seen to increase metabolic rate and when taken with carbohydrates can increase energy availability and duration of performance.
BCAAs
The addition and the dose of the three BCAAs – Leucine, Isoleucine and Valine – at just over 3g total per serving is an awesome addition and right on the recommended daily amount. Proven to aid muscle growth and prevent fatigue, they stop the body from breaking down muscle to use as an energy source during exercise. Leucine also promotes protein synthesis and isoleucine generates the movement of glucose into cells.
Amino Acids
PhD didn't skimp on the amino acids in Advanced Mass either.
L-Lysine has shown little evidence to boost performance or recovery beyond being a building block for protein synthesis. L-Glycine has been seen to work along with creatine to boost energy ATP presence. Taurine, on the other hand, may have a benefit when it comes to performance, but this is highly debated and there is little evidence to support it.
Other listed amino acids include:
L-Alanine, L-Arginine, L-Methionine, L-Aspartic Acid, L-Phenylalanine, L-Cysteine, L-Proline, L-Glutamine, L-Serine, L-Threonine, L-Histidine, L-Tryptophan, L-Isoleucine, and L-Tyrosine.
---
---
 The Pros
The carbohydrate matrix is impressive.
Low sugar content.
17g of fibre per serving.
The protein blend is high quality, fast and slow releasing.
Broad amino acid profile and 3g of BCAAs
Good dose of flaxseed.
PhD Advanced Mass is Palm Oil and GMO-free.
It is suitable for vegetarians.
The Cons
It's a real shame that PhD opted for zinc and magnesium oxide as opposed to more superior forms. They are cheap and poorly absorbed.
This is a large volume to consume post-workout, but this is pretty common with mass gaining shakes.
Nearly all the negative reviews from consumers are on taste and mixability.
PhD Advanced Mass is not suitable for anyone with a milk or eggs allergy or intolerance.
Customer Reviews
The following reviews come from the official PhD website – click to enlarge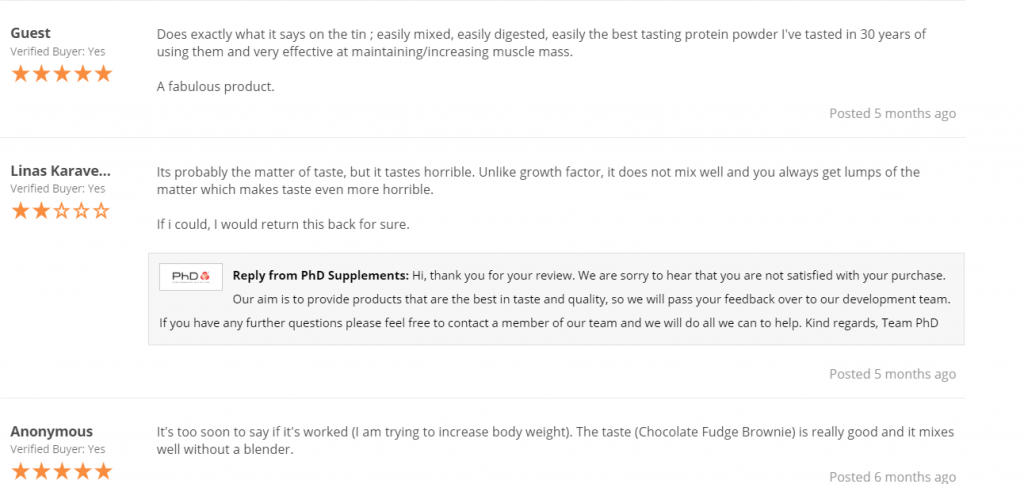 The following reviews come from Amazon UK, click to enlarge


Safety/ Side Effects
Some people may experience indigestion from the large quantity. Gas and discomfort are also common with whey and casein.
How to Take It
PhD recommends using a blender to mix the shake. Add two scoops to 500-600ml of water, blend, then chuck in the third scoop and blend again. Use a shaker on the go with the same method, but it'll be full… don't spill.
Who Takes It?
If you're looking to gain muscle, maybe you're an ectomorph or hard-gainer, or maybe you're just struggling to get in enough food to meet your macros, PhD Advanced Mass is for you.
Conclusion
Advanced Mass by PhD Nutrition provides everything you need in a mass gainer. The intelligently designed carbohydrate blend ensures both quick and prolonged energy without the spike and crash. The protein blend is another achievement, providing a mix of fast and slow absorbing proteins and whole egg protein that's proven to be effective in increasing protein synthesis. The amino acid profile is everything you want to see.
The only downside here is the type of magnesium and zinc. The oxide form of both is the least effective and it's here that PhD missed the mark on a flawless mass gainer product.
Reviews do cast doubt on the taste and mixability of Advanced Mass, for which it loses some points, but on paper it's a great product. If you fit the profile and want to build muscle, give PhD Advanced Mass a shot.
---
» See the #1 Mass Gainer This Year «
---