This page may contain affiliate links and we may earn a small amount of money from any products bought. Our reviews, however, remain independent and impartial.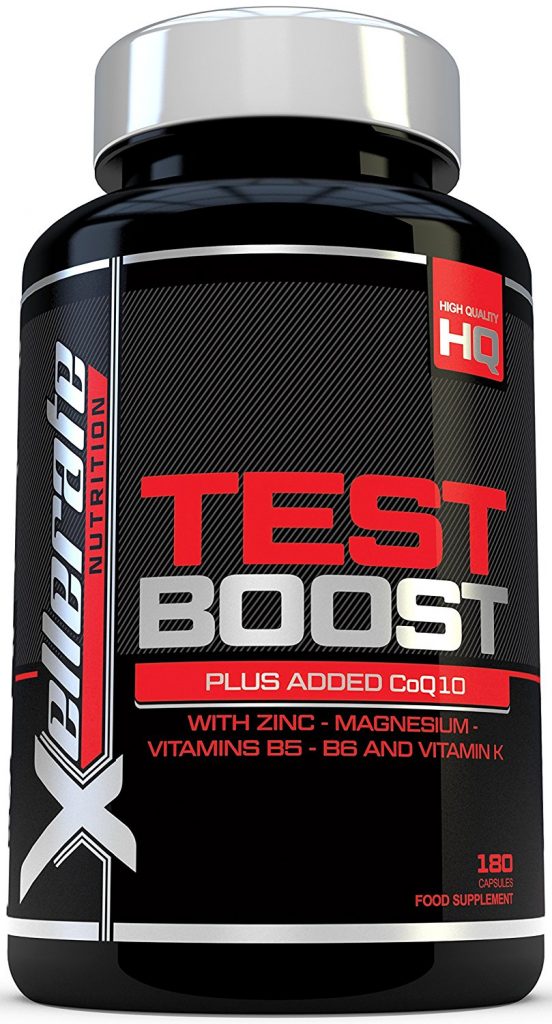 Brought to us by Xellerate Nutrition, Test Boost for Men boasts an Amazon 1# Bestseller badge and reviews that would raise the heartrate of any testosterone-chasing athlete or bodybuilder. But don't chuck this in your basket just yet. Not much is known about the brand and reading into the product reveals some confusing marketing.
Xellerate Nutrition currently sells four products (Test Boost, BCAA tablets, a fat burner and fish oil capsules) exclusively on Amazon to the UK and doesn't have a website. Which is odd and a real shame.
The name Test Boost for Men would suggest heightened testosterone levels, right? Well, it's not quite as simple as that.
Test Boost is branded a "testosterone support supplement'" rather than an outright T-booster. It makes a point of promising only to maintain testosterone at normal levels, not raising them beyond it.
But it does list some powerful T-boosting ingredients, so let's take a closer look…
---
» See the #1 Testosterone Booster This Year «
---
Ingredients
 Vitamin D
Produced in the body when our skin is exposed to sunlight, vitamin D can alter hormones and occurs in two forms in supplements: D2 and D3.
Studies have shown that taking Vitamin D can decrease the levels of a protein called Sex Hormone Binding Globulin (SHBG). Free testosterone binds to SHBG in the blood and makes it inert, so less SHBG = more bioavailable testosterone. Taking vitamin D can boost T levels by up to 25%. Not bad.
While  the Test Boost bottle doesn't list which type of vitamin D is used  — D2 is cheaper to produce, less-effectively absorbed, while D3 is hyper-bioavailable and easily absorbed — the Amazon ingredients list cites the latter.
Vitamin B6
Vital for forming haemoglobin in red blood cells and energising the immune system. B6 is needed for the formation of androgens and in larger doses can regulate the production of hormones like oestrogen that act against testosterone.
There is anecdotal evidence into vitamin B6's ability to raise testosterone, but clinical results concluded that while having a B6 deficiency meant a drop in testosterone, supplementation of B6 showed no significant increase in T from normal levels. Presumably then it is included here to boost your B6 levels to normal and avoid deficiency (hence maintaining normal T-levels as promised, rather than encouraging extra). Of course, if you're not deficient in B6, it may not do much for your testosterone at all.
Magnesium
Not a newcomer to the testosterone scene by any means, magnesium remains a heavy-hitter, also reducing both fatigue and recovery time.
Studies have found that when supplementing with magnesium, both free and total testosterone levels rose significantly. Testosterone favours binding with magnesium over SHGB, effectively protecting T and keeping it bioavailable.
With an RDA of 150-280mg, 190mg in Test Boost is right on the money.
Zinc
One of the most effective T-boosting ingredients, Zinc raises T levels along two pathways:
Actively increasing the amount of luteinising hormone, stimulating the pituitary gland to produce testosterone and curbing the aromatisation of testosterone. Aromatisation is the chemical conversion of testosterone into oestrogen, the female steroidal hormone. Zinc inhibits this, raising free testosterone levels.
The optimal dose is 30-40mg daily for adult male, but Test Boost for men only offers 12.5mg, which isn't really substantial enough to effectively boost testosterone.
 Selenium
 While selenium is essential in the production of testosterone, it's a trace mineral and probably unnecessary to supplement as it is easy to obtain elsewhere.
The recommended daily amount of selenium is 55 micrograms, so Xellerate Nutrition have got you covered here… but, just one brazil nut can contain over 100µg, and unsurprisingly, deficiencies are rare.
D-Aspartic Acid
A relatively new ingredient when it comes to T-boosters, this amino acid is powerful and reassuring to see on the Test Boost label. D-AA has been seen to act on the hypothalamus in the central brain, promoting the release of luteinising hormone, follicle stimulating hormone and growth hormone.
It is a highly effective testosterone boosting ingredient. Frustratingly, no dose is indicated in the bottle, so we can't say for sure if it's effective in this product.
Maca Root
Used to increase libido, maca root does not increase testosterone or promote precursor hormones. If you need a libido boost, or… just fancy one, then hey, enjoy your maca root, though it may only give you a little lift at best. But this ingredient is not related at all to systemic hormones.
Fennel Seed
Fennel seed was used as a food seasoning and an old form of medicine in Ancient China, India, Greece and Egypt. Advertised as an all-round male enhancer, there is no clinical evidence to support the claims and it doesn't boost testosterone. At the most, it may help blood flow.
Coenzyme Q10
Found in the mitochondria, Coenzyme Q10 is formed in cells and is fundamental in the production chain of chemical energy (ATP).
There is evidence to support CoQ10 enhancing blood flow, protecting blood vessels, reducing the damage done by "bad" LDL cholesterol, and even limiting the building up of plaques in the arteries. But, it's expensive and there is no evidence that supplementing CoQ10 increases testosterone levels. In fact… there's evidence that links the Coenzyme to dropping levels of testosterone.
CoQ10 is presumably included instead to meet Test Boost's promise to reduce fatigue.
Other Ingredients
Vitamins A, K, B12, B5 (Pantothenic acid) and folic acid, while important to total health, are accessories when it comes to testosterone boosting. Unless you're deficient in any of them where your T levels would drop (among many other symptoms).
---
---
The Pros
Xellerate Nutrition, Test Boost for Men contains some proven, effective ingredients that work different pathways. Such as magnesium, zinc and D-Aspartic Acid.
Hugely popular. Almost 900 reviews on Amazon with 81% being 4 stars or above.
Most fans of the product say it enhances energy and libido, presumably thanks to the CoQ10 and maca root, although these ingredients don't do much for direct testosterone.
UK manufactured in a GMP facility.
At £18.97 for 3 months' supply, Test Boost is light on the wallet.
The Cons
Contains three-times less than an ideal dose of zinc for T-boosting.
Xellerate Test Boost for Men doesn't specify the dosage of D-AA.
Contains ineffective ingredients like maca root and fennel seed that could mislead.
There is evidence to support that Coenzyme Q10 decreases T levels.
Little to no information on Xellerate Nutrition other than customer reviews on Amazon.
Customer Reviews
All reviews are taken from Amazon UK.


Safety/ Side Effects
The ingredients in Xellerate Nutrition Test Boost for Men are all well researched and show no ill-effects at the given doses. But, the lack of weight for the D-Aspartic acid is worrying. It most likely an under-dose to reduce cost but be wary when taking anything that doesn't specify the amount of an active ingredient.
How to Take It
Two capsules taken once or twice a day along with food and water. Do not exceed recommended amount.
Who Takes It?
Xellerate Nutrition Test Boost for Men is marketed to males over the age of 18 as a "support supplement" for normal testosterone levels and reduced fatigue. With a name that claims to boost testosterone, we find this contradictory.
It would be better suited to men with slightly low testosterone who wish to raise it to a normal level.
Does it Work?
Reviews on Amazon praise Xellerate Test Boost for Men which says something. But scrolling through the five-star reviews reveals that nearly all customers are celebrating increased energy and libido. Sure, these are signs of boosted testosterone, but you'd also want to see stories of increased strength, packed-on weight and reduced waist measurements. So, at best, its effectiveness as a T-booster is inconclusive.
Conclusion
Test Boost contains some quality ingredients. D-AA in combination with anti-aromatics like zinc, as well as magnesium and vitamin D should make for a potent formula. But it falls short in the details and weights of ingredients. Maca root in particular is a misleading ingredient for a T-booster. An increased libido can be taken by customers as a sign of elevated testosterone, and with maca root, this is not the case.
That said, it's a very popular product and the majority of men do seem to find it useful for improving libido and reducing fatigue.
Xellerate Nutrition Test Boost for Men has also been very careful with its marketing. While the name conjures up images of traditional testosterone boosters, its description as a "testosterone support supplement" and its upfront promise to help maintain normal levels of testosterone perhaps means that we shouldn't really be too hard on it.
True, as a traditional T-booster, it isn't as strong as other formulas out there, such as Performance Lab® SPORT T-Booster, but as a generic male enhancer, it does seem to satisfy (pun intended).
If you're looking to raise your T levels to a normal level for a low price then maybe this will work for you.
---
» See the #1 Testosterone Booster This Year «
---