This page may contain affiliate links and we may earn a small amount of money from any products bought. Our reviews, however, remain independent and impartial.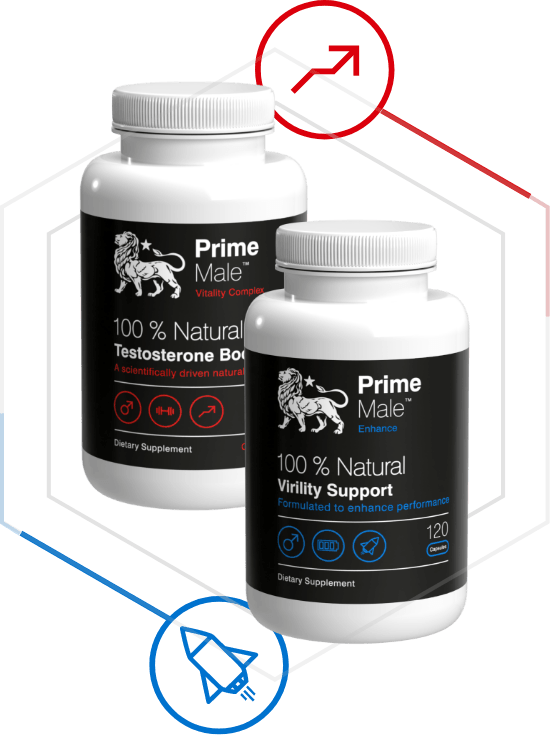 ** UPDATED 2021 to take into account tweaks to the Prime Male formula.
Let's just put this out there right now: we are big fans of Prime Male. Here at Supplement Reviews UK, we consider it one of the best testosterone boosters that you can buy today.
Prime Male is aimed at a relevant market (men over 30, not-so-coincidentally the age that testosterone levels start to fall) and combines 12 different ingredients. All of those ingredients are either powerhouse T-boosters in their own right, or combine with others to boost their testosterone-related powers.
It's that synergy that gives Prime Male its power. According to Prime Male, its key benefits include having more energy and strength, losing weight, enjoying a greater libido, better mood, stronger bones, lower blood pressure and better cardiovascular health. The manufacturers also claim it can help to control blood sugar, make skin healthier, promote prostate health and boost cognitive function. The main promise, however, is that taking Prime Male can boost your testosterone levels to what they were five, ten or even twenty years ago.
We're even more excited about this brand because of its brother supplement, Prime Male Enhance — a powerful virility pill designed to work in conjunction with Prime Male. You can learn more about that at the end of this review.
Prime Male Ingredients
Prime Male promotes testosterone in three key ways.
It boosts the production of luteinizing hormone
It helps to neutralise Sex Hormone Binding Globulin (SHBG)
It reduces the amount of female-hormones, oestrogen and prolactin, in a man's body.
The ingredients which do that include: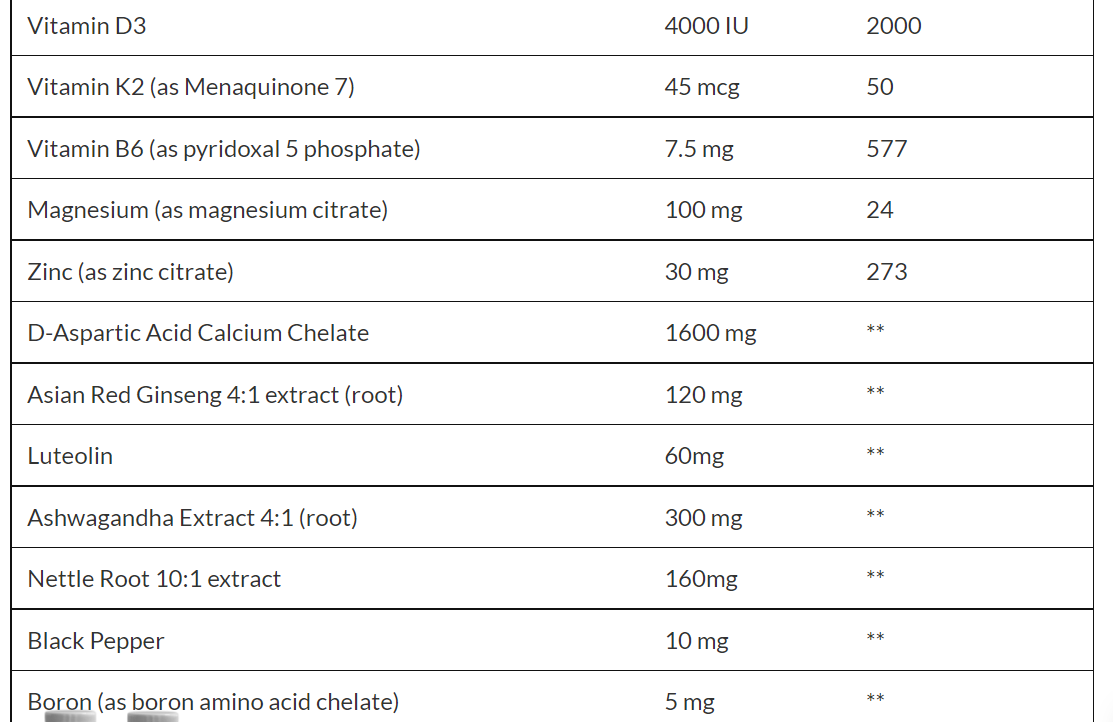 D-Aspartic Acid Calcium Chelate (D-AA-CC): This is the premium form of D-Aspartic Acid (D-AA), which has proven very potent. In one study, D-AA increased testosterone by 42% in 12 days. D-AA-CC is even stronger, so imagine the benefits. The theory is that DAA improves communication between the brain and the testes, with the luteinizing hormone promoting the production of testosterone.
Further research has shown that seminal motility was boosted by between 50-100% in infertile men when taking D-AA.
Prime Male also includes magnesium, nettle root and boron, all of which help to neutralise Sex Hormone Binding Globulin (SHBG).  Experts estimate that approximately 60% of total testosterone is 'bound' to SHGB, which renders it unavailable for the body to use directly. Magnesium – included here in premium form as magnesium citrate – reduces the amount of SHGB in the blood, as does boron, while nettle root binds with the SHGB, making more free testosterone available.
Prolactin and oestrogen are female hormones which are also present in the male body. Too much of either, however, can damage testosterone levels; as well as reducing SHBG, boron can help to reduce oestrogen while boosting testosterone. In fact, taking 10mg of boron for one week reduced oestrogen levels by 39%, according to one study. 
Prime Male also includes luteolin, which does the same job. Zinc, another ingredient, can reduce prolactin and, as it is concentrated in the testes, also acts as raw material for testosterone creation by booting luteinizing hormone. Adding additional zinc for six weeks increased testosterone in one study, though experts theorise it may only help if you are deficient in zinc in the first place. Note that a lot of sexually active men are deficient as you can lose as much as 5mg of zinc per ejaculation. The body cannot store zinc, so continually needs to be replaced.
Other Ingredients: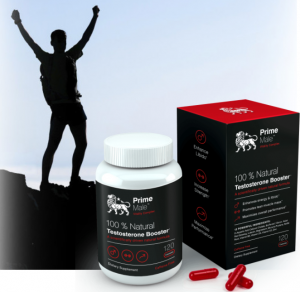 Mucuna Pruriens (in the former formula) has been replaced by Ashwagandha extract, a powerful herb linked to testosterone boosting and anxiety/ stress reduction.
Used for centuries thanks to its reputation as a potency enhancer, ashwagandha should help you feel stronger in the gym, have more stamina, improved muscle tone, and help you feel primed for action!
BioPerine® is a patented form of black pepper extract and is 95% piperine, the active substance that promotes the absorption of other ingredients within a formula. It's a great addition to any testosterone boosting stack.
Asian Red Ginseng 4:1 extract (root): Think of this as a great addition for bedroom shenanigans, as opposed to a traditional testosterone booster. Studies show it can improve erectile function in those with mild to moderate erectile dysfunction. A Korean double-blind placebo study found that men who took ginseng for 8 weeks enjoyed significant benefits to erection quality, sexual satisfaction and performance, compared to a control group.
Prime Male also includes the vitamins B6, in premium form P-5-P, widely recognised as an effective testosterone booster. B6 helps to encourage the testes to produce testosterone by stimulating the androgen receptors; it also helps to tackle loss of libido and mood issues.  Lab rats deprived of B6 for one month showed a 74.5% drop in testosterone levels, according to a study in the Journal of Steroid Biochemistry. B6 also helps the body to absorb zinc and magnesium.
This formula also includes vitamin D3 (shown to boost bioactive, free and total testosterone). It also adds vitamin K2 most commonly recognised as a means of tackling age-related testosterone decline.
The Pros
Prime Male includes premium forms of many of its ingredients, including D-AA-CC, zinc and magnesium citrate and vitamin B6 in P-5-P form.
It includes a hefty dose of one of the most effective testosterone boosters around, 1600mg of D-AA-CC.
It's a potent supplement, making sure to either hit clinically-effective doses or use extremely potent ingredients, effective in smaller quantities.
The company behind Prime Male, Propura, is transparent, labelling its ingredients and dosages clearly. No hiding behind proprietary blends, for instance.
Prime Male helps to boost testosterone on several different levels.
Its formula is very clever, one of the smartest we've seen. The makers have sought out ingredients that truly work in synergy. K2, for instance, not only boosts testosterone in its own right, but also increases the power of vitamin D3, boosting its testosterone-bringing powers. This in turn then improves the absorption of magnesium, which returns the favour by boosting vitamin D3's activity even more. The result, even more testosterone. And these are only a minority of Prime Male's ingredients.
Benefits may be seen as quickly as in five to ten days.
Also offers support for libido and prostate health. If you want further help for libido and sexual issues, there is also Prime Male Enhance.
The Cons
This isn't for the 20-something bodybuilders. It's a mature formula for a more mature man (30-plus), so it may not appeal to everyone.
Who Takes It?
Prime Male is designed for use by men over 30, the age at which testosterone is said to decline. This is apparent in its additional benefits, concentrating on prostate health, for instance, and working to boost urinary comfort and sex drive.
Safety/ Side Effects
We haven't heard of any reported side effects with Prime Male. A benefit of using good quality and premium ingredients, alongside safe and concentrated herbs, we'd guess. Prime Male should be well tolerated. It doesn't have any of those pesky potentially dangerous ingredients like bitter orange.
Health Warnings
If you are taking any medication or have a medical condition, consult your doctor before taking.
How to Take It
Take one capsule four times a day, ideally with a meal or snack. Prime Male recommends taking a capsule at 8am, 11am, 2pm and 5pm.
Does It Work?
We are very happy to state that Prime Male should do everything it claims to… and probably a few more things besides. Remember that long list of promises from the manufacturers of Prime Male at the beginning of this review? Well, you can check each one of them with a tick. They are all very feasible with this combination of ingredients.
Conclusion
Pick up a supplement with 12 ingredients, whether a testosterone booster, fat burner or nootropic, and you can usually guess that a few are superfluous, or included in such weak dosages as to be pointless. That's not true here. Prime Male includes 12 ingredients and each one has a role to play. It combines them together with genuine synergy, choosing highly absorbable ingredients that complement and enhance each other.
Prime Male is one of the best testosterone boosters ever made, and it's certainly the one you want if you're 30 or over.
PRIME MALE PAIRS WELL WITH
Prime Male Enhance: A virility pill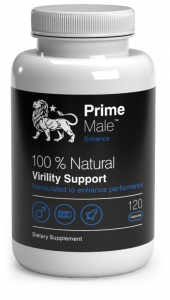 Prime Male Enhance is a virility pill that can work well on its own but has been designed to be taken alongside the original Prime Male for additional libido and sexual performance gains. It's refreshing to see a combo like this. Most T-boosters try to cram in a few libido enhancers, meaning they're pretty weak. Or worse, the libido boosters are ok but the genuine testosterone boosters are lacking.
Here, with Prime Male and Prime Male Enhance, we don't have that problem.
Prime Male + Prime Male Enhance = Enhanced Testosterone + Enhanced Libido and Performance
Prime Male Enhance works by delivering 11 nutrients to boost blood flow and improve sperm quality, libido enhancers to fuel your sex drive and mood lifters to help your confidence. Here's the info you're really looking for: Prime Male Enhance can deliver stronger and longer erections, with more satisfying orgasms.
It really is perfectly designed to complement the original Prime Male. As we all know, life is hectic and sometimes even men in their THIRTIES have occasional issues with getting or sustaining erections. Assuming there are no underlying medical causes, Prime Male Enhance delivers what you need to have a confident enjoyable time in the bedroom, alongside the nutrients you need to boost your energy. Whether you're in your thirties or beyond. All ingredients are natural.
It contains:
Ginseng, maca and oat straw to help you feel confident with your performance and boost sexual enjoyment
Tribulus, selenium, damiana and muria puama to boost libido and sexual desire
Saw palmetto, L-arginine, B vitamins and zinc to boost blood flow, increase energy and help you to perform.
Rather than taking medical enhancement aids, Prime Male Enhance might just enable you to maintain or get your sexual mojo back without any little blue pills.
BUY: See Combo Offers for Prime Male + Prime Male Enhance