This page may contain affiliate links and we may earn a small amount of money from any products bought. Our reviews, however, remain independent and impartial.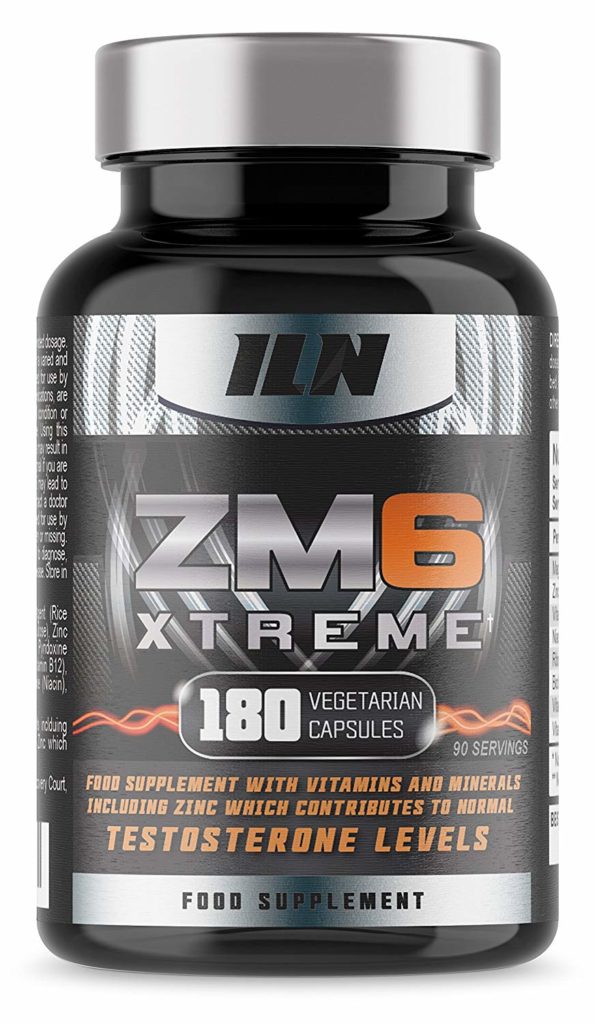 Iron Labs Nutrition was established in 2009, but they've remained pretty under the radar.They sell over 30 products, primarily through Amazon, ZM6 being one of their biggest sellers and it's on the low end of pricing for ZMA at £15.78 per 180 capsules.
They do havetheir own website, but you can't buy directly from them and they show very limited information about each product. Which isn't ideal.
ZM6 is marketed — effectively — as a superior option to ZMA in that it provides more ingredients than the traditional ZMA (Zinc, Magnesium and Aspartate). Let's see how it holds up under scrutiny.
---
» See the #1 Testosterone Booster This Year «
---
Ingredients
Magnesium (Magnesium Oxide)
An essential dietary mineral, magnesium deficiency can cause raised blood pressure, lowered tolerance of glucose, neural issues as well as reduced testosterone.
In terms of testosterone boosting, magnesium is pretty powerful. It binds to free testosterone in the blood, protecting T from the protein SHBG (Sex Hormone Binding Globulin) which would normally snatch testosterone away and make it un-bioavailable. SHBG tends to increase with age, which contributes to reduce testosterone levels over the age of 30.
Supplementing magnesium has been seen to elevate testosterone levels in athletes while supplementing 10mg per bodyweight; there is also limited evidence that it enhances aerobic performance but this needs further research.
Magnesium oxide is the cheapest and worst absorbing form of magnesium when it comes to supplements, so it's a poor choice.
Compared with magnesium citrate (used in ZMA)with a bioavailability of 25-30%, magnesium oxide is only 4-5%. Meaning the vast majority of the 367mg magnesium (which would be a solid dose) goes through into the intestines where it can cause diarrhoea .In fact, magnesium oxide is sometimes taken with calcium supplementation to offset the constipation calcium can cause.
It's not a flying start but let's keep going.
Zinc (Zinc Oxide)
Zinc is a great addition and it's an expected one. Another essential mineral that has a powerful influence over testosterone levels as well as being an aphrodisiac. It's also responsible for boosting the immune system and regulating enzymes.
Zinc regulates the amount of luteinising hormone, this then stimulates the pituitary gland to produce testosterone. At higher doses, zinc acts as an aromatase inhibitor, reducing the amount of testosterone that is converted into oestrogen and increasing free testosterone
The 20mg dose Iron Labs provide in ZM6 Xtreme is decent, but unfortunately it's delivered as zinc oxide. Inorganic, poorly absorbed by the body like the magnesium oxide.
Vitamin B6
Used in haemoglobin formation and the production of co-enzymes in the body, there is little evidence to support vitamin B6 boosting testosterone production, but the two are linked. And where testosterone levels are low, so are B6 levels.
Iron Labs provides us with a big dose at 17mg which is good to see.
Vitamin B12
An essential vitamin that's vital for a functioning nervous system. There's little evidence to support claims that it increases fat-loss, energy, and metabolism.
Normal supplementation for people with deficiencies is 1000mcg (1mg), Iron Labs only gives us 16mcg,which is very low.
Vitamin B3
Also known as Niacin, it's an essential vitamin that, when supplemented reduces LDL cholesterol and boosts HDL cholesterol very effectively. Although any cardiovascular benefits are offset with a decrease in insulin over time.
These benefits on cholesterol also only happen at very high doses — 5000% of the daily recommended intake of 16.5mg. Iron labs ZM6 Xtreme only provides 3mg.
Vitamin B2
Another essential vitamin, B2 also known as Riboflavin, is needed for certain enzymes to function properly. It may also have cardiovascular benefits such as reduced blood pressure in people with genetic susceptibility. Most people won't need to supplement B2 as they'll get enough through their diet.
Any doses to reduce risk of deficiency only need to be low — 1-2mg per day and we get that and a little more in ZM6 Xtreme: 3mg.
Vitamin D3
Synthesised in the body using cholesterol and sunlight, Vitamin D is essential for survival and associated with a plethora of health benefits when supplementing. Improving cognition, the immune system, reducing risk of cancer, bone strength, and increasing testosterone in those deficient in the vitamin.
Most people aren't deficient in vitamin D, but most are also not getting the optimum amount. The NHS also recommends supplementation in the UK in the autumn and winter months. In terms of testosterone, this makes its benefits applicable to a lot of people. Vitamin D is associated with reduced levels of that same SHBG protein, linking its presence to raised levels of test in the blood.
Recommended dose is 10mcg per day but Iron labs only gives us 4mcg in ZM6 Xtreme.
Biotin
Biotin is an essential component of enzymes in the body. It's been used as a beauty supplement for years to boost the health of nails, hair and skin, and although the vitamin plays a part in these mechanisms, there is little research to support this. Claims that it is linked to breaking down fat aren't supported by research.
The only research-backed dosage is for brittle nails, and it recommends 2.5mg, although the RDAis only 100mcg. Iron Labs offers 33mcg, which is very low.
---
---
Pros
On the cheap side
Provides 6 more vitamins than ZMA
Good dose of B6 and B2
Positive reviews
Cons
Poor quality zinc and magnesium (oxide)
Low doses of B12, B3, D3 and Biotin
No Zinc aspartate
Apart from an under-dosed D3, the 6 extra ingredients don't bring any combined benefit
Company website doesn't offer much information
Customer Reviews
Safety/ Side effects
Because of the large dose of magnesium oxide that doesn't absorb, you may experience some stomach upset. MgO in the intestine can act as a laxative.
ZMA can cause vivid dreams, although this is only anecdotal; this could also be the same for ZM6 Xtreme.
How to Take it?
Take 2 capsules with a glass of water half an hour before bed and avoid consuming with any calcium-containing products or foods.
Who Takes It?
This is for people with low testosterone, possibly over the age of 30, looking to increase their T-levels to normal.
Conclusion
The problem with ZM6 Xtreme isn't that it has tried to be better than ZMA, it's that it took the Zinc, the Magnesium and the B6 and swapped the high-quality mineral chelates for cheap, poorly absorbing inorganic oxides.
Without the zinc aspartate in ZMA we lose the boost to absorption of zinc (which would be really needed in this case) and it's replaced with an array of vitamins that don't really seem to bring anything to the party.
Is it ZMA or is it a T-Booster… well, it's neither, really.
In trying to bridge the gap between these two pillars, ZM6 Xtreme has lost what made ZMA successful and hasn't supported itself with the real heavy hitters in T-boosting like D-Aspartic-Acid, and its crumbled.
If the doses for the extraneous ingredients were higher, I could see this being a great base supplement that you can add to if you're cycling DAA for example. But at the moment, it falls short of that.
It is still getting good reviews based on improved sleep, and after all, deeper sleep is a core part of the ZMA experience at naturally increasing testosterone levels. So even though the numbers don't add up and the Zinc and Magnesium are of poor quality… maybe they're right.
---
» See the #1 Testosterone Booster This Year «
---