This page may contain affiliate links and we may earn a small amount of money from any products bought. Our reviews, however, remain independent and impartial.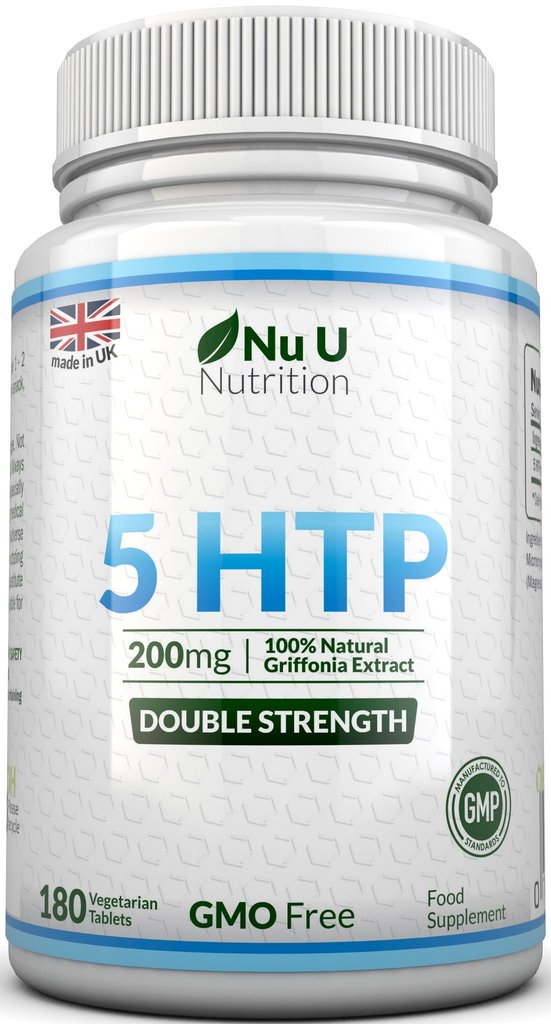 Nu U Nutrition is a UK company founded on the mission of improving the health and the quality of life of their customers and providing supplements to support health at affordable prices.
They claim to buy high quality ingredients at such high volume (twenty times more than their nearest competitor) that they can provide the finest supplements at low prices, all made in the UK.
Today we're looking at their Double Strength 5-HTP sleep supplement. Boasting 4.2 stars out of 5 from over 2500 reviews on Amazon UK, it's safe to say it's well received.
Sleep is important… Groundbreaking stuff, I know. But sleep is definitely something I'm sure we can all admit that we take for granted. Sleep is an anchor for all your goals, fitness included. When we sleep our bodies recover, both re-filling energy reserves, and building muscle from exercised-induced damage. This isn't even taking into account the vast mental and neurological components of sleep.
I know from personal experience that those nights spent turning and staring at the ceiling are beyond frustrating, and you end up paying for it in the morning. Often caused by stress, insomnia can spiral in on itself, and sleep only comes for you when you're absolutely exhausted.
Maybe you've tried sleeping pills? If so, you'll know what I mean when I say that the sleep feels… artificial, not deep and recuperative. Not to mention the drowsy hangover-like after effects and dependency.
All these are cause for giving supplements like Double Strength 5-HTP a go. So, let's see if Nu U Nutrition deliver.
Ingredients
5-HTP
The sole ingredient, which, considering the supplement is named after it, isn't too surprising.
5-HTP is sourced from a West African climbing shrub called Griffonia simplicifolia where it's used in traditional medicine for aphrodisiac and antibiotic properties. In recent medicine, the shrub has seen use to treat depression and anxiety and has seen promise in both.
Nu U nutrition shows us that Griffonia simplicifolia is the source of the 5-HTP on the bottle. Some people claim that supplementing with unrefined shrub/ seed in a tablet form is superior to supplementing with refined 5-HTP, but there is insufficient evidence to bolster this. To ensure complete clarity, Nu U Nutrition gives us the breakdown of the amount of 5-HTP per capsule (200mg per tablet) which is great.
So, what is it?
5-HTP is a pre-curser compound to serotonin, meaning that when we ingest 5-HTP, it's converted to serotonin. You've probably heard of serotonin being referred to as the "happy chemical", and this isn't without reason. Serotonin is a neurotransmitter — it acts as a chemical messenger across the synapses in the brain and nervous system and in this case directly effects sleep, mood as well as appetite, temperature and libido.
5-HTP is so reliable at increasing levels of serotonin in the body that many new drugs designed to increase serotonin are put through tests alongside 5-HTP. After dosing with the experimental drug, the test simply looks at how much 5-HTP is required to put the body into a state of serotonin toxicity. The less 5-HTP needed, the more potent the drug is at raising serotonin levels. This highlights why you should not take 5-HTP if on any neurological drug before consulting a doctor.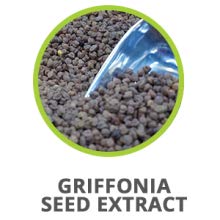 So, what can 5-HTP do for you?
By naturally increasing serotonin levels, your mood will be lifted, not in a stimulatory way, but a mild contentment-like euphoria. It's this quality that has seen it used to treat anxiety and depression.
5-HTP also has strong links to reducing appetite and concomitantly causing weight-loss. This is why Nu U Nutrition advise taking it with a light carb snack, so you feel satiated.
Although appetite and fat-loss aren't a direct factor to your sleep, it's worth noting that struggling with weight and appetite can contribute to some people's stress which will in turn impact sleep. So maybe this will help you trim down too.
But can it help you sleep? It can; it's been seen to decrease the time to fall asleep and increase both duration and quality of sleep. There's also evidence that it can reduce the severity of sleep terrors.
The dose, 1-2 tablets a day, 200-400mg of 5-HTP is a decent amount according to Examine.com that recommends 300-500mg. so you'll probably be better off with the two tablets.
Pros
Evidence for aiding sleep and improving quality and length of sleep.
Lifts mood.
Helps reduce anxiety and depression.
Quality dose.
Very positive reviews.
Great value for money.
Gluten, wheat, GMO, lactose, allergen-free, suitable for vegans
Cons
DO NOT use if pregnant or breast feeding. Not enough evidence to prove its safety.
More research would be beneficial to assess the influence 5-HTP has on sleep.
Possibly unnatural reviews on Amazon (see conclusion for explanation)
Customer Reviews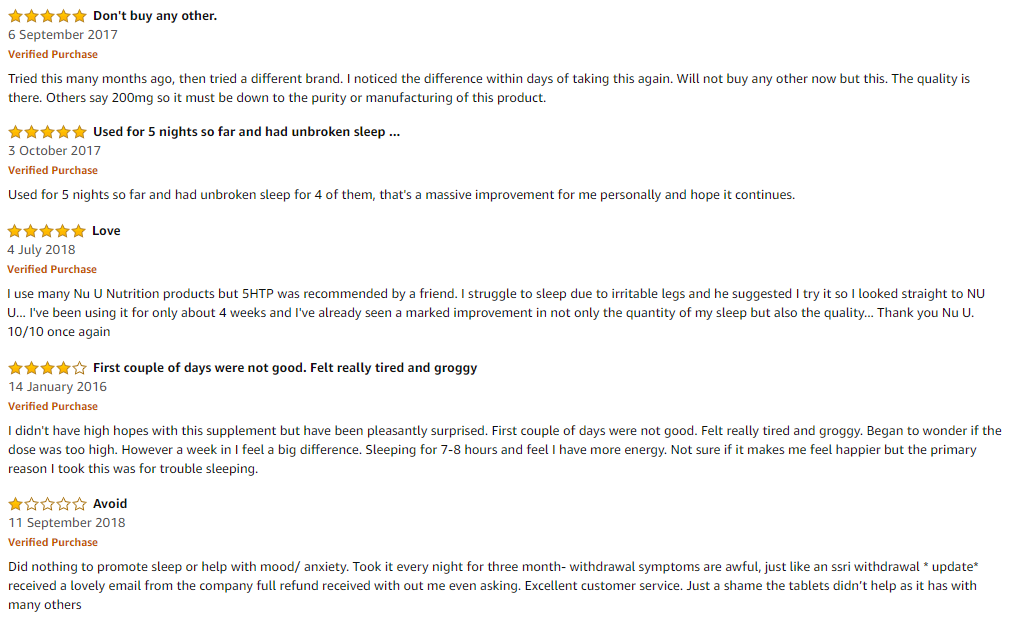 Safety/ Side Effects
Not suitable to be taken if you're pregnant or breastfeeding. There is not enough information to regard it as safe while pregnant or breastfeeding.
Do not take 5-HTP if you're on anti-depressants or other neurological drugs without speaking to your doctor.
Taking 5-HTP can cause some nausea and in worse cases, vomiting, diarrhoea, drowsiness, sexual issues.
How to Take It
Take 1-2 tablets per day. Take with a light-carb snack at LEAST an hour before going to bed.
Who Takes It?
This is a great supplement if you're struggling with insomnia and don't want to take sleeping pills.
Conclusion
Nu u Nutrition offer 180 tablets for £16.97, this is the same on Amazon and it's right on the money. If anything, it's a bit of a bargain. This lends credit to their claims of buying in far larger quantities than their competition.
They also provide a 60-day money back guarantee, (and great customer service as seen in the last review) which in this case supports their mission of improving the quality of life of their customers over purely driving sales.
The only negative I have to say isn't directed entirely at the product. Using websites that collate the review data of products on Amazon, you can see that there is a warning for false reviews on a handful of Nu U Nutrition's products. This isn't uncommon on Amazon and doesn't take away from the quality of the product, but it's worth bearing in mind while purchasing.
If you're looking for a natural supplement to help you sleep, 5-HTP Double Strength by Nu U Nutrition is worth a shot.
Where to Buy
You can buy Nu U Nutrition 5-HTP Double Strength directly from Nu U Nutrition or from Amazon UK