This page may contain affiliate links and we may earn a small amount of money from any products bought. Our reviews, however, remain independent and impartial.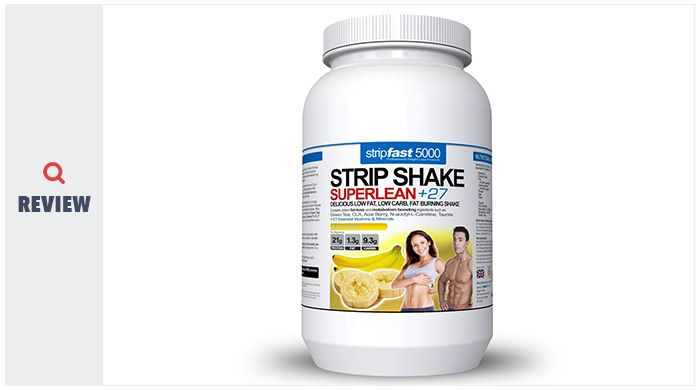 StripShake Super Lean from StripFast 5000 seems to be a cross between a traditional protein shake and a weight loss shake.  It promises five 'super concentrated' ingredients to support weight loss alongside another 27 essential vitamins and minerals to nourish your body, skin, hair and nails.
Its eight flavours each contain 21g of protein alongside 1.3g of fat and 9.3g of carbohydrates, and it is low in calories. You have the option to use it as either a meal replacement shake or as a protein supplement.
But does its attempt to bridge the weight loss-protein powder-multivitamin market really work? Is StripShake Super Lean as promising as it sounds? Let's take a look at the ingredients and see.
---
» See the #1 Protein Shake This Year «
---
The Ingredients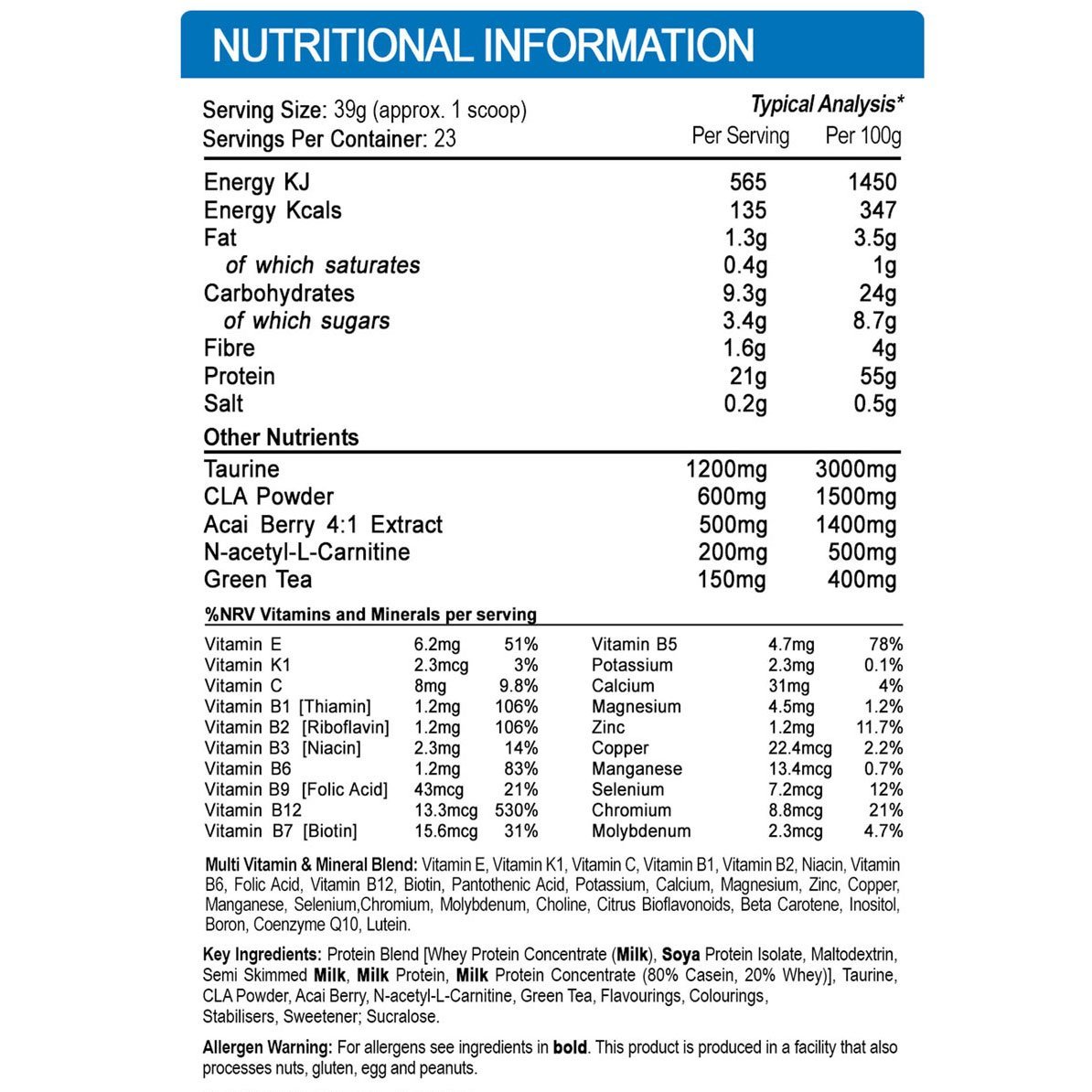 First a quick word about some curious marketing from StripShake Super Lean…
Depending on which flavour of StripShake Super Lean you look at on Amazon UK (the only place StripShake is sold), you may get a slightly different marketing message. The chocolate flavour, for instance, heralds its five key 'fat incinerating' ingredients — Acai Berry, Green Tea, Taurine, CLA and Acetyl L-Carnitine – to tackle belly fat. That's a pretty strong message and we'll double check the truth of it in a moment.
The really interesting part, however, is that subsequent flavours of StripShake Super Lean eschew the fat burning angle completely, preferring instead to describe the same ingredients as 'super concentrated' to support weight loss. Mmm, less specific and more wishy washy; does StripFast 5000 already know that its 'special' ingredients really don't burn fat at all?
Because the truth of the matter is that the majority of them DON'T burn fat, neither do they help directly with any kind of weight loss. Let's investigate further, starting with the supposed weight loss ingredients…
Acai Berry
There has been a lot of hype about acai berries and their ability to aid weight loss, but unfortunately the hype ignores the science. It is true that the acai berry is plentiful in antioxidants that can protect the body from free radicals, which can cause diseases such as cancer and heart disease, but that is as far as it goes.
As David Grotto, RD and author of 101 Foods That Could Save Your Life, told Web MD: "Acai is a nutrient-rich source of antioxidants, much like many other fruits, but there is nothing magical about the fruit to cause weight loss".
The hype surrounding acai berries may have originated in the fact that it is one of the few fruits to contain monounsaturated fats, which can potentially help you feel full and satisfied as part of a calorie controlled diet. The truth, however, is that you would need to consume significantly large amounts to enjoy any benefit. So while its inclusion in StripShake Super Lean may help your overall health, it will do nothing for your weight loss.
Green Tea
Green tea may be the only one of the five supposedly 'fat incinerating' ingredients in StripShake Super Lean that actually does help to burn fat, yet here's the disappointing fact – its dosage is significantly smaller than all the rest at just 150mg per serving . What are you playing at, StripFast?
There's a reason green tea is an immensely popular ingredient in fat burners: it works, and the science proves it. Green tea helps to boost the levels of the fat-burning hormone norepinephrine in order to kick start thermogenesis.
Research demonstrates that while green tea can reduce total fat mass, it is particularly good for abdominal fat, with one study demonstrating a 7.7% loss of abdominal fat when using green tea, compared to 0.3% placebo.
Its small amount of caffeine also provides an energy boost.
Another bonus: it is tried and tested and has been used safely for centuries. So why has StripShake Super Lean not fully committed to it? Your guess is as good as ours.
---
» See the #1 Protein Shake This Year «
---
Taurine
You're more likely to see taurine alongside caffeine in an energy drink than in a fat burning or weight loss product, and that's because of its reputation as an energy booster. The scientific community is divided on its supposed energy boosting properties, however, despite the hype.
While some studies suggest taurine can help to improve athletic performance, others suggest it may only do so when combined with caffeine. A 2009 study suggested it may aid endurance during exercise.
It's probably fair to say that most scientific experts believe it doesn't do much for energy by itself, though it may help with mood, memory and concentration.
Note, however, that we haven't said anything about its fat burning or weight loss-boosting properties… and that's because it doesn't have any. Another pointless ingredient in StripShake Super Lean … and, of course, it's the one with the highest dosage too, at 1200mg per serving.
Why, oh why, couldn't the manufacturers have given us less taurine and more green tea? Then we could potentially get behind them.
Conjugated Linoleic Acid (CLA)
CLA burst onto the weight loss scene with some phenomenal results in animal trials, which makes it such a shame that its success hasn't translated to humans. Instead a review of eight clinical CLA trials found such a variety in response to the substance – some participants lost almost 7.5lbs while others gained 1lb of fat –that it really can't be trusted at all.
Even more confusing than the weight loss results was the fact that the amount of CLA taken didn't seem to influence the amount of fat lost: giving more, for instance, didn't boost weight loss.
All of which suggests that it may be the type of CLA supplement that is influential in whether weight loss is successful or not, but either way, more research is needed.
All that we can say for right now, based on the current findings, is that you might as well avoid CLA, or leave it out of your supplements for now. If only StripFast had got the memo; they could have saved the 600mg per serving dedicated to CLA for something that could actually work.
Acetyl L-Carnitine (ALCAR)
StripShake Super Lean lists Acetyl L-Carnitine, known as ALCAR, as a 'fat incinerating' ingredient. That's interesting when you consider that it is more commonly used as a cognitive enhancer or nootropic. As a nootropic, its success has been proved. Can the same be said for its fat burning properties, or is this yet another dud ingredient in the list?
Well let's see. ALCAR is recognised for helping to transport free fatty acids into the mitochondria, the power house of human cells. These fatty acids can then be broken down and converted into energy (specific energy modules known as ATP).
ALCAR's ability to provide more of these fatty acids for conversion to energy (which wouldn't be available otherwise) is its weight loss claim to fame. It enables the body to use more of its energy from stored fat in the body than from glucose, potentially helping you to lose more weight.
So yes, potentially ALCAR can be a useful weight loss ingredient (if not exactly a fat burner), though it should be pointed out that studies examining ALCAR's weight loss potential are limited. Neither has it been approved as a weight loss drug by the FDA.
Caveats aside, however, we would be very happy to see an adequate dosage of ALCAR in StripShake Super Lean. Recommended levels of ALCAR vary from between 500-1500mg per day, though those taking it for weight loss are usually recommended to take as much as 2000-3000mg per day.
So how much does StripShake Super Lean give us? Ah, only 200mg per serving, unlikely to do very much even as a nootropic, and less likely to do anything as a weight loss ingredient. Another potential missed.
Proteins
With so much emphasis placed on StripShake Super Lean's weight loss abilities, it's easy to forget that it is, at heart, a protein drink. In total, StripShake Super Lean includes 21g of protein.
That protein comes from several different sources – whey protein concentrate, soy protein isolate, and milk protein concentrate.
Assuming StripShake Super Lean follows the traditional method and puts its biggest dosage ingredient first, the whey protein concentrate is likely to make up the bulk of the protein.
Whey protein is a popular protein choice as it can be absorbed by the body triggering protein synthesis in as quickly as 40 minutes. This in turn promotes muscle growth, which is the key to all protein powders and drinks – how to lose weight without losing muscle.
Whey protein concentrate typically contains between 30-80% protein and has more lactose and fat that whey protein isolate.
It's fair to say that whey protein concentrate tends to be the cheaper protein source (when compared to whey isolate, for instance), but that doesn't make it inferior per se. A lot depends on how the whey protein is treated, plus its BCAA (branched-chain amino acids) and leucine count. Leucine, for instance, is a key amino acid particularly helpful to muscle growth.
Unfortunately here's where StripShake Super Lean falls down in that it simply doesn't give this information, unless it's hidden in obscure marketing information that we just can't find. We have no idea whether its BCAA or leucine count is high or low, meaning that we can't compare the quality of the protein to other supplements on the market. The manufacturers describe it as 'quality protein' and we can't say they're wrong, but we'd rather know the details for ourselves. Call us cynical.
As well as milk protein isolate, StripShake Super Lean also contains soy protein isolate, which is usually guaranteed to contain at least a 90% protein count thanks to its highly purified form. Soy protein isolate is also thought to provide all the amino acids that the human body needs.
StripShake Super Lean also contains milk protein concentrate, usually mostly micellar casein. In this particular case, it is made of 80% casein and 20% whey. This may act as an appetite suppressor, thanks to its slow release of amino acids over time.
Also included is maltodextrin, a complex carb made from corn, rice or potato starch that actually acts similar to a simple carbohydrate. It potentially offers a more sustain recovery after exercise and is often used as a post-workout supplement thanks to its ability to transport protein to the muscles. The addition of maltodextrin may boost the act of protein synthesis more than drinking protein alone.
---
---
Vitamins and Minerals
The remaining ingredients include a multi-vitamin and mineral blend of Vitamin E, Vitamin K1, Vitamin C, Vitamin B1, Vitamin B2, Niacin, Vitamin B6, Folic Acid, Vitamin B12, Biotin, Pantothenic Acid, Potassium, Calcium, Magnesium, Zinc, Copper, Manganese, Selenium, Chromium, Molybdenum, Choline, Citrus Bioflavonoids, Beta Carotene, Inositol, Boron, Coenzyme Q10, Lutein.
So what conclusion can we make from these ingredients? Despite the emphasis on StripShake Super Lean's weight loss (or fat burning) properties, there's nothing here to really live up to the hype. StripShake Super Lean is really nothing more than a protein drink with a few added vitamins and minerals thrown in.
The Pros
StripShake Super Lean is low in calories.
Has a decent amount of protein per serving.
It offers eight different flavour choices.
It is GMO-free and suitable for vegetarians.
It also comes with an email guide to losing weight and burning fat, though you may have to visit the company's website to request it.
StripShake Super Lean also comes with a 100% money back guarantee.
Judging by the reviews of StripShake Super Lean on Amazon, the taste does seem pleasurable.
Happy reviewers also point out that it is filling and prevents hunger.
Hey, plenty of vitamins and minerals can't be a bad thing, right?
The Cons
As we pointed out, StripShake Super Lean's weight loss ingredients are hugely over-exaggerated. Of the two ingredients out of the five mentioned that could potentially help, the dosages are so small as to render them pretty impotent
While the majority of people do seem to like the taste, it is also one of the most common criticisms within the bad reviews on Amazon. Unhappy customers also complain about grittiness.
The calorie count in StripShake Super Lean would seem to be very low. Using these shakes as a meal replacement would potentially put you on a very low calorie diet. That's never a good way to lose weight or to sustain weight loss.
There is also no mention of dietary fibre in this product.
There are other protein shakes which contain more protein on the market.
---
» See the #1 Protein Shake This Year «
---
Customer Reviews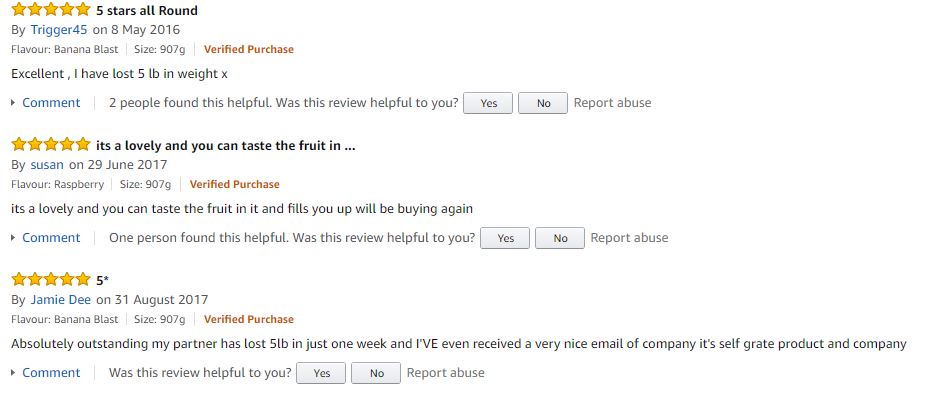 Who Takes It?
Protein shakes are traditionally aimed at people who either want to lose weight without losing muscle, or who want to bulk up. It would seem that StripShake Super Lean is definitely aimed at the former category.
How to Take It?
Add one scoop (39g) of powder to 250ml of milk or water and, using a shaker or blender, mix until thick and smooth. One 907g tub should make 23 servings. The manufacturers recommend taking one or two shakes a day depending on your desired results.
Safety/ Side Effects
Some users of StripShake Super Lean have reported side effects, such as nausea, stomach pains, bloating, and headaches. Judging by the ingredients mentioned alone, other potential side effects could include insomnia, nervousness, and increased heart rate.
Conclusion
The manufacturers behind StripShake Super Lean, StripFast 5000, have tried to inject another element into protein shakes – active (and easy) weight loss. Sip a protein shake and let these five 'great' ingredients help to lose the weight for you.
It's such a shame that none of it is really true. The ingredients chosen either just don't do anything for weight loss at all, or are in such low dosages as to be pointless anyway.
That's not to say that you won't lose weight using StripShake Super Lean, however. If you use it as a meal replacement for two of your meals, you no doubt will lose pounds of body fat… assuming you weren't already on a strict calorie controlled diet.
How could you not, if you resist the temptation to snack between meals? StripShake Super Lean will put you on a low calorie diet, but will the weight stay off once you revert back to proper eating? We're going to hazard a guess and say no. It rarely does.
The protein count of StripShake Super Lean could also be a touch higher, but it's very hard to evaluate its potential here as it doesn't give up the crucial BCAA and leucine count that we need to judge it. Bad form, StripFast 5000.
---
» See the #1 Protein Shake This Year «
---