This page may contain affiliate links and we may earn a small amount of money from any products bought. Our reviews, however, remain independent and impartial.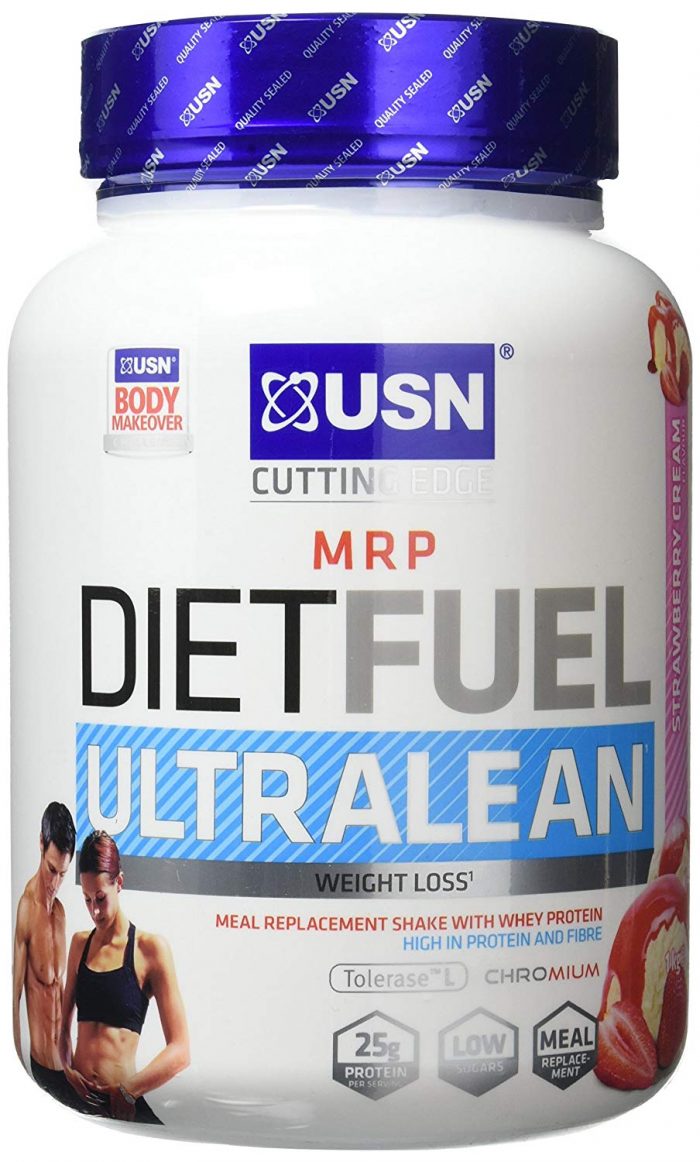 USN is one of the big global names in sports nutrition. The company was founded back in 1999 under the same mission as today: to provide the cutting edge of sports nutrition across the whole spectrum of sports and objectives.
USN Diet Fuel Ultra Lean is a protein powder based meal-replacement shake that's been designed to supplement a healthy diet and help you cut fat while maintaining muscle. With 71% giving it five stars on Amazon and 96% doing the same on USN's own website, it's safe to say it's going down well.
So, is this something to add to your supplement list? Maybe it'll be useful to shift a few stubborn pounds, or the last few when you're cutting. Let's find out.
<<< SPECIAL: See our Best Protein Powders to Buy in the UK in 2020 >>>
Ingredients
Whey protein concentrate (46%)
Whey protein is cheaper to produce than its more refined cousins, isolates and hydrolysates. Concentrate typically achieves 35-80% protein by weight, USN offers us 46%, which is on the low side. Especially as more and more well-known brands are producing whey concentrate-based shakes that hit the high end of the concentrate percentage protein range.
Whey is a great supplement to be taking when your aim is to lose fat and retain muscle, it's quick absorbing and light on the stomach.
Micellar casein (92%)
Milk protein, often around 90% protein by weight, is a rich source of BCAAs and glutamine. The great thing about casein is its slow absorption and ability to form a gel in the gut. This works in combination with whey in a recovery or maintenance shake: the initial boost to protein synthesis thanks to the whey protein is followed up by the slower absorbing casein. Casein has been seen to be the most effective form of protein for supplementation to aid protein synthesis.
Soy protein isolate
Similar to its whey counterpart, soy protein isolate achieves no less than 90% protein content by weight. Soy protein has been seen to aid in weight loss and protect muscle mass just as effectively as whey protein.
The use of soy protein here is probably to help bump up the protein content due the low-grade whey concentrate and other ingredients that pad the protein out. e.g the fibre content.
Calcium caseinate
Similar but inferior to micellar casein, it's cheaper and has just as much protein by weight. Calcium caseinate is produced by altering the pH of milk to be more acidic using chemicals and making the casein insoluble. When separated, the casein is combined with calcium hydroxide to form calcium caseinate. During this process the proteins are well and truly denatured, making them less bioavailable and even slower to absorb than micellar casein. I'd love to have seen a blend using more micellar casein instead of this.
A big shame is that there is no individual breakdown of how much of each protein is in USN Diet Fuel Ultra Lean. But, at the 46.1g of protein per 100g, the majority is probably from the low-refined whey concentrate.
---
» See the #1 Protein Shake This Year «
---
Carbohydrates
Maltodextrin
Made up of a chain of D-glucose molecules from rice, potatoes, and corn, it's most often used in weight gaining supplements like mass gainers. It has a thick, sweet taste that lends to high calorific foods, and this could be the reason for it's inclusion — flavour.
Maltodextrin has a high GI, it's quickly absorbed and can spike blood sugar. This flies in the face of USN's claims at a low GI product, so I think we can assume that this is not the primary source of carbs. (we can't say for sure as no weights are offered).
Rice starch
A complex carbohydrate with a lower GI than maltodextrin – rice hits around the 70 mark on the glycemic index, but as a processed starch it's likely to be higher than this.
Rice starch most likely makes up the majority of the 17.3g carbohydrates per 55g serving. When taking the added fibre into account, this will provide the sustained carbohydrates to fight hunger that you'd expect to find in a shake branded as a meal replacement.
Sunflower oil powder
Diet Fuel Ultra Lean provides us with 2.5g of fat per serving. This is provided by the extraneous part of the whey concentrate (a mix of milk sugars and fats), and the addition of sunflower oil as a powder. A great source of omega 6 fatty acids, sunflower oil contains healthy, unsaturated fats, and has been shown to reduce LDL (bad) cholesterol, boost HDL cholesterol and reduce risk of heart disease.
However, on the same topic of weight loss, USN only provides a very small amount of fat per serving compared with the carbohydrates. So, I can't see the sunflower oil having an influence other than providing a tiny piece for the puzzle of your hopefully balanced diet.
Garcinia cambogia (1.8%)
A fruit that's known to enhance the flavour experience of different foods, garcinia cambogia has collected notoriety for being a superfood fat burner. However, there is little to no evidence to suggest this. The only positive study was in conjunction with a calorie deficit in overweight individuals where a slight increase was noticed. The dose for this… 2.4g garcinia cambogia daily.
We can't compare the doses unfortunately as none are included. But I'd go out on a limb and say that 2.4g is far more than in USN Diet Fuel Ultra Lean.
Fibre
Worth a mention as USN have put a great emphasis on the low-GI qualities of the Diet Fuel Ultra Lean. Diet Fuel Ultra Lean contains added inulin, a starch found in a wide variety of fruit and vegetables, and HI-MAIZE®, which is a processed resistant starch. Resistant starches tend to contain a percentage of digestible and indigestible starches, HI-MAIZE® is 56% indigestible fibre and used to enhance everyday items lacking in dietary fibre.
As seen in the carbohydrates above, the GI is determined by the rate of absorption and insulin spiking properties each carb, and fibre plays an important role in this. By slowing down digestion the fibre mechanically delays the absorption of the shake and lowers its GI. This is the same principle as eating an apple compared to drinking the same quantity as a juice. The fructose in the juice isn't trapped in the matrix of fibre as it is in the whole apple, and so the GI is  much higher for the juice.
Other ingredients
Tri-potassium citrate, Garcinia cambogia (1.8%), Micronised milk mineral complex, Rice starch, Stabilisers (Guar & Xanthan gum), Magnesium oxide, Non-nutritive sweetener (Sucralose), Ascorbic acid, Ferrous fumarate, D-Alphatocopheryl acetate, Zinc citrate, Nicotinamide, Manganese ascorbate, Tolerase™L (pH-stable lactase), Copper bisglycinate, D-Calcium pantothenate, Retinyl palmitate, Cyanocobalamin, Biotin, Cholecalcipherol, Pyridoxine HCl, Riboflavin, Thiamin HCl, Chromium picolinate, Potassium iodate, Folic acid, Sodium selenite
---
» See the #1 Protein Shake This Year «
---
Pros
Amazing reviews on Amazon and USN website.
Trusted brand.
Extensive list of vitamins and minerals for general health.
Relatively low GI for a protein powder/ carbohydrate supplement.
Cons
Ingredients not broken down into weights.
46% protein in the whey concentrate is quite low.
Calcium caseinate is a cheap source of protein.
No evidence that garcinia cambogia works as a fat burner.
Maltodextrin could spike blood sugar.
Reviews
All reviews come from Amazon UK. Click to enlarge.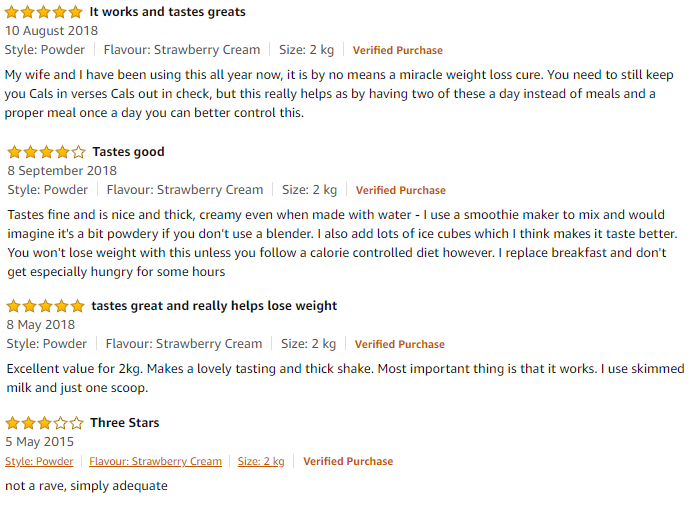 ---
» See the #1 Protein Shake This Year «
---
Safety/ Side Effects
None of the listed ingredients at the given doses pose any health risks. Some people experience indigestion and bloating when taking protein powders. If you're allergic to any substances, check the label for allergens.
How to Take It
Take two rounded scoops (55g total) with 200-300ml of water or skimmed milk. Shake or blend for 30 seconds. Take 1-3 servings per day.
Who Takes It?
Anyone who's on a diet or cut who's trying to lose weight and preserve muscle mass.
Conclusion
USN has a solid reputation and Diet Fuel Ultra Lean has picked up not only some amazing reviews, but an Amazon's Choice Award.
Although USN could be clearer with the amounts of each ingredient, what they do deliver is a huge list of ingredients, vitamins and minerals that will help contribute to general health. This is important in a product designed for people in calorific deficits, as the nature of dieting can increase the chances of deficiencies.
Overall USN Diet Fuel Ultra Lean has all the hallmarks of a weight loss shake; it just doesn't offer anything we haven't seen before. There has been some effort to reduce the GI of the carbs by using rice starch and adding fibre to the mix, but the sunflower oil content is negligible in the bigger picture.
The takeaway: for the mid-range price of £22.99 per kilo and the trusted brand… If you're looking to lose some fat as part of a healthy diet and want to squeeze a supplement into your daily macros — one that'll help with the cravings and boost protein — then I'd say USN Diet Fuel Ultra Lean is worth a shot.
---
» See the #1 Protein Shake This Year «
---