This page may contain affiliate links and we may earn a small amount of money from any products bought. Our reviews, however, remain independent and impartial.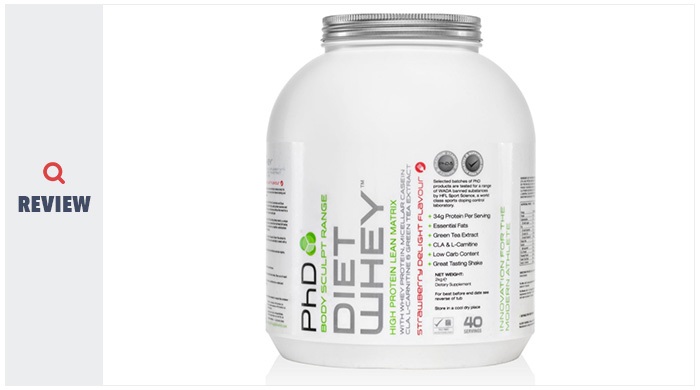 PhD Nutrition Diet Whey is a protein supplement that provides convenient post-workout protein alongside a low carb shake to be used as part of a calorie controlled diet. The manufacturers describe it as 'the original and still best Diet Whey'.
Its blend of whey protein concentrate, soya protein isolate and milk protein concentrate, along with waxy barley flour, is designed to help you build muscle, boost energy, provide the body with much-needed vitamins and help with weight management.
<<< SPECIAL: See our Best Protein Powders to Buy in the UK in 2020 >>>
It contains 91 calories per 25g serving and is low in sugar, fat and salt. A bigger serving (two scoops) should give you about 34g of protein alongside 5.5g of carbohydrates and 2.5g sugar. Different flavours may have slightly different nutritional values.
It also contains additional ingredients such as green tea extract, L-Carnitine and CLA, among others, to encourage weight loss, so let's have a look at what they do and if they work…
Ingredients
Whey Protein Concentrate
Whey protein is a popular source of protein, absorbed much quicker than other alternative sources. It can stimulate protein synthesis – the act of promoting muscle growth – in just 40 minutes after ingestion. Protein also helps the body to recover quicker after intense exercise. The whey protein here contains 3.3g of BCAA (Branched Chain Amino Acids), the amino acids responsible for synthesis, per 25g serving.
Whey protein concentrate is a cheaper option than whey isolate or hydrolysate, but PhD Nutrition Diet Whey includes two further protein sources as well, such as…
Milk Protein Concentrate
Milk Protein Concentrate (MPC), mostly micellar casein, may act as an appetite suppressor thanks to its slow-releasing protein which continues to release amino acids over time. A 2013 research paper also pointed out that the consumption of dairy products is linked to a decrease in metabolic-related diseases. Poor metabolic health is often linked to obesity or being overweight.
Soya Protein Isolate
A third form of protein, Soya Protein Isolate (SPI) usually contains a minimum protein content of 90% thanks to its highly purified form. It is believed to provide the full range of amino acids needed by the human body.
All three of the proteins mentioned above have varying digestion rates, potentially helping to lengthen the period of protein synthesis.
Fat Reduced Cocoa Powder
Now we come to the potential weight loss ingredients. Cocoa powder may be useful in weight loss, thanks to its flavonoids which can protect cells from free radicals. It is included here to protect against damage caused to proteins and enzymes. A Japanese study reporting in Nutrition (May 2005) also discovered that cocoa powder has the ability to interfere with the body's ability to change dietary fat into fatty tissue. A three week test in rats found the cocoa powder group had significantly lower body fat than the control group.
---
» See the #1 Protein Shake This Year «
---
Waxy Barley Flour
A type of starch, wax barley is commonly found in plants and can help to store energy. Barley can also decrease the level of glucose absorption in the blood, thus helping blood sugar levels to become more stable. Barley is also described as a main source of nutrients and fibre needed for a healthy diet. Studies also show that consuming barley can be an effective way to reduce LDL cholesterol, the bad cholesterol, in the body. LDL is responsible for cholesterol build up and potential blockage of the arteries.
Golden Brown Flaxseed Powder
Flaxseeds are a primary source of dietary fibre which, if taken before a meal, may act as an appetite suppressor. Studies have shown that it may also be able to lower 'bad' LDL cholesterol.
CLA Powder
A powdered version of Conjugated Linoleic Acid, CLA may help people to lose weight by reducing fatty deposits in the body and boosting immunity. A meta-analysis of various studies showed that while CLA is more effective in animals, consuming approximately 3.2g a day of CLA could also help humans enjoy a 'modest' fat loss. Unfortunately, PhD Nutrition just contains 375mg of CLA per 25g serving.
Green Tea Extract
Green tea extract is a popular ingredient in fat burners thanks to its natural antioxidants, known as catechins, and small amount of caffeine which both help to speed up the metabolism. This thermogenic process helps the body to potentially burn more calories.
One research study, for instance, showed that people taking green tea extract lost 7.7% of fat around the abdominal area, as opposed to those taking a placebo (only lost 0.3%).
The effectiveness of green tea has long been recognised in weight loss circles.
The Pros
It is low in fat, sugar and salt with just 91 calories per 25g serving.
Green tea is a well-known thermogenic agent, popular in weight loss circles because of its proven success.
Available in a wide range of flavours.
Vegetarian-friendly.
It is also halal, GMO-free and palm oil-free.
Contact details for PhD Nutrition are easy to find and you can telephone, speak to them online or fax.
PHD Nutrition is very upfront about its nutritional values.
It has gained a 4.1 rating out of 5 on Amazon UK at the time of writing (late 2018/2019)
The Cons
While research into some of its ingredients is available, there have been no clinical studies done on PhD Nutrition Diet Whey as a whole. As a result, it is impossible to prove how successful it may be.
Some of the individual ingredients may cause side effects
Some customers have complained about the flavours, describing them as very sweet. Even those customers who like the taste admit the shake is grainy, probably as a result of the flaxseed included.
The mix is also described as quite thick and heavy, so is best avoided before a workout.
PhD Nutrition recommends one scoop of protein powder (25g) for a 'normal' shake, or two scoops to super-size it. If you opt for just one scoop, however, you will only consume 17g of protein, which is pretty low for a protein shake (experts recommend at least 20-25g of protein in a shake). Two scoops will give you about 35g of protein though that's still lower than some of Diet Whey's competitors, such as LA Muscle LA Whey Gold which gives nearly 50g of protein per serving (granted, per serving is 70g).
Can be quite pricey unless you can find a discount or special offer.
---
» See the #1 Protein Shake This Year «
---
Customer Reviews
Customer reviews taken from Amazon UK. Click to enlarge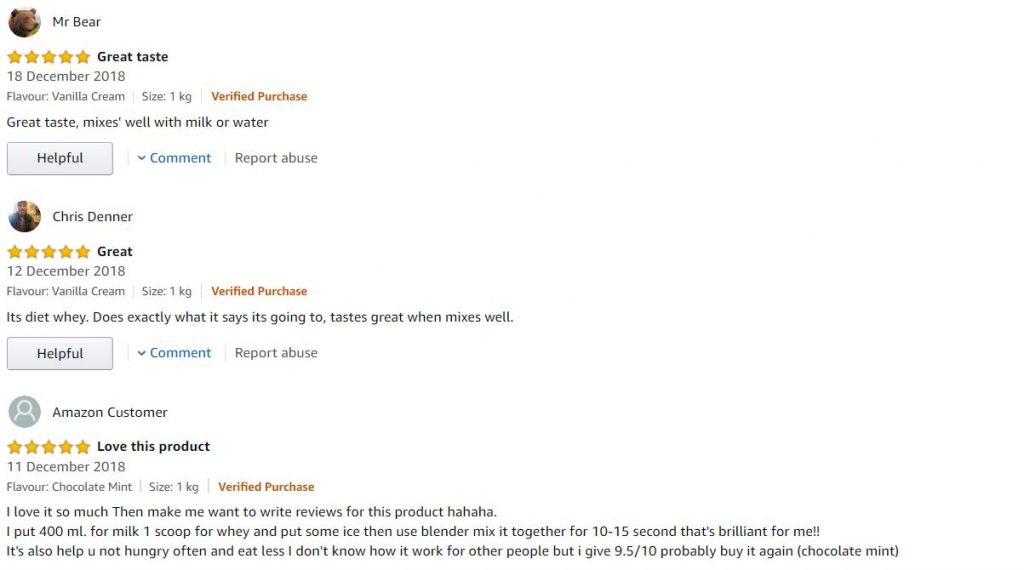 Who Takes It
PhD Nutrition states that its Diet Whey is suitable for men and women following a weight management nutrition plan, gym goers aiming to control calorie intake and lose body fat, and anyone wanting a high protein supplement. It is also suitable for anyone looking to replace a meal with a high protein and low sugar, fat and carb shake.
Safety/ Side Effects
There has been no clinical research done on PhD Nutrition Diet Whey as a whole, therefore there are few records of significant side effects. However, some of the individual ingredients in Diet Whey may cause side effects ranging from headaches, fatigue, irritability and stomach troubles. A common side effect of regularly ingesting protein shakes is also gas and tummy troubles.
---
» See the #1 Protein Shake This Year «
---
How to Take It
For one normal serving, add 25g (one scoop of powder) to 175ml of ice cold water and shake or blend. To super-size it, add two scoops of powder to double the water.  Note that some customers advocate using more water than recommended or even mixing it with milk to thin out or improve the taste. Of course, adding milk will increase the calorie count.
Conclusion
It is fair to say that the protein and amino acids in PhD Nutrition Diet Whey should be able to help with muscle building and potentially muscle repair, though a 25g serving is very low in protein and should be double sized if you want to build muscle and not gain fat.
Green tea is also a well-known weight loss ingredient and may help to boost the metabolism. PhD Nutrition Diet Whey's 100mg of green tea per 25g serving is unlikely to be enough to encourage weight loss, however. Experts theorise that you need to drink approximately two to three cups of green tea with between 120-320mg of catechins in each cup to have any effect. So it's probably worth having two scoops for the green tea as well.
Overall, there's very little clinical evidence – and none given on the official website – to support the use of Diet Whey as an effective weight-loss aid. If you're primarily looking to drop fat, you may be better off using a weight loss supplement or diet shake backed by solid clinical research.
Here's where it gets interesting, however. Despite all of the above, you can't ignore the fact that more than 3,000 customer reviews on Amazon UK give PhD Nutrition Diet Whey a 4.1 out of 5 star rating. It's obviously working for a lot of people, with many claiming to be losing weight. Many recommend it as an appetite suppressant in particular.
If you want to gain muscle while also losing fat, PhD Nutrition Diet whey could potentially do the job for you, alongside a healthy lifestyle. If nothing else, it may help you control your cravings, thanks to the flaxseed. It's just a shame the protein count is so low.
---
» See the #1 Protein Shake This Year «
---