This page may contain affiliate links and we may earn a small amount of money from any products bought. Our reviews, however, remain independent and impartial.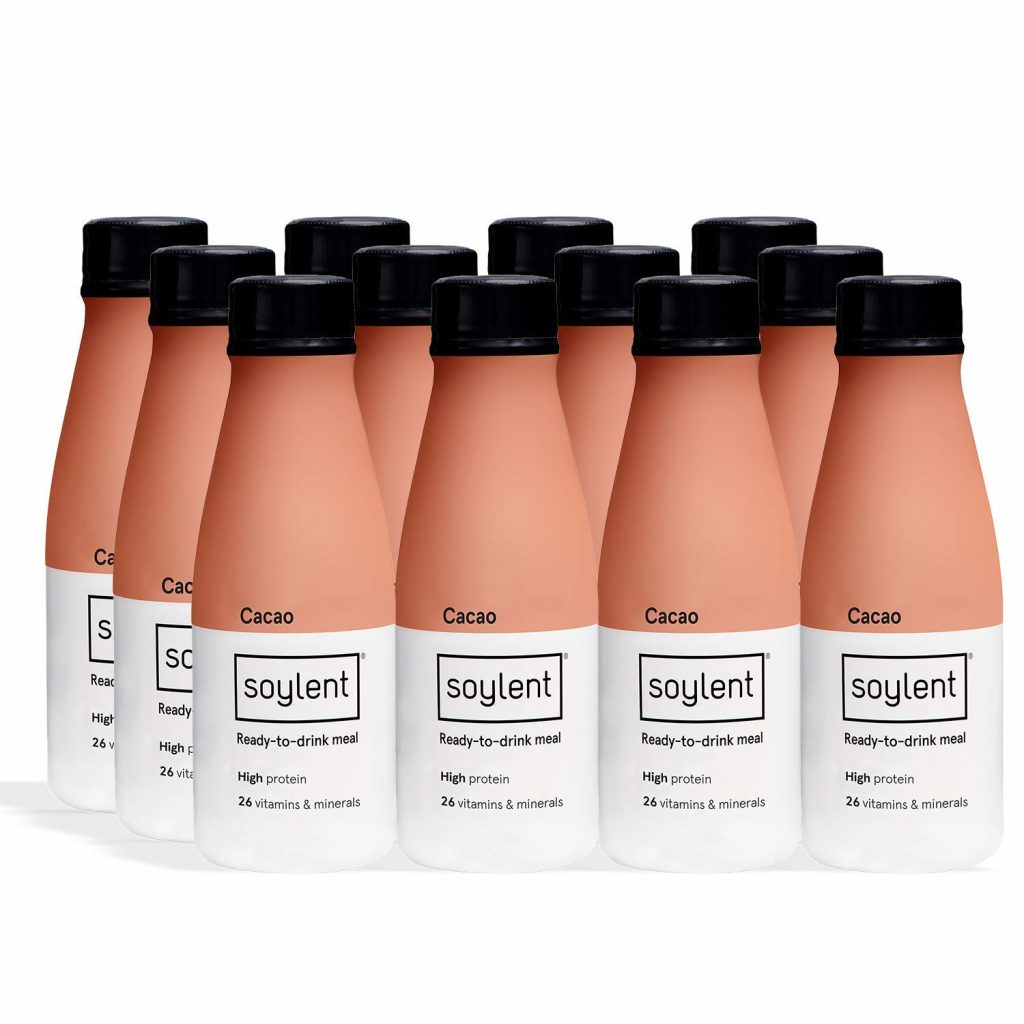 A best seller in the USA, the Soylent meal replacement shake just hit the British shelves. It is currently sold on Amazon UK only and is available in three different flavours: Original, Cacao and Cafe Mocha (this one contains caffeine).
As more and more of us are skipping meals, Soylent could come in as a handy alternative to fill the food void we have created. The meal replacement shake is sold in a ready-to-drink bottle you can take anywhere and drink on-the-go in just a couple minutes.
Here's where we should stress that Soylent is not a weight loss shake and is not intended to be one. One shake contains 400 calories, 20% of the average recommended 2,000 calories a day, double that of some traditional weight loss meal replacement alternatives.
Boasting 20g of plant-based protein per serving, Soylent is a vegan-friendly protein drink. It promises a healthy and nutritionally complete meal replacement formula, but does it really deliver?
<<< SPECIAL: See our Best Protein Powders to Buy in the UK in 2020 >>>
The Ingredients
Soya Protein Isolate
This plant-based source of protein is derived from soy beans. Producers of vegetarian food absolutely love it as it is a cheap and easily digestible ingredient. Soya protein isolate also contains nine essential amino acids our bodies need to function properly.
Soy protein isolate is a lean and low-calorie source of protein and is thus perfect if used in a weight-loss programme.
However, many concerns remain around the manufacturing process of soya protein isolate. The ingredient used in the Soylent meal replacement shake is not organic. In many cases, it means that hexane, a by-product of gasoline, and ethanol have been used to soak the beans and remove all fats and carbohydrates. In addition, Soylent tells us the soy it uses in the meal replacement shake has been genetically modified… we're not thrilled about that. The company is proud of this claim, but there's no doubt it will be a turn off for many.
Maltodextrin
Maltodextrin is a highly processed powder derived from corn, rice, wheat or potato starch. In Soylent, it is used as a thickener and it enhances the taste of the meal replacement shake. It has no nutritional value.
Maltodextrin is digested quickly and will give you a quick boost of energy. For that reason, it will also rise blood sugar and insulin levels quickly.
High Oleic Sunflower Oil
This ingredient is used as a source of fat in Soylent. It makes the meal replacement shake free of saturated fats, as well as free of trans fats, which have been proved to be harmful. Instead, high oleic sunflower oil is a source of monounsaturated fats, which can help with weight loss and reduce the risk of heart conditions.
Isomaltulose
Isomaltulose is a blend of two simple carbohydrates: glucose and fructose. Glucose and fructose are also found in table sugar. However, they are bonded differently in isomaltulose, which allows them to be digested slower and keep you full for longer while avoiding the "sugar rush" you may experience when eating sweet food as blood sugar levels do not rise as fast.
Isomaltulose is produced from beet sugar and is often found in premium health food to replace regular table sugar.
Vitamins and Minerals
To keep its calories relatively low while providing good nutrition, Soylent meal replacement shakes have skipped whole foods and added a rather long list of vitamins and minerals to its ingredients. In one serving of the meal replacement shake, they are each dosed to amount around 20% of an adult's daily recommended intake.
The Pros
Even without eating a proper meal, Soylent meal replacement shakes should keep you full for a while.
It is vegetarian and vegan-friendly.
Fans say each flavour tastes palatable.
There are no harmful side effects to this shake.
Contains loads of vitamins and minerals.
It does not need to be kept refrigerated until opened and can be eaten on the go.
The Cons
It doesn't contain whole foods.
At £3.25 a bottle when buying a 12-pack, it is much more expensive than its American counterpart.
The way soy is processed to become soya protein isolate can be of concern.
Using GMO soya will be a big no-no for many people.
Drinking a shake is not as satisfying as eating real food.
Safety/Side Effects
There are no harmful side effects to Soylent meal replacement shakes. However, it is unsure whether the use of ethanol and hexane while transforming soya beans into soya protein isolate should raise safety concerns for our long-term health.
How to Take It?
Just drink one bottle in replacement of any meal of the day.
Who Takes It?
Soylent meal replacement shakes are aimed at busy professionals or others who don't have time to take a proper lunch break or who traditionally skip breakfast but might want to drink it on the go. Its Amazon page also points out that with its 20g of protein, it is also used by some as a high-protein post-workout shake.
Does It Work?
Soylent meal replacement shake is not a suitable alternative to all food intake. Used occasionally, it is a decent alternative to skipping meals and can give you the necessary nutrients to keep you going all day.
If you are trying to lose weight, Soylent meal replacement shakes remain high in fats and calories compared to other popular weight loss shakes.
For example, one serving of Slimfast Rich Chocolate Royale Shake Mix (mixed with fat-free milk) contains 200 calories, compared to 400 for Soylent. The Slimfast shake also contains 4g of fat (compared to 21g for Soylent), 30g of carbohydrates (32g for Soylent) and 10g of protein (20g for Soylent).
However, if you are at the beginning of your weight loss journey, Soylent may be a useful alternative to fast food or to the highest calorie meal you would normally eat. According to reviews in the U.S., a fair few customers seem to have lost weight that way.
Conclusion
Meal replacement shakes can be hard to stick to when on a weight loss programme, but as it is higher in calories, Soylent also positions itself as a good meal replacement option for those who don't have time to eat. With 20g of protein and 21g of fat per serving, Soylent should keep everyone full for a while.
Of course, in an ideal world, we'd all make time to eat and to eat healthily, but in reality, Soylent may be a decent alternative to skipping meals or heading to the nearest fast food restaurant, though whether it's as mentally satisfying as your favourite fried chicken is another matter.
It may be one to keep in your drawer for when you only have five minutes between meetings and want to avoid embarrassing tummy rumbles.
In its native USA, Soylent has developed a real cult-like following. However, it is not recommended to use it more than a few times a week, as it doesn't contain any whole foods.
In addition, we are quite disappointed by the presence of genetically modified soya protein isolate, which processing methods remain controversial.