This page may contain affiliate links and we may earn a small amount of money from any products bought. Our reviews, however, remain independent and impartial.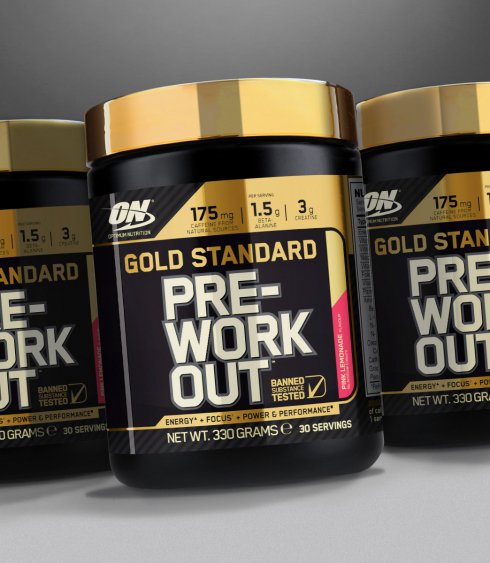 Your gym time is not only valuable, but often in short supply, so you need a pre-workout that's going to help you squeeze every ounce of performance out of you. Optimum Nutrition's Gold Standard Pre-workout promises to prepare your body, sharpen focus, and boost power, but does it deliver the goods?
Optimum Nutrition is possibly one of the most prolific supplement companies when it comes to fitness supplements. Their range includes the most popular protein powder on the market along with a number of products that fall into the workout-fuel bracket, like their Amino Energy and Gold Standard BCAA Train and Sustain.
Researching their pre-workout was an exciting prospect, so let's get into the ingredients.
The Ingredients
Creatine (Creapure®)
Creatine is a staple when it comes to performance supplements, and for good reason.  Well-researched and highly effective, in the body, creatine binds chemical energy as a phosphocreatine into the well-known ATP. This chemical energy saturates the muscles and rapidly provides energy during the depths of your workouts.
Cheaper creatine can cause bloating, so having a high-quality form (Creapure®) is good to see. After all, we're working for a tight transverse, not a bloated one. Gold Standard contains 3g, which isn't enough to reap the full rewards of creatine on its own, but an effective dose for any pre-workout.
Beta-Alanine (Carnosyn®)
Studies have shown a boost in physical performance in 60-240 second bouts of exertion and moderate to high-intensity cardio when taking beta-alanine. Meaning you can get out those last few reps a little easier or boost your all-round performance in sport.
If you've taken beta-alanine before, you'll likely have felt the 'tingles', a pins and needles-type feeling, often on the face and hands. The technical term for this is acute paraesthesia and experts theorise it occurs because of the slight stress beta-alanine puts on your nervous system.
It's known to happen after doses of 800mg-1g and ON Gold Standard Pre-workout contains 1.5g, but the tingles have been shown to be temporary and a known (and mostly accepted) side effect. Larger doses will cause the feeling to be more intense, with excessive amounts making the tingling very uncomfortable.
Note that if you take it on an empty stomach, it may take effect sooner but you're also more likely to experience the tingling.
L-Citrulline
Big in the pre-workout market, L-Citrulline picks you up when the beta-alanine drops, and it's all about L-arginine and nitric oxide. Arginine increases levels of vasodilating nitric oxide; dilating blood vessels means more blood flow, more oxygen and a really satisfying pump. Citrulline simply turns into arginine in the kidneys after ingesting.
So why not just take arginine? Good question. Interestingly, supplementing citrulline increases levels of arginine far more effectively than taking arginine itself. It's a great, key ingredient for effective pre-workouts.
Although, ideally dosage for exercise would be 6-8g half an hour to an hour before exercise, and Optimum Nutrition Gold Standard Pre-Workout only contains 750mg of L-Citrulline.
N-Acetyl L-Carnitine
A relative of the amino acid L-Carnitine, N-Acetyl L-Carnitine (ALCAR) works by promoting the transportation of energy (fatty acids) into cells' mitochondria. ALCAR is the choice for pre-workout as on top of boosting energy levels, burning fat, and reducing fatigue, ALCAR can cross the blood brain barrier, offering an iron focus and heightened alertness.
N-Acetyl L-Tyrosine
Sometimes referred to as NALT, N-Acetyl L-Tyrosine is a modified more soluble form of L-Tyrosine that is deacylated in the kidneys. It is a building block of norepinephrine (noradrenaline) and dopamine, and its main purpose is to act as an acute anti-stressor. In terms of pre-workout, it increases focus and alertness.
At 250mg, the dose is a little on the low-side for an intense stressor (your workout); the recommended dose being between 500-2000mg, however this is based on mostly anecdotal evidence.
Caffeine
Often seen as "just that simulant in coffee", caffeine is an energy-booster and mental stimulator (note, however, that it doesn't earn the title of nootropic because it comes with potential side-effects).
Caffeine also promotes the use of fat stores as energy and provides a boost to strength at higher doses.
The typical dose of caffeine in pre-workout is above 200mg, and at 175mg, Optimum Nutrition Gold Standard sits at a little less than two normal cups of coffee.
For me this is actually a good thing. I sometimes train later in the day, so I know I can take this without worrying about it interfering with my sleep. Not to mention that higher-caffeine content pre-workouts can sometimes descend into jitters and cut your workout short, but this is going to be personal opinion. We would recommend, however, that you watch your overall caffeine intake when using any supplement containing caffeine.
Panax Notoginseng
Panax Notoginseng, not to be confused with Panax Ginseng, is typically used to reduce muscle soreness after exercise and to improve exercise ability and endurance. According to WebMD, "early research shows that taking Panax notoginseng for 30 days might help non-athletes exercise longer" — note the emphasis on non-athletes — and may "reduce muscle soreness a few days after a downhill run", though it stresses that any improvement seen is  small. More research is really needed on Panax Notoginseng before we can claim that it does very much in this supplement.
Grapefruit Bioflavonoids
Bioflavonoids, also known as phytochemicals, are a wide group of compounds found in plants. Citrus Bioflavonoids are potent anti-oxidants and can aid blood circulation.
Other ingredients
Vitamin D, Vitamin B1, Niacin (B3), Vitamin B6, Folic Acid, Vitamin B12, Pantothenic acid (also known as vitamin B5) are all essential to general health. These are a nice addition to promote health in between your workouts.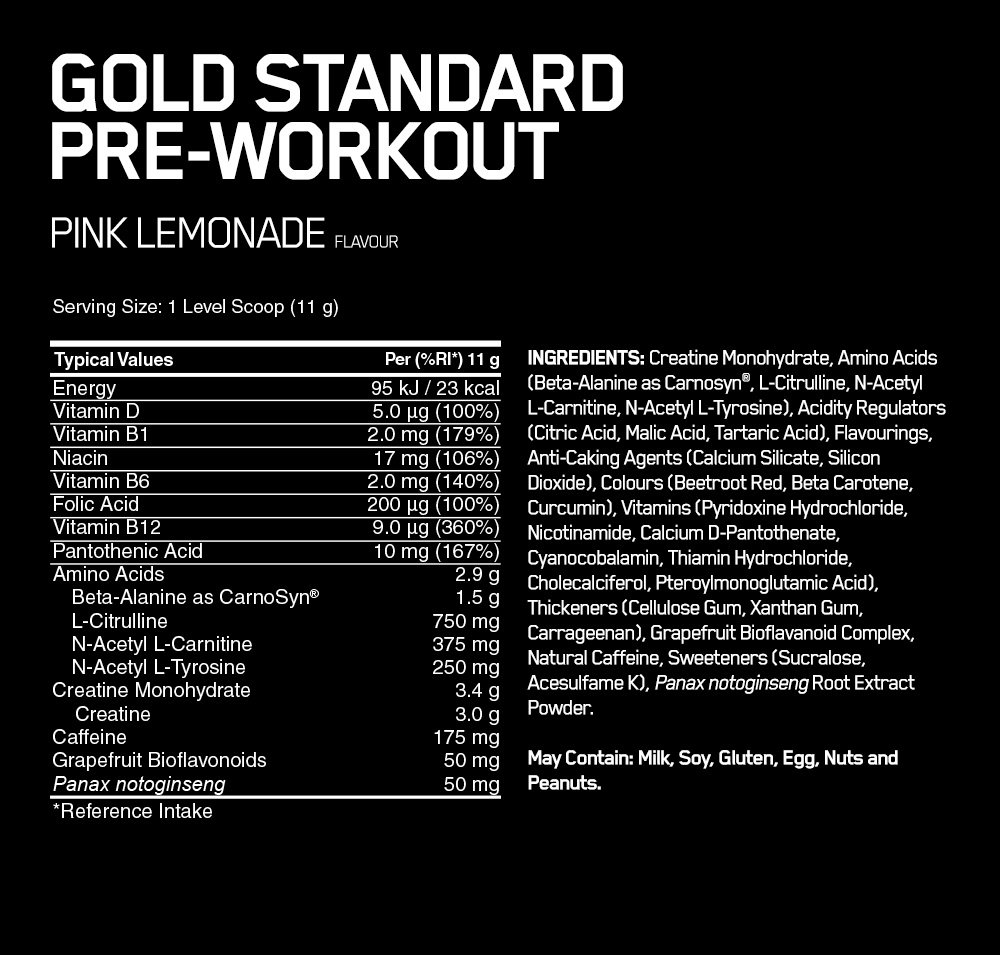 The Pros
ON Gold Standard Pre-Workout contains a decent amount of Beta-Alanine.
The low dose of caffeine is a positive for people who like to work out later in the day.
It includes high quality Creatine at an appropriate dose.
Prominence of cognitive and focus boosting ingredients.
Support for immunity and essential vitamins is a plus.
Reviews on taste and texture have mostly been positive: mixes well and the flavours are fine, although artificial.
The Cons
Some of the vital ingredients aren't provided at optimum doses (L-Citrulline, L-Tyrosine).
Citrulline Malate would arguably be a superior version of L-Citrulline, but ON Gold Standard Pre-Workout opts for the latter instead.
Some people may find the lower dose of caffeine to be a negative.
It's missing some quality ingredients that could provide a more effective product.
Consumer Reviews
The following reviews come from Amazon UK, click to enlarge.




Safety/ Side Effects
All the listed ingredients taken at the stated doses are safe. The only significant side effect would be the tingling/burning sensation that sometimes comes with Beta-Alanine. The caffeine is at a low enough dose for it not to have an impact after your workout but follow the recommended doses.
How to Take It
Combine a level scoop in 350 ml of water and drink 30-60 minutes before your workout.
Who Takes It?
Optimum Nutrition Gold Standard is a decent choice of pre-workout for those who want a hit of energy, endurance and vitamins without being up all night on a caffeine buzz. The artificial ingredients may put some off, but it's a solid choice if you're new to pre-workout and want a quality product.
Conclusion
My favourite part about Optimum Nutrition Gold Standard Pre-Workout is the low caffeine but that may end up being the curtain call for you. As a late-day trainer, I find that it's a good compromise on caffeine-free pre-workouts, though Performance Lab do an excellent stimulant-free option, Performance Lab SPORT Pre-Workout, if you did want to try one.
I thought the combined vitamin/ immune/ anti-oxidant ingredients in ON Gold Standard Pre-Workout were a nice touch.
The best way to summarise this pre-workout? Optimum Nutrition have provided some awesome ingredients but have short-changed us a little on the dose. I'd also love to have seen a few that work in combination with each other or down different pathways to enhance effects. Like L-Theanine along with the caffeine, or red beetroot extract with the L-Citrulline.
ON's swing at pre-workouts sits in the mid to high-price range. But for £18-24 it's a quality product made by a reputable manufacturer and it'll infuse you with that extra bit of power, endurance and mental focus that your workouts might be craving.
Where to Buy
You can buy Optimum Nutrition Gold Standard Pre-Workout from the official ON website or from Amazon UK or from Holland & Barrett.