This page may contain affiliate links and we may earn a small amount of money from any products bought. Our reviews, however, remain independent and impartial.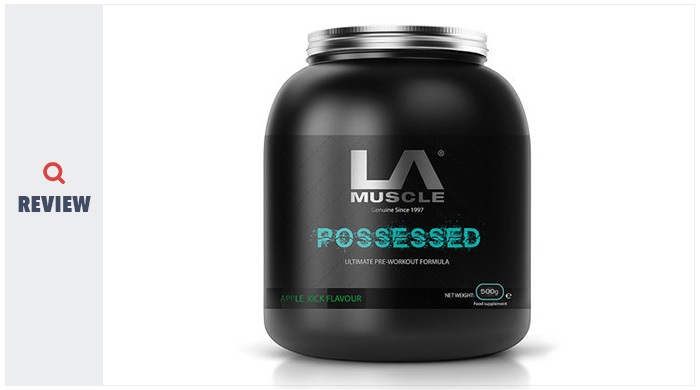 LA Muscle isn't afraid to be bold. It claims its Possessed pre-workout supplement is the 'strongest and safest' on the market, and should allow you to train and perform much better.
Its seven ingredients help to increase endurance, intensity, boost nitric oxide levels and give you 'insane muscle pumps' to provide more nutrients to the muscles. Oh yes, and they also boost mental clarity, says the manufacturer.
Such claims need to be examined, so let's take a look at the ingredients and see if they give LA Muscle genuine reason to be so confident…
The Ingredients
Why do you need a pre-workout supplement? Such supplements usually operate in one of two ways: by boosting endurance and allowing you to train harder and for longer, or by boosting both physical and mental energy to help you over mental roadblocks during your exercise.
So, do the ingredients in LA Muscle Possessed allow you to do that?
Beta-Alanine
Beta-alanine is said to boost sports performance and muscular endurance. It is a main ingredient in carnosine, a molecule concentrated in the muscles that helps to control acid build-up and prevent muscle fatigue. Supplementing beta-alanine is thought to boost production of carnosine.
Note, however, that according to Web MD, it may take weeks to boost carnosine levels using supplements. Many people even recommend 'loading' first to establish a high base line of beta-alanine in the system.
Studies also question the exact nature of the beta-alanine's success. Several studies show it doesn't seem to improve competitive results or performance. However, it does appear to reduce the Rate of Perceived Exertion (RPE), a measure of how hard you feel your body is working, and as such, time to exhaustion.
This may be beneficial during training and gym exercise, even if it doesn't appear to alter performance during competitive sports (though more research on this is probably advised).
Beta-alanine also comes with a health warning: some people have reported tingling of the skin on the hands, face, chest, fingers and toes (known as paresthesia). This usually subsides after an hour or two.
No established dose exists for beta-alanine, but some experts suggest paresthesia can kick in after doses of 1g. LA Muscle Possessed contains 3g of beta-alanine.
Creatine Monohydrate
Creatine monohydrate is a combo of three different amino acids – -arginine, glycine and methionine – and is probably one of the best ingredients in Possessed. Creatine isn't a steroid, as commonly mistaken, but is natural, produced by the body and also found in red meat and fish.
Creatine supplements are among the best-selling supplements on the market today, thanks to their ability to boost endurance and strength.  Weight lifters love creatine because of the strength gain it can bring, boosting production of ATP (adenosine triphosphate) to fuel muscles.
Studies show that it helps to boost muscle energy during aerobic exercise, though the benefits were only seen during intense as opposed to moderate exercise.
It has also been shown to reduce inflammation and cell damage after an intense race, thus aiding muscle recovery.
There's one final benefit of creatine monohydrate that is also particularly useful for a professional athlete and amateur alike. As well as fuelling the muscles, the additional ATP produced by creatine supplementation also reaches the brain, and can protect it from toxins and stress, as well as over excitement that can cause toxicity. As such, creatine is recognised as a nootropic – a substance that can improve brain functioning. It shows promise for boosting the mood, protecting brain health and boosting alertness.
The only downside to creatine supplementation is that it may take time for smaller doses of creatine such as the 6g included here to have much effect, perhaps up to 30 days depending on body mass. That's why most people like to load creatine (approx. 20g per day for five days) to saturate the cells first.
L-Arginine Alpha-Ketogluterate (1g)
L-Arginine Alpha-Ketogluterate, a non-essential amino acid, is thought to boost the bioavailability of nitric oxide, which in turn boosts lean muscle mass. Some users also swear that it helps them to exercise for longer without as much pain and stiffness.
Studies have found that using L-Arginine Alpha-Ketogluterate helped bodybuilders enjoy longer and larger pumps. The L-Arginine stimulates protein synthesis, which helps to build more lean muscle mass with the additional strength and endurance that suggests.
Citrulline Malate
Citrulline Malate is a key ingredient of any good pre-workout supplement, thanks to its ability to raise nitric oxide levels and boost muscle pumps. A precursor to arginine, it promotes blood flow that aids recovery after exercise, and also helps maintain strength levels throughout a workout. Indeed, one study done on healthy rats demonstrated a 23% increase in force output after taking citrulline malate.
It is also believed to act as a buffer, reducing lactic acid build-up, the element that causes the burning sensation during intense exercise.
All of which sounds great… if only LA Muscle Possessed included more of citrulline malate than it does. Possessed contains just 1g of citrulline malate, whereas a recommended dose for optimal performance is up to 6g a day, potentially increasing up to 10g if you don't notice any positive effects. Quite what benefits you'll notice with just 1g a day is unclear.
Caffeine
Caffeine is a great pick-you-up and an ideal pre-workout ingredient to stimulate the central nervous system, boosting cognition, strength and endurance, essentially delaying fatigue.  Taking it before exercise allows you to work for longer, increasing the time before you feel too tired to continue (this is even more noticeable for non-users of caffeine).
While caffeine is not a strict nootropic in the true sense of the word (it can have side effects), it does improve alertness and concentration, and may also help reaction time.
You would traditionally take the caffeine 45 minutes to one hour before a workout, giving it time to take effect.
The 300mg dose per 20g serving in LA Muscle Possessed should work well, though anyone sensitive to caffeine can start slowly with a 10g serving instead.
The remaining ingredients include olive leaf extract – an antioxidant intended to remove the free radicals that build up during exercise – and maltodextrin, a carb that provides a strong source of energy to fuel your workout. This fast-acting complex carb raises insulin quickly and provides the muscles with nutrients but avoids the subsequent energy crash of simple carbs.
The Pros
La Muscle Possessed contains some proven pre-workout ingredients such as caffeine, citrulline malate, and creatine monohydrate.
Caffeine is included here in optimal dosage, and we like the fact that anyone particularly sensitive to caffeine or starting out can opt for a lower 150mg dose to begin with.
Experts recommend mixing L-Arginine Alpha-Ketogluterate with creatine-based products, which is what La Muscle Possessed does.
LA Muscle as a company has a well-established respected reputation.
Suitable for vegetarians.
The Cons
While some of the ingredients in La Muscle Possessed are well-recognised in pre-workout supplements, many are under-dosed. Only 1g of citrulline malate is unlikely to have much impact when the recommend dose is 6g a day, for instance. Other under-dosed ingredients include L-Arginine Alpha-Ketogluterate, which is included here at 1g. Experts recommend between 1.5g and 3.5g in powder form.
Certain other ingredients are typically 'loaded' first – for example, beta-alanine and creatine monohydrate– to ensure the system is flooded with them. Otherwise, the smaller amounts included here may take some time to take effect.
Beta-alanine can cause side effect (paresthesia)
LA Muscle Possessed is relatively expensive for ingredients with questionable dosages
Comes in just one flavour – apple kick flavour – which is unfortunate since many people don't seem to enjoy the taste.
Customer Reviews
All reviews from Amazon UK
Who Takes It?
LA Muscle Possessed is suitable for anyone who wants a buzz or a slight kick to help their endurance during exercise. Not suitable for people with certain medical complaints due to potential interaction with medication (see safety and side effects below).
How to Take It
One serving of LA Muscle Possessed is 10g (or one level 15ml scoop). Beginners should add 10g to 125-175ml of cold water, shake well and drink 15-30 minutes before exercise.
For a more advanced dosage, use two scoops with 250-350ml of cold water.
Safety/ Side Effects
The one ingredient in LA Muscle Possessed that gives us pause precisely because of potential side effects is beta-alanine, with its warning of tingling of the skin. L-Arginine Alpha-Ketogluterate can also potentially raise blood pressure too, and is a natural blood thinner so anyone taking blood thinners should be careful with this product.
Beware also of the caffeine content in LA Muscle Possessed. While it should be tolerable on its own, you should be aware of your overall caffeine consumption and tolerance before taking any product containing stimulants.
Conclusion
Reviewers of LA Muscle Possessed have generally given it the thumbs up… with a few caveats. From 52 reviewers on Amazon UK, for instance, LA Muscle Possessed earned four out of five stars, but there were some common complaints.
The 'awesome apple kick flavour' heralded by LA Muscle, for instance, doesn't seem to be quite the winner the manufacturers think it is. In fact, most use the supplement despite the taste, which has been described as 'musty', 'vile' and indeed nothing like apple.
Critics and fans alike admit most of the kick from this product comes from the caffeine. For some, it's enough of a kick to push them through their workout, for others it creates just a subtle buzz. The other ingredients in this mix don't get much recognition, however, and that's probably because of their inadequate dosages.
In conclusion, LA Muscle Possessed seems to succeed as a pre-workout motivator primarily because of its caffeine. It's a shame LA Muscle hasn't invested in better dosages of some of its top ingredients, presumably happy to include them because of their reputation but not to provide them in quantities that really would make this kick-ass.
Until then, we don't think LA Muscle really earns its claim as the ''strongest and safest' pre-workout on the market, but it should make a decent mid-range option instead.