This page may contain affiliate links and we may earn a small amount of money from any products bought. Our reviews, however, remain independent and impartial.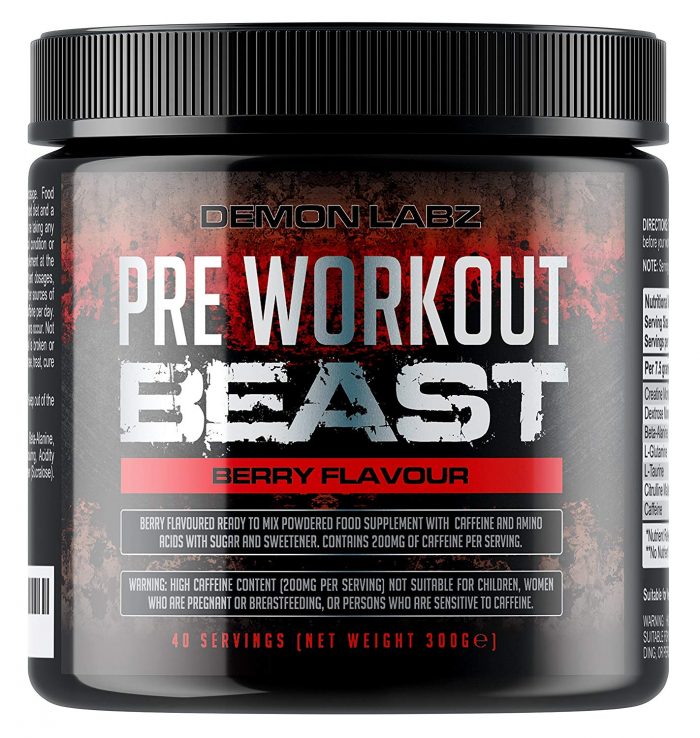 Demon Labz Pre-Workout Beast hit the market in 2018. Only available through Amazon, it's landed an Amazon's Choice badge and 78% of reviews rate it 5 stars. And for only £16.99 for a claimed 40 servings, this is definitely on the cheap end of the market.
<<< SEE our Top Pre-Workouts to Buy in UK in 2020>>>
Demon Labz products are sold on Amazon by TD Nutrition, a UK-based nutrition company that launched in the summer of 2018 and doesn't have a website. Along with this pre-workout, TD Nutrition also sells a fat burner and a testosterone booster under the Demon Labz name. As well as a pre-workout, fat burner and a testosterone booster under another name, King Cobra. All of which have identical ingredients to their counterparts… hmm.
Note too that the address given on Amazon UK is a London-based registered office service (a 'rent an address') that anyone can use if they pay and pass basic ID checks. This may be because the company's director is based in Greece, according to Companies House. So where do the products come from, and where do people return the goods to if needed? If there are any issues with this company, there is no easy way to track them down.
Smoke and mirrors like this make me apprehensive, but Demon Labz Pre-Workout Beast has some great reviews. So, let's break down this pre-workout and find out if it's a steal, or if its cheap price is reflected in the ingredients.
Ingredients
Creatine Monohydrate
We all know creatine and many of us use it for its proven benefits. Creatine is stored in the body as a phosphocreatine and is converted into energy during stress, boosting strength, performance and recovery.
Typically, creatine would be supplemented in a loading phase for one week at 25g (82 kilo person) and then 2.5g per day for up to six weeks before taking a break in the cycle. Demon Labz Pre-Workout Beast contains 1.5g of creatine monohydrate per serving, which is sufficient as a pre-workout, but not enough to see the full benefits unless you're also supplementing creatine into your regime.
Learn all about creatine with our CREATINE SPECIAL
Dextrose Monohydrate
D-glucose is a monosaccharide, its fast absorbing and goes straight into the bloodstream giving you the sugar rush you might need. However, there is much debate over timing when it comes to simple sugars before and after working out, and the benefits and drawbacks of post recovery nutrition effects of protein synthesis.
One thing that is clearer is that ingesting glucose directly before a workout could actually reduce blood glucose due to the body's insulin response. So, taking Demon Labz Pre-Workout Beast at the directed 20-30 minutes before your workout might mean a mid-set crash.
Then again, Demon Labz is frugal with the dose (1,250mg of Dextrose monohydrate) so you'll probably see no negative… or positive.
Beta-Alanine
If you know pre-workout, chances are you know about beta-alanine. A form of alanine (the amino acid), beta-alanine is a building block of carnosine which is the acid buffer in sports nutrition. Proven to reduce lactic acid and boost performance in the 60-240 second range of exercise.
Standard dose is between 2 and 5 grams a day, so Pre-Workout Beast's 1g might get you tingling, but won't provide the full performance enhancements seen in research.
L-Glutamine
Glutamine is an essential amino acid. This means that the body can't produce it and it must be provided through diet and supplementation. Glutamine is often advertised as a muscle boosting amino acid, and this is misleading.
Glutamine is one of the most, if not the easiest, amino acids to consume in a normal diet. Found in, fish, beef, chicken, eggs, milk, beets, beans to name a few. It's also found in very high doses in whey and casein, which — if you're taking pre-workout — you're probably also drinking.
The catch? Too much glutamine in your system isn't stored but excreted in urine.
To be clear, amino acids in a pre-workout = great addition, but I'd want to see BCAAs. Particularly Leucine which induces muscle protein synthesis. However, if your goal is to cut fat and maintain muscle, then glutamine as part of a broad amino spectrum is worth adding to your regime to limit muscle-loss. If you're healthy and not deficient, added glutamine won't provide you with any benefit in the gym, especially the 1g found in Pre-workout Beast.
L-Taurine
Taurine is an amino acid that has been linked to cardiovascular and brain health. In the fitness sector, taurine has some tenuous connections with increased fat oxidation. Meaning that it can increase the body's use of fat for energy instead of carbs during longer periods of exercise. But, 1.66g of taurine is used in the study to see only minimal results, so the 1g provided by Demon Labz Pre-Workout Beast is likely to have little to no effect, and wouldn't work well with the short-burst caffeine discussed below.
Citrulline Malate
L-Citrulline Malate is something I'm relieved to see. In response to taking citrulline, the kidneys efficiently turn it into L-Arginine and in turn raises nitric oxide levels. This leads to high blood flow, oxygenation and supply of nutrients to the muscles and is responsible for boosted aerobic performance and an enhanced 'pump' in the worked muscle groups.
The malate part of the compound is the inclusion of… you guessed it, malate. Derived from malic acid, it interacts at stages of the krebs cycle by removing ammonia and promoting more efficient aerobic metabolism, which equals more energy.
Citrulline malate is a double-pronged fatigue fighting ingredient and recommended doses are between 6-8g half an hour to an hour before exercise. Unfortunately, despite the above benefits, Pre-Workout Beast only contains 750mg per serving.
Caffeine Anhydrous
Caffeine Anhydrous is the most common form of caffeine in fitness supplements. The difference between natural caffeine and caffeine anhydrous is simply the lack of any water, making it incredibly water soluble. It is, however, synthetic.
A powerful stimulant, at higher doses caffeine boosts both energy and power output. The downside? Those coffee jitters you might be familiar with can kick in while you're still working out. This can be mitigated. High-end pre-workouts, for example, use a synergistic combination of the nootropic L-Theanine alongside caffeine to counter the tapering off.
The 200mg of caffeine in Demon Labz Pre-Workout Beast is the equivalent of two cups of coffee which will definitely get you energised.
Beetroot Extract (Colouring)
Beetroot Extract is commonly used as a natural colouring agent; it's just ironic it's used here solely for pigment when the nitrates found in beetroot would definitely elevate this pre-workout. Nitrate is a potent vasodilator, blood-flow regulator and anaerobic performance enhancer. Demon Labz don't provide a dose as it's used for colouring and will most likely only be found in trace amounts.
The Pros
Demon Labz Pre-Workout Beast is cheap — £16.99 for 40 servings.
Good early reviews on Amazon UK.
Includes some effective ingredients.
Creatine at an appropriate dose.
The Cons
Demon Labz Pre-Workout Beast includes insufficient doses of the most effective ingredients (Beta-Alanine and Citrulline Malate).
Taurine is ineffective and only 1g provided.
Dextrose is an unnecessary addition and low dose.
Glutamine is unnecessary and low dose.
There is still a lot unknown about the company behind Demon Labz.
Customer Reviews
The following reviews come from Amazon UK. Click to enlarge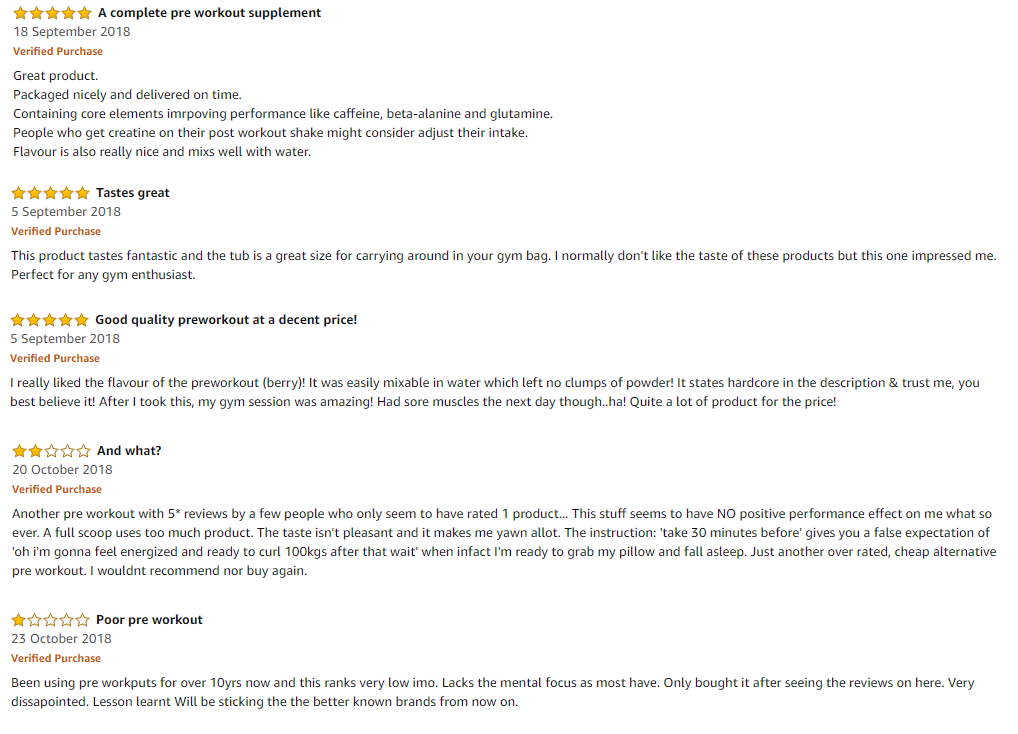 Safety/ Side Effects
You may experience the Beta-Alanine tingles at the stated dose, but all ingredients are safe to consume at the directed servings.
How to Take It
Mix or shake half a scoop (7.5g) with water 20-30 minutes before working out.
Who Takes It
Advertised as a hardcore pre-workout, this would be for anyone looking for a cheap pre-workout to give their gym sessions a caffeine boost.
Conclusion
Paying the cheap price, Demon Labz Pre-Workout Beast will unfortunately land you with a cheap product.
I love supporting new supplement companies — more competition leads to more ideas and more innovation. But without a website, Demon Labz feels faceless, and the handful of products they sell on amazon are provided under two brand names. Each one of which is identical to its counterpart down to the milligram.
If Pre-Workout Beast delivered the listed ingredients at well-researched doses, £16.99 for 40 doses, this would be a different review. But the key is in the directions… use half a scoop. You don't get 40 servings: except for the caffeine, all the effective ingredients would be more appropriate at double the stated doses. Obviously, this is NOT recommended.
Taking Demon Labz Pre-Workout will give you a caffeine buzz thanks to the synthetic anhydrous, but it probably won't leave you feeling like a Beast.
Final conclusion: save your money and put it towards one of our top rated pre-workouts in 2019.
Where to Buy
If you do want to try Demon Labz Pre-Workout Beast, it's only available on Amazon UK.