This page may contain affiliate links and we may earn a small amount of money from any products bought. Our reviews, however, remain independent and impartial.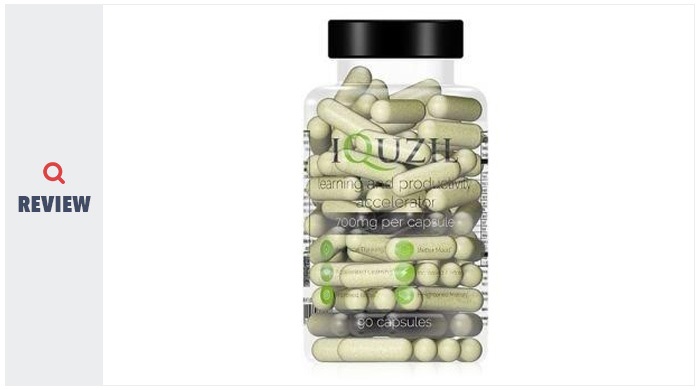 iQuzil is developed by ThoughtFoods and bills itself as a 'learning and productivity accelerator', which is fine until we come to its next claim. The manufacturers of iQuzil are so convinced by its success that they boast that it 'beats Adderall.'
Now, it's clear that this is nothing but a marketing claim (the statement has not been approved by the FDA, for example), but even with the disclaimer, it makes us uncomfortable. Adderall was originally designed and prescribed for treatment of ADHD. iQuzil is not intended for, nor has it been tested on, ADHD sufferers. Bad form, iQuzil.
Careless marketing like this is one reason why iQuzil has scored poorly on independent reviews around the web. That and sloppy mistakes on its website, such as providing two versions of its ingredients to confuse everyone.
ThoughtFoods has had plenty of time to address the criticism of its premier product since launch, so how has it done? Let's take a look…..
The Ingredients
Here's the confusing part before we even start. iQuzil must have reformulated at some point, and depending on what page or blog post you look at on the suppliers' website or reviews of iQuzil around the web, the ingredients listed are different. In fact, we've seen THREE different versions of the ingredients so far.
Now you can accept that some reviews around the web may be out-of-date and written before any reformulation, but you wouldn't expect the manufacturers' official website to also make the same mistake. And yet it still does.
A blog post on ThoughtFoods about iQuzil, for instance, talks about it including Picamilon. The only problem is that Picamilon isn't listed anywhere on the iQuzil product page. The blog post also names a completely different racetam – Phenylpiracetam – included in iQuzil, whereas the product page includes Pramiracetam instead.
(For clarifications sake, the blog post sits on http://nootopics.com but is featured on the ThoughtFoods website. ThoughtFoods UK is listed as an affiliate).
Presumably, this blog post was also written pre-reformulation, but its inclusion on the ThoughtFoods website is sloppy and confusing, and makes you question the manufacturers' attention to detail.
As I mentioned earlier, this isn't the first time that ThoughtFoods has come under such criticism. Previously, the manufacturers' own website listed two different sets of ingredients.
What is ultra-confusing now, however, is that the current set of ingredients listed on the product page is DIFFERENT yet again to both of these earlier versions, varying in actual ingredients and dosages. So how many times has iQuzil tweaked its formula?
There's something to be said for a company that wants to perfect its product and refuses to stand on its laurels, but it really should take the time to double check all of its literature first.
Anyway, all of that confusion aside, we are going to review this product using the ingredients listed on the iQuzil product page as that *seems* to be the most official list provided…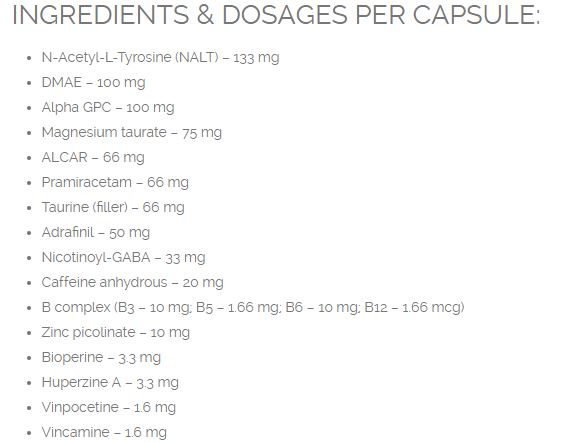 It includes:
N-Acetyl-L-Tyrosine (NALT) – 133 mg
A solid and recognised nootropic, L-Tyrosine helps several brain processes at once but is depleted by stress so supplementation is ideal. The NALT form has been proven more effective for the brain and is more easily absorbed across the blood and brain barrier.
Studies demonstrate that NALT gives a particular boost to focus when you are tired, sleep-deprived, stressed or overworked.
DMAE – 100 mg
DMAE – Dimethylaminoethanol – gets a lot of attention for its potential to improve focus, attention span and potentially help to prevent neurodegeneration, but research is scarce.
Magnesium Taurate – 75 mg
Magnesium Taurate is a premium form of magnesium which plays an important role in cognitive function, thanks to its influence on ATP synthesis.
ALCAR – 66 mg
Many people believe that ALCAR — Acetyl-L-Carnitine – is a brain-boosting nootropic suitable for everyone, but that's not strictly true. It's a common misunderstanding of the scientific literature that means it is often included in nootropic stacks like this one, whereas in reality it only enhances or protects cognition in older people, say age 55-plus. The truth is that the body produces carnitine naturally, but fails to do so in older age, hence supplementation in later years is advisable. If you're expecting much of a boost from this ALCAR but are a different demographic, don't expect much.
The same may be true of Niacin, ZMA and Alpha GPC also included in iQuzil. All are effective at protecting brain health and protecting neurons, but mostly when aimed at age-related cognitive decline.
Pramiracetam – 66 mg
Talk about potent! iQuzil's reformulation includes premier racetam, Pramiracetam, one of the strongest racetams and nootropics around. It replaces the phenylpiracetam used in earlier incarnations of iQuzil, which is probably a good idea since phenylpiracetam is a stimulant and banned by the World Anti-Doping Agency.
Pramiracetam is particularly good for helping to hone focus and aid working and long term memory, thus boosting productivity. It's a sensible choice for a learning accelerator as it allows users to tone out the chatter, be less distracted and learn more. Pramiracetam also works to boost the impact of other drugs and supplements as well.
The recommended dosage for Pramiracetam is between 200-400mg daily, so the 66mg included in iQuzil is low. How effective iQuzil is, therefore, will also depend on the other ingredients included.
Note too that while Pramiracetam does have some human evidence to back up its claims, it is largely understudied compared to other racetams, especially over the longer term.
Taurine (filler) – 66 mg, and Caffeine anhydrous
Taurine has no nootropic value at all and is most commonly used in energy drinks so its inclusion in a nootropic stack such as iQuzil is a mystery until… we see the caffeine. Ah, yes, iQuzil uses caffeine and taurine, the energy drink combo, to add oomph to its formula. Neither caffeine nor taurine are nootropics, however, so you could say there's a bit of cheating going on here. Fair play though, a fair few nootropic stacks also use caffeine, though we prefer ones that don't. The 20mg cafffeine per dose included here is actually much lower than competitor stacks, and less than a cup of coffee. The taurine should help to avoid overstimulation.
Adrafinil – 50 mg
Danger Will Robinson, Danger. iQuzil also includes Adrafinil, which is NOT a nootropic but is instead a synthetic stimulant. Adrafinil is a prodrug for Modafinil which is prescribed for narcolepsy, though it is considered riskier and less effective than the latter. Beware if you're an athlete as Adrafinil is banned by the World Anti-Doping Agency.
Nicotinoyl-GABA – 33 mg
Nicotinoyl-GABA is a combination of niacin (vitamin B3) and gamma-amino butyric acid (GABA). Combining the two allows the GABA to cross the blood-brain barrier where the combo is hydrolysed back into its constituent parts.
Niacin is known to boost blood flow, while GABA provides anxiety-relieving effects. iQuzil boasts that the combination helps to reduce emotional stress and strain from overworking.
Note that nearly all research on Nicotinoyl-GABA (also known as picamilon) has come out of Russia and is difficult to assess in any depth. Cycling of Nicotinoyl-GABA is recommended, as is any nootropic that affects receptors directly.
B complex (B3, B5, B6, B12)
In brief, B vitamins play a significant nootropic role in the body. Their essential functions include boosting glucose energy metabolism, and helping to create acetylcholine and monoamine. A lack of B vitamins has been suggested as a cause for certain neurodegenerative diseases.
Zinc Picolinate
Cognition and memory both start to suffer when zinc levels fall, so zinc picolinate should help anyone with a zinc deficiency, though this dosage is quite low.
Bioperine
We're very happy with this addition to iQuzil. Bioperine boosts the absorption of other nutrients, helping to increase their bioavailability, rendering them more effective.
Huperzine-A
We're also very pleased to see Huperzine-A in iQuzil, one of the best nootropics for improving memory. Even better, Huperzine-A is so potent it only needs tiny doses to be effective.
Vinpocetine – 1.6 mg
In our opinion, Vinpocetine is THE best nootropic for boosting blood flow to the brain, which in turn helps to deliver more oxygen and nutrients to the brain. Vinpocetine aids short term memory, focus and attention.
Vincamine – 1.6 mg
Vinpocetine, mentioned above, is made from Vincamine, but the former ends up much stronger than the latter. Vincamine also has more potential side effects, according to reviews on the web. As a result, it seems pointless to use both Vinpocetine and Vincamine in the same nootropic stack; the former would be the better choice.
The Pros
Let's be fair. iQuzil made a mess of things when it first came out of the gate, and we do still have some reservations about its marketing. However, the manufacturers do at least seem to have listened to previous complaints/ reviews and tried to address them. The website now lists exact ingredients and dosages (a previous version hid behind proprietary blends), and the official page features just one set of ingredients. We're ignoring the 'old' blog post for now. At least ThoughtFoods is making an effort to be open and upfront.
iQuzil does contain some pretty good nootropics, though with a massive 16 ingredients, some of them are bound to hit home. But we're impressed by the use of Vinpocetine, Huperzine-A, NALT and Pramiracetam, though we do wonder about the small dosage of the latter.
Bioperine is a clever addition to iQuzil. It boosts the absorbency of other nutrients, which may help to make the small dosages in iQuzil more effective.
It's good to see that some of the minerals and vitamins included are in bio-active forms, such as the N-Acetyl attachment to Tyrosine.
It's also good to see that iQuzil doesn't max the caffeine, including only 20mg. Other nootropic stacks often go heavy on the caffeine to supply a temporary 'focus buzz'. Then again, iQuzil has the stimulant Adrafinil to do the job instead. We're not convinced this is a good thing, however.
The Cons
Can all 16 ingredients really be included in clinically effective dosages? We say no. You're probably looking at about four to five decent ingredients that are included in big enough dosages to do the work.
For a nootropic stack, iQuzil includes several non-nootropic substances, such as Adrafinil, caffeine and taurine.
It's a shame that for a learning accelerator it doesn't include some of the most effective nootropics to boost learning, such as L-Theanine and Bacopa.
Yes it has a disclaimer attached (statement not evaluated by the FDA), but we really don't like the manufacturer's claim that iQuzil beats Adderall. The two are not even made for the same medical condition (iQuzil has never been tested for ADHD), so how can they be compared? It strikes us as cheap gimmicky marketing.
iQuzil seems to rely on stimulants to achieve its aim, rather than just good old fashioned nootropics.
In order to get the benefit of iQuzil, you have to remember to take three capsules 30 minutes before beginning a cognitive task, which presumably means you have to carry them around with you.
Customer Reviews
Please note that it is very difficult to determine which version of iQuzil customer reviews are talking about as there is no detail given by the manufacturers as to when they updated or tweaked their formula. As this product is only sold via the ThoughtFoods website, it is also very difficult to find any independent customer reviews.
As such, please note that the following reviews come from the official ThoughtFoods website.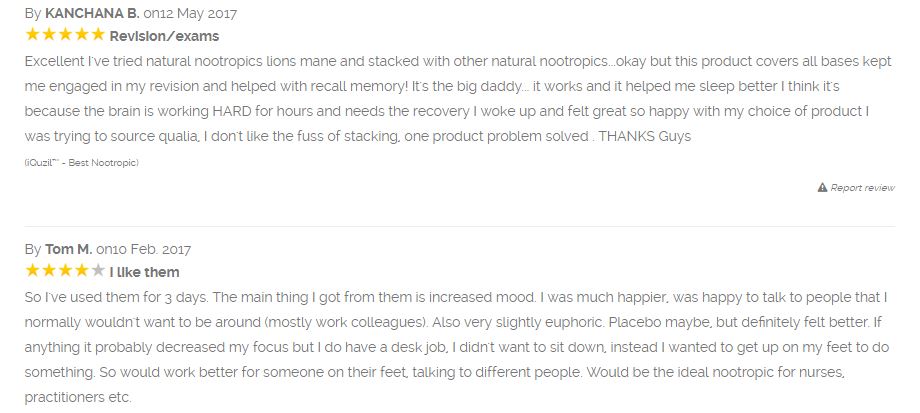 Who Takes It?
iQuzil's marketing tries to place it in the same space as a typical smart pill, so it's reasonable to assume it is aimed at students and entrepreneurs.
How to Take It
You should take three capsules 30 minutes before beginning a cognitive task.
Safety/ Side Effects
The dosages may be low but we have some concerns about mixing Adrafinil with caffeine AND Pramiracetam. It's a lot of stimulation, and we're not convinced the taurine is enough to calm the jitters. We would have preferred L-Theanine ourselves, especially as this would also boost a user's learning capacity as well.
Conclusion
If we'd reviewed iQuzil earlier, we would have probably said it feels a bit dishonest. Supposedly made by Cambridge grads, you wouldn't have expected so many mistakes in its marketing and formulation that made you wonder about the manufacturer's attention to detail (and indeed whether the founders' information was even true).
It does seem as if ThoughtFoods has taken the criticism on board, however, and has made some attempt to clear up confusion and be honest about ingredients, so we give it some props for that.
The good news is that a decent amount of iQuzil's ingredients are tried and tested nootropics that should have a positive impact on your attention and focus, even if dosages are pretty low.
Where iQuzil falls down for us, however, is its over-reliance on stimulants. Adding caffeine and Adrafinil to an already potent racetam is just too much. If the formulation needs more oomph, why not increase the dosage of the safer racetam to effective levels? It does suggest the manufacturers aren't as au fait with the world of nootropics as they claim.
The powers that be also couldn't resist the cheap Adderall comparison as well, which we're really not impressed with.
For this reason, we would still recommend consumers to avoid iQuzil.