This page may contain affiliate links and we may earn a small amount of money from any products bought. Our reviews, however, remain independent and impartial.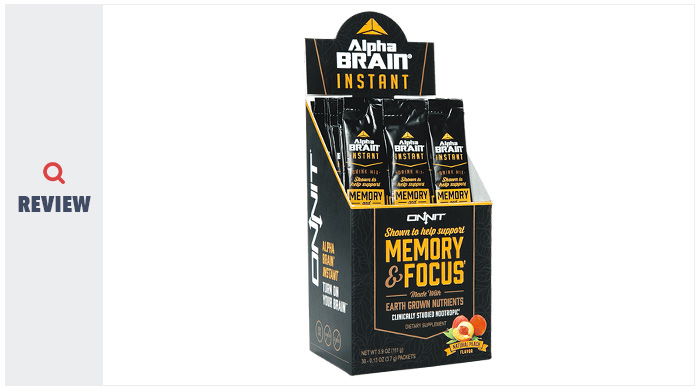 The manufacturers of the extremely popular Alpha Brain nootropic capsules have added another top string to their bow — Alpha Brain Instant, a 'get s*** done' nootropic drink.
Including all the same ingredients that made Alpha Brain so successful, plus even more, Alpha Brain Instant is a 3.7g drink mix packet that allows manufacturers Onnit to expand on the original Alpha Brain formula.
With 3.7g to play with as opposed to the original capsule's 750mg, you'd expect some improvement and Onnit have delivered it. Alpha Brain Instant is even better than original Alpha Brain capsules, which is why it comes second place (original Alpha Brain is now ranked third) on our Best Nootropics of 2016.
Let's take a look at the ingredients
The Ingredients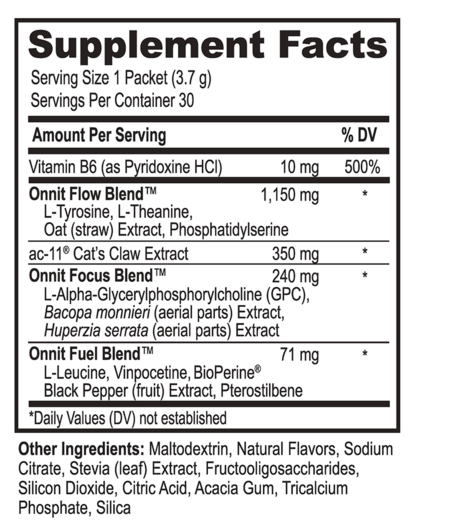 If there is one complaint about the original Alpha Brain, it's that dosages of some of its ingredients may be too small to be clinically effective. We say 'may' because we have no way of knowing exactly how much of anything goes into Alpha Brain, thanks to its use of proprietary blends. These blends conceal the exact dosages of ingredients, leaving us to guess at their potential effectiveness.
The big benefit of Alpha Brain Instant, of course, is that you have more room to increase the dosages involved, so it becomes less of an issue. That, plus an impressive new ingredient, is the prime reason Alpha Brain Instant beats its original older brother.
Let's look at the blends in more detail:
Onnit ® Flow Blend
Here's the biggest difference to the original. Alpha Brain Instant's Flow Blend almost DOUBLES in size from 650mg in the original to 1,150mg, which should be enough to allow all four ingredients to reach clinically effective dosage.
This is really the heart of Alpha Brain Instant, its ability to influence Alpha brain waves and create a state of 'wakeful relaxation'. L-Theanine (helps to create a feeling of contentment without sedation) and Oatstraw help towards this end.
L-Tyrosine helps to give a mental boost when stressed, over-tired or multi-tasking, clears brain fog, and improves memory. The final ingredient, Phosphatidylserine, aids with memory, speed of recall and mental clarity.
Onnit® Focus Blend (240mg)
The Focus Blend includes Bacopa monniera, Alpha GPC and Huperzia serrata extract and is exactly the same in Alpha Brain and Alpha Brain Instant. Bacopa is included for memory; Huperzia serrata boosts the neurotransmitter acetylcholine to improve focus, learning and memory, while Alpha GPC boosts thought processing and attention span.
As the name suggests, this is the part of Alpha Brain Instant that helps you to focus, and while the ingredients are all effective, they could be better. We prefer Citicoline to Alpha GPC; both are sources of choline but we find the former to be more effective. Likewise, while we don't know the exact amount of Bacopa in here, we suspect it may be sub-par and not quite good enough to hit clinical dosage.
So far, we have ingredients to reduce stress, engender relaxed alertness and focus. Now we add fuel to the mix…
Onnit ® Fuel Blend (71mg)
Here's the raw power… Vinpocetine to improve blood flow to the brain, bringing it the fuel it needs, and Pterostilbene to form new neural connections and potentially improve cognition. For some reason, the Fuel Blend also adds L-Leucine which is not a nootropic and a bit pointless here, we reckon. But it's the final ingredient that excites us.
Alpha Brain Instant's extra ingredient is Bioperine ®, black pepper extract, which can potentially boost absorption (and therefore effectiveness) of ALL other ingredients. Yes, it can be that potent, which is why we're surprised more nootropic stacks don't contain it. It's a great addition to the nootropic drink mix, and a big advantage over the original formula.
AC-11
There are just two final non-blended main ingredients common to both Alpha Brain and Alpha Brain Instant, and that is vitamin B6 (a shortage can reduce the amount of neurotransmitters in the brain) and AC-11, Onnit's patented form of Cat Claw herb.
AC-11 is Alpha Brain Instant's star ingredient. Onnit promise AC-11 can repair DNA damage caused by age and stress AND improve cognitive function. We give it potential for the first – there is some evidence that it can repair DNA – but so far there is NO evidence that it can boost cognitive function in anyone that isn't already suffering from cognitive deficit caused by age. We'll say that again: So far all research done on AC-11 suggests that it may be effective for age-related brain issues ONLY.
If future research demonstrates that it can work for pretty much anyone at any age, then Alpha Brain might well become a nootropic world leader. For now, however, the hype about AC-11 is a lot of song and dance about nothing.
THE PROS
The biggest advantage to Alpha Brain Instant is the extra space that the different format allows. As such, the majority of ingredients should now be in critical dosages.
The majority of ingredients, AC-11and L-Leucine aside, are solid and proven effective nootropics.
Bioperine ® is an inspired choice here.
Taking your nootropics in liquid form may help to speed up the absorption rate.
Alpha Brain Instant, like the original formula, eschews stimulants including caffeine.
The Banned Substances Control Group has certified Alpha Brain Instant as drug free.
THE CONS
While Alpha Brain Instant's main ingredients are 'clean', it does add several new ingredients in the 'other' section, mostly to create the peach and spice flavour of the drinks.
AC-11 is an unknown quantity. We can't find anything so far to back up Onnit's faith in it. Examine.com, for instance, recommends avoiding it.
We don't like proprietary formulas. There's just no need; tell us the dosages and be done with it. What ae you trying to hide?
The original Alpha Brain has two clinical studies done on humans to prove it helps verbal memory, processing speed and peak Alpha waves (flow state). Yes, this should be a pro. BUT Onnit also promote this research for their Alpha Brain Instant product. Chances are the results might well be similar if carried out on the drink product as it has mostly the same ingredients, but such research hasn't been done yet. Don't use the original formula research and claim it for Alpha Brain Instant. It's misleading, and makes us distrust you.
There is some suggestion that the drinks may not taste all that great.
On their website, Onnit say one Alpha Brain Instant capsule is equal to two original capsules. The only problem with that is that it JUST ISN'T TRUE. Simply checking the ingredients and doing the maths shows this. It's shoddy at best, and reflects poorly on the manufacturers.
Finally, both Alpha Brain and Alpha Brain Instant use solid nootropics but fail to ensure they are premium versions. Alpha GPC, rather than Citicoline, for instance. N-Acetyl-L-Tyrosine would also be better for brain health than the plain L-Tyrosine included here. Likewise, better standardised versions of Bacopa and Huperzia Serrata would be more effective. It seems a shame to let the product down by using cheaper weakened ingredients.
Customer Reviews
All reviews come from Onnit's official website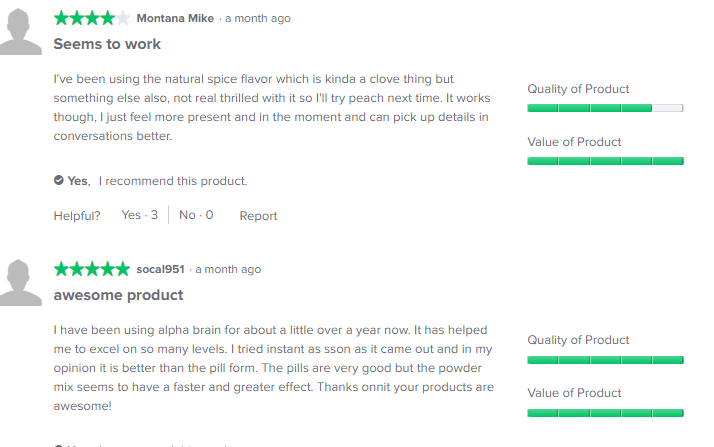 Safety/ Side Effects
Alpha Brain Instant isn't likely to have many side effects. The original formula has been around for years without any big issues, and the product is also stimulant-free. Likewise the clinical trials of original Alpha Brain haven't shown any adverse effects.
Health Warnings
Only advised for people aged 18 and over. Anyone with a medical condition or pregnant or nursing women should seek advice from a doctor before taking.
How to Take It
Take one packet a day mixed with 8oz of cold water, preferably with a light meal. Do not exceed more than one packet in 24 hours.
Does It Work?
Despite its flaws, the original Alpha Brain formula has sold 40 million capsules at the time of writing. If that's not evidence that it works and people are satisfied, we don't know what is. Alpha Brain Instant is set to work even better, thanks to its dosages upgrade and new Bioperine ® ingredient.
Conclusion
It is fair to say that Alpha Brain Instant has inherited the formula flaws of the original Alpha Brain – less than premium versions of good ingredients, lack of standardised herbs, hidden dosages and a very questionable star ingredient.
The good news is that Alpha Brain Instant is a definite upgrade. By almost doubling the Flow Blend dosage and adding Bioperine ® to enhance absorption, it should have significantly improved its effectiveness. It's a step in the right direction for the Alpha Brain brand.
In addition to being a solid nootropic stack, Alpha Brain Instant has also proved itself a smarter option for anyone wanting an energy drink free of stimulants.
Onnit might need to address the taste and the flavours available, however, if they want to keep customers coming back.
Where to Buy
Alpha Brain Instant doesn't seem to be widely available in the UK as yet, and is unavailable on Amazon.co.uk, though it can be found on Amazon.com. You can also buy it from Onnit's Alpha Brain Instant official website.