This page may contain affiliate links and we may earn a small amount of money from any products bought. Our reviews, however, remain independent and impartial.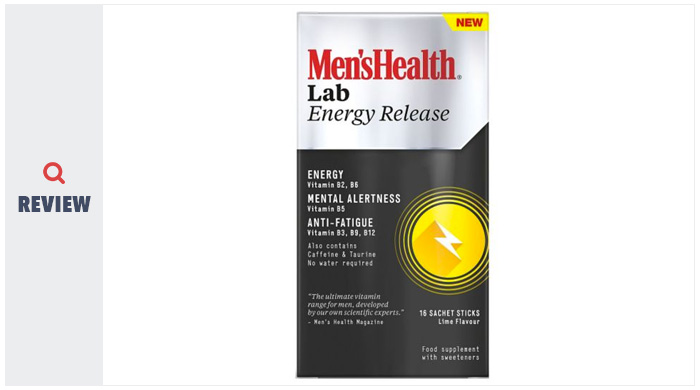 The most popular monthly men's magazine in the UK, Men's Health, has released its own branded multivitamin range.
Developed in partnership with Omega Pharma and released under the name Men's Health Lab, the range of vitamins aims to support your body and mind, whatever your goal or physique. The manufacturers describe it as the 'ideal range for men with an active lifestyle'.
It is estimated that most men are deficient in nearly every nutritional category apart from iron, which is why credible men-only formulations tend to be low in the latter (the body struggles to get rid of excess iron) but strong in other nutrients.
The Men's Health Lab range includes supplements for energy, mental focus, cardio health, fighting illness, fitness, a special vitamin D3 supplement, joint endurance and recovery.
Here we will review the Men's Health Lab Energy Release supplement, described as an instant 'pick-me-up'.
The Ingredients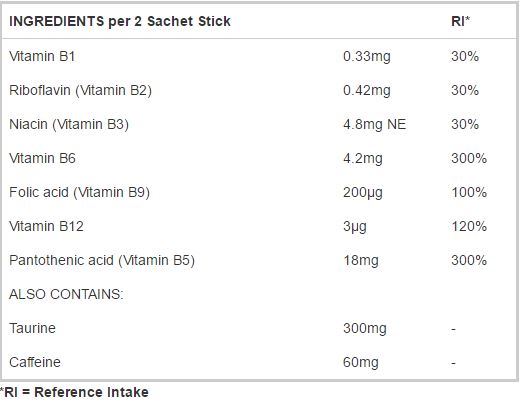 Taurine (300mg): Taurine is the biggest ingredient in Men's Health Lab Energy Release, with 300mg compared to 60mg of caffeine. Taurine is an important amino acid commonly used in energy drinks and helps to support both neurological development and control the levels of minerals and water in the blood. It is present in practically every tissue in the body and while we can make enough ourselves, supplementation may offer numerous health benefits. It is also considered safe at relatively high levels (up to 3,000mg a day).
Does it work as an energy booster? Its inclusion in energy drinks suggests so, but this may be a fallacy. According to the Mayo Clinic, some studies suggest taurine may help to improve athletic performance. Others suggest that it can improve mental performance when combined with caffeine. Both of these findings, however, are somewhat controversial, with the integrity of the claims uncertain. The majority of experts instead claim that taurine doesn't do much for energy directly, though it may aid in memory, concentration and mood.
Caffeine (60mg): Caffeine is a popular stimulant that helps to give you a quick boost of energy. At 60mg, this has less caffeine than a normal 8oz cup of coffee (which usually contains about 100mg of caffeine). Caffeine is another popular ingredient in energy drinks, though usually at much higher levels than this. Safe caffeine limits are usually up to 400mg per day for healthy adults, according to Consumer Reports, as quoted in WebMD .
Other ingredients include the B vitamins:
Riboflavin and Vitamin B6 for normal energy and metabolism
Pantothenic acid for mental performance
Niacin, Folic acid, and Vitamin B12 for the reduction of fatigue and tiredness.
Anyone deficient in B vitamins will feel tired as the vitamins help to turn food into energy. A vitamin B shortage can also cause anaemia, which inhibits the oxygen supply to your organs, triggering further fatigue.
However, according to Louisiana State University's director of dietary assessment and nutrition counselling, Catherine Champagne, Ph.D., R.D.N., most people are NOT deficient in B vitamins, with a healthy varied diet providing plenty of each (an exception is B12 and people on a plant-only diet).
As one esteemed health magazine concluded:  "The jolt you get from energy drinks comes from caffeine, and maybe sugar. But as for those B vitamins? It's just marketing, says Champagne."
Are you curious about the source of that quote? It comes from the original U.S. version of Men's Health magazine, in an article written just last year. Oh dear. (We should make it clear that the UK version of Men's Health is produced by a different publisher and editorial team to the original).
That said, Men's Health Lab Energy Release is not a traditional energy drink (though it shares many of the same ingredients) and B vitamins are important for a host of processes in the body, not just energy. Men's Health Lab also says the vitamins fight fatigue and aid mental alertness, which could be true.
The Pros
Men's Health has established itself as the foremost health magazine for men and is known for credible accurate journalism
Men's Health Lab Energy Release vitamins contain no lactose or artificial colours
They are suitable for vegetarians and vegans
Can be taken on-the-go without water
As the Men's Health Lab vitamins are relatively new to the market, there are few user reviews so far. It has, however, earnt 4.3 out of 5 stars from four reviews on Amazon UK, all verified purchase (meaning they definitely bought the vitamins and aren't just spam).
Reviewers praised it for being easy and convenient to use, for tasting nice (flavours include lime) and for giving a lift.
The amount of caffeine here should be enough to give you a boost without being as unhealthy as traditional energy drinks
The Cons
The supplement does also contain sugar and sweeteners
As discussed in the ingredients section, the B-vitamins included may only be of use if you are deficient. The body also tends to get rid of any that you don't need.
The jury is also still out on the effectiveness of taurine for energy, though it should be said that both taurine and the B-vitamins are important nutrients for the body as a whole.
The ingredients in Men's Health Lab Energy Release are likely to be subtle and prolonged (as the name suggests) as opposed to a quick instantaneous boost of energy. If you want something more dramatic, this product may not be for you.
Customer Reviews
All reviews comes from Amazon UK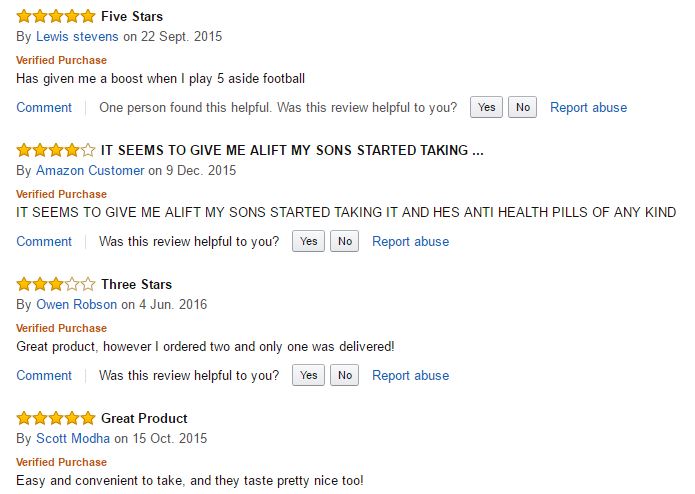 How to Take It
Take one sachet twice a day maximum. The sachets can be poured directly into the mouth with no need for water.
Safety/ Side Effects
Note that excessive consumption of Men's Health Lab Energy Release (a recommended dose is two sachets per day) can cause laxative effects.
Health Warnings
This product contains caffeine and is not recommended for pregnant women or children. It also contains wheat, a potential allergen.
Does It Work?
It's hard to determine the success of a new product when it doesn't have many user reviews (only four that we can find so far). The reviews we have seen, however, have been cautiously optimistic. While it doesn't seem to offer a full-on bolt of energy, happy users do report that it gives them a 'lift'.
Conclusion
Men's Health is one of the leading male health-related brands around the world, so it makes sense that they'd aim to transfer their popularity into other health related side-lines.
Early reviews of Men's Health Lab Energy Release suggest that it does give a subtle lift, if not a continuous or intense energy boost. Having investigated the ingredients, we're more likely to think any energy lift comes from the caffeine and sugar included, as opposed to additional B-vitamins. After all, Men's Health magazine says the exact same thing!
That said, B-vitamins are useful and supplementation is beneficial to anyone with a poor diet who is deficient. Men's Health Lab Energy Release is also a healthier alternative to sugar and caffeine-laden energy drinks, though it may not be as powerful.
Where to Buy
Men's Health Lab Energy Release is available from Boots, Amazon, Sainsbury's, Holland & Barrett and more.