This page may contain affiliate links and we may earn a small amount of money from any products bought. Our reviews, however, remain independent and impartial.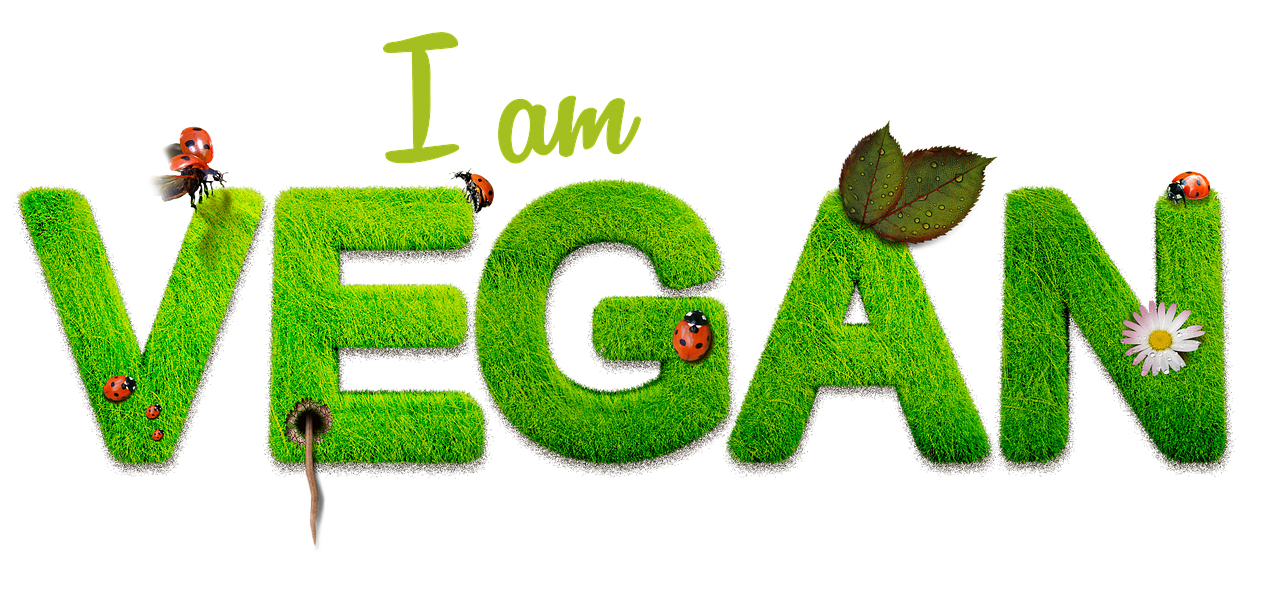 According to the Vegan Society, vegans and vegetarians are set to make up a quarter of the British population by 2025. A 2020 survey by Finder.com found that approximately 12 million Brits planned to become vegan, vegetarian or pescatarian by the end of  2020. People are choosing to follow a vegan lifestyle because of concerns over animal welfare, as well as worries over the environment and a desire to improve their own health.
If you follow a vegan diet plan, you're going to need a vegan multivitamin that's tailored to your needs. We believe Performance Lab NutriGenesis Multi is the best vegan multivitamin for men or women for sale on the market today. It is 100% vegan, from its ingredients to its manufacturing process, to its tapioca-based capsules.
After reviewing dozens of supplements, we believe that Performance Lab NutriGenesis Multi is the best multivitamin currently available on the market.
Visit Performance Lab's Website here
We believe Performance Lab NutriGenesis Multi earns the following titles:
Best Multivitamin for Men.
Best Multivitamin for Women.
Best Vegan Multivitamin.
Best Eco-Friendly Multivitamin.
Most Bio-Available Multivitamin.
Read on to find out why…
Buyer's Guide
How to Choose the Best Multivitamin for Vegan Diets in the UK
There are a lot of multivitamins on the market, but a lot of them just aren't worth your time. As someone living a vegan life, you'll want to be 100% confident in the multivitamin you choose – making sure it's both truly vegan (watch out for those claiming to be vegan but using gelatine capsules), and includes the sort of vitamins and minerals that you might be missing when avoiding animal, fish and dairy products. Avoid cheap multivitamins; they often use bio-unavailable forms of nutrients that your body just can't absorb, include poorly underdosed ingredients or fail to include important vitamins or minerals altogether.
Multivitamins for the Vegan Lifestyle
Here's what you should look for when choosing the best multivitamin for the vegan lifestyle:
Dedicated vegan multivitamins for men and women
A top-quality vegan multivitamin for men, for instance, will consider a man's specific physiology when providing ingredients in appropriate dosages. These will likely differ slightly to those included in a vegan multivitamin for women.
Plant-based capsules
Many multivitamins today claim to have vegan credentials but still use gelatine capsules, made from the organs and connective tissues of animals. Yuk. Look for those that use plant-based capsules, such as Performance Lab's tapioca-based Nutricaps.
Bio-available Nutrients
Many multivitamins on the market today include synthetic ingredients that the body just can't absorb. That's one reason why we like Performance Lab NutriGenesis Multi – its modern production process, NutriGenesis, bio-engineers nutrients with the same sort of cofactors that you'd find in nature, such as probiotics, fibre, enzymes and antioxidants, which makes them highly bio-available. All of which means they are much easier for the body to absorb.
Vegan-Friendly Nutrients
Avoiding an animal, fish and dairy diet can put you at risk of various nutrient deficiencies. Any multivitamin you choose should include the nutrients vegans may be lacking. Let's talk about that in more detail…
Nutrients Vegans Should Look for in a Multivitamin
Cutting out animal and dairy products from your diet can cause deficiencies if you're not extremely careful what you eat (and sometimes even if you are!). Certain nutrients, for instance, are found primarily, or only, in meat and dairy products, so supplementation is recommended. Nutrients vegans may struggle to consume enough of include:
Vitamin B12
Vitamin D3
Iron
Iodine
Calcium
Vitamin K
Zinc
Important Nutrients for Vegans

The NHS, for instance, recommends that anyone following a vegan diet plan should take a B12 supplement or a vegan multivitamin that contains a generous dosage of vitamin B12. This vitamin is vital for healthy brain function, energy, and red blood cell formation, as well as helping to maintain nerves and more. Performance Lab NutriGenesis Multi is the ideal vegan multivitamin for women and men following a vegan lifestyle because it contains 50mcg of B12 – which is 2083% of the daily recommended value (DV). That will help you to top up your levels, with the added benefit that any your body doesn't need is secreted, meaning higher levels are safe.
Performance Lab NutriGenesis Multi also contains 25mcg of Vitamin D, 125% of DV. Vitamin D3 is created by the body from sun exposure but also gained from fish, eggs, and red meat. The NHS again recommends supplementation, especially during the winter and autumn months. Vitamin D is needed to keep bones healthy and aid the body's use of calcium.
Other important nutrients that vegans may struggle to get include iron, iodine, calcium, and zinc – all are included in Performance Lab NutriGenesis Multi for men or women.
A Quality Vegan Multivitamin for Men or Women
Performance Lab NutriGenesis Multi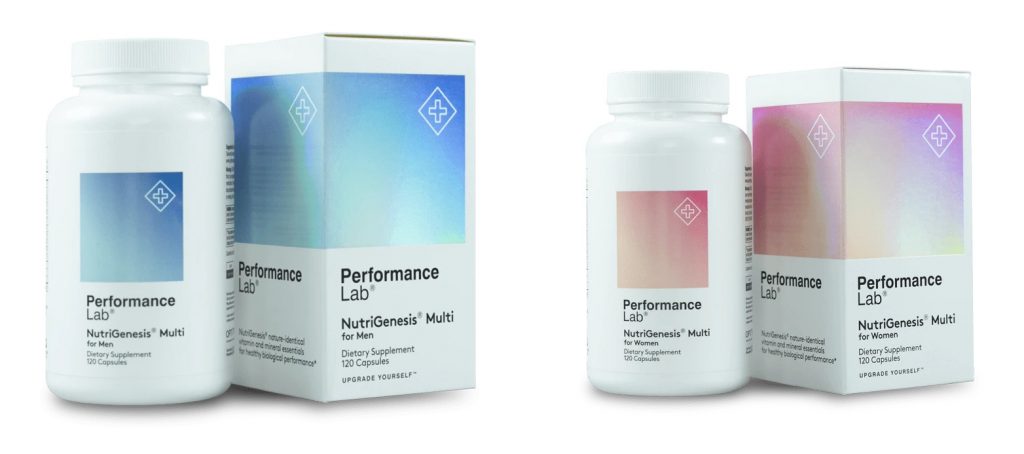 Performance Lab NutriGenesis Multi for men or women ticks the boxes we mentioned above. It's 100% vegan with plant-based capsules; provides those nutrients that vegans struggle to consume and is highly bio-available and easy to absorb. It's particularly strong in B-vitamins, including B12, and vitamin D.
Of course, as well as all of the nutrients mentioned above, vegans also need the same vitamins and minerals as anyone else, and Performance Lab NutriGenesis Multi provides at least 100% of your recommended daily amount in 17 vitamins and minerals, as well as generous dosages of others. All in all, it offers support for muscles, bones and joints, hormones, metabolism, cardiovascular health, brain and nervous system, immune function, as well as skin, hair, and nails.
Its formula is also gender-specific, with differences between the male and female products, taking into account different needs (women need more iron, calcium, folate and magnesium: men need more zinc, vitamin B1 and boron, for instance). Let's look at that in more detail…
NutriGenesis Vegan Multivitamin for Men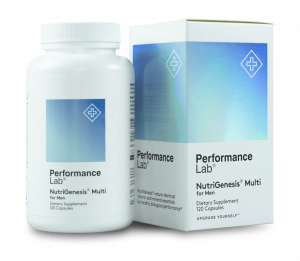 The male formula of Performance Lab NutriGenesis Multi has a few different dosages to the women's version, considering man's physiological needs.  They include:
Zinc: Zinc is vital for testosterone, reproduction and sexual vitality but many men struggle to consume enough of it: as such, the dose of zinc in Performance Lab NutriGenesis Multi is 50% higher than in the women's multivitamin. It provides 15mg, 136% of your recommended daily amount.
Heart Healthy Vitamins: Cardiovascular issues are more prominent among men than women, and Performance Lab NutriGenesis Multi includes generous dosages of heart-healthy nutrients such as folic acid, B1 and B6, C, and E, as well as selenium. Its B1 dosage is twice as high in the men's version than in NutriGenesis Multi for Women (8mg, 667% DV).
B-Vitamins: Other B-vitamins such as B2, 5, 6 and 12, alongside vitamin C, help the body deal with stress and boost energy when you're feeling lethargic. Useful for dealing with busy, stressful jobs. The dosage of all B-vitamins in Performance Lab NutriGenesis Multi is over 100% DV.
Full ingredients include: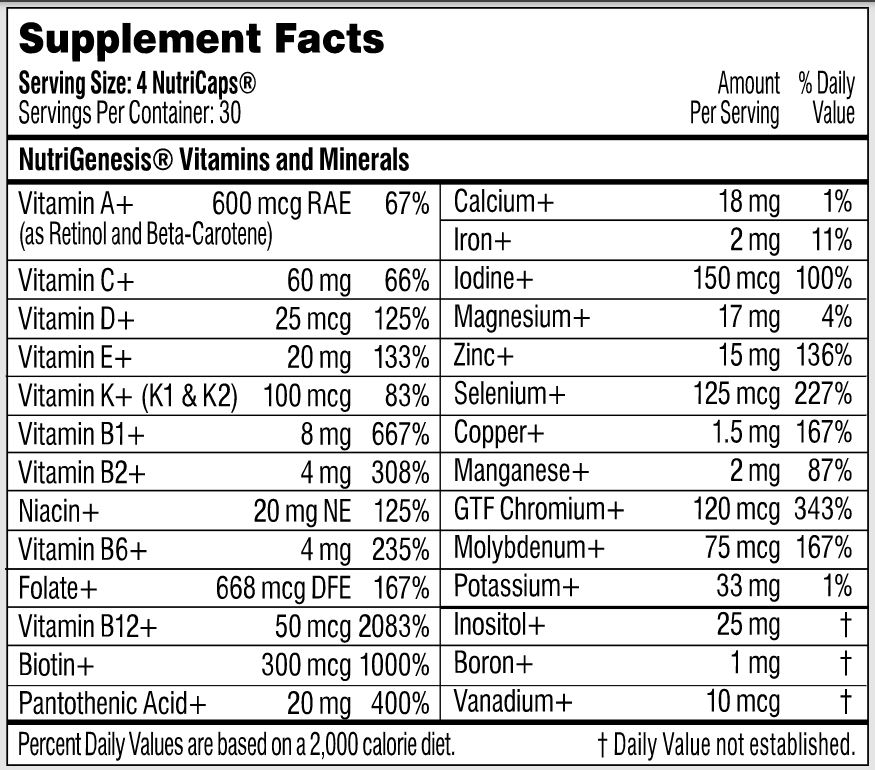 NutriGenesis Vegan Multivitamin for Women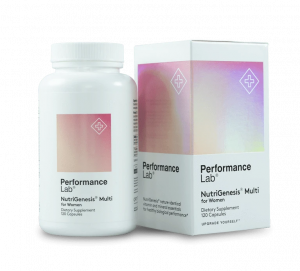 Let's look at the female-specific NutriGenesis multivitamin. It has more:
Folate: Helps to prevent birth defects so is useful for women who may get pregnant. Known as folic acid when made synthetically. The women's Multi provides enough folate to deliver 334% of Daily Value. Performance Lab NutriGenesis Multi for Women also includes 150mcg (100%DV) of iodine, also vital for foetal brain development. Of course, pregnant women should take their doctor's advice on prenatal vitamins.
B-vitamins: The B-vitamins, including B9 (folate) and B12, are also important for women, helping to boost cognition, prevent fatigue and give an energy boost. Pernicious anaemia can also be caused by a B12 deficiency, more common among vegans. Performance Lab NutriGenesis Multi has generous dosages of all B-vitamins.
Iron: Cutting out meat and animal products increases your risk of anaemia or iron deficiency. For women vegans, this can be particularly problematic, as women who are menstruating have a higher need for iron. Ideally, you would take iron with vitamin C because it helps your body to use iron. Performance Lab NutriGenesis Multi provides 44% of your daily iron needs, plus includes vitamin C too. Other sources of iron include lentils, beans, tofu, dark leafy greens, mushrooms, seeds, nuts, whole grains, plus pumpkin, squash, and salad greens.
Other important nutrients for women included in this product include vitamin K – which helps to keep the heart healthy, preventing the second most common cause of death among women (2015) – magnesium (older women in particular risk deficiency) and vitamins A, C and E, which act as antioxidants and help to fight damage to cells.
Full ingredients include: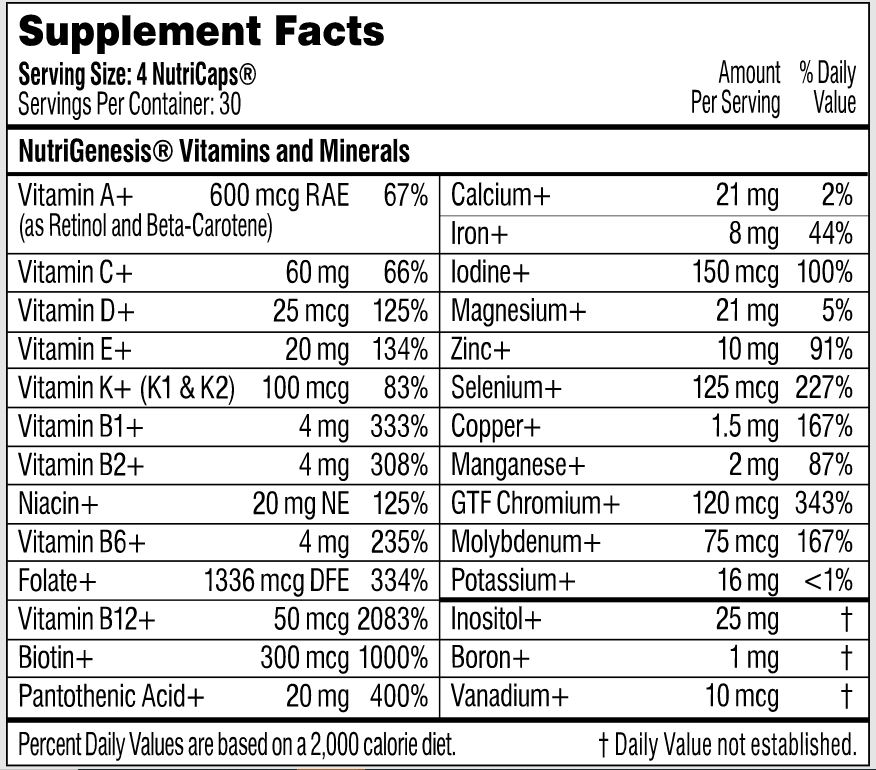 An Eco-Friendly Vegan Multivitamin
Performance Lab NutriGenesis Multi is also the cleanest multivitamin we've seen on the market today, both in its ingredients and its manufacturing process. Important for anyone who cares about the environment (and your own health!).
Eco-Friendly Examples
It is:
GMO-free
Free from synthetic additives, gluten, allergens, and soy,
Banned substance tested
Caffeine-free
Non-irradiated
GMP certified, meaning it is made according to Good Manufacturing Practices.
Lab-grown using no pesticides or herbicides ; there is no soil depletion, no mining and it uses only a small carbon footprint .
NutriGenesis for a Modern Vegan Multivitamin
Of course, this product's real ace in the hole is its revolutionary NutriGenesis manufacturing process. The exclusive NutriGenesis process allows Performance Lab to grow nature-identical forms of its vitamins and minerals. They are grown with naturally occurring co-factors, such as probiotics, fibre, enzymes, and antioxidants, providing nutrients that the body easily recognises and absorbs.
A Vegan Supplement Line
Here's an impressive final point: all the products in the Performance Lab range are vegan friendly. All products are also designed to be used safely together as well, if desired. That gives you a lot of options. From their supplements for vision, energy, bones, and sleep to their nootropic Mind, and more.
Conclusion
Let me wrap it up for you: here's why we here at Supplement Reviews UK rate Performance Lab NutriGenesis Multi so highly…
It's 100% vegan, from its ingredients to its manufacturing process, to its capsules.
It's one of the cleanest and eco-friendly vegan multivitamins on the market.
It contains generous dosages of B-vitamins and other nutrients that vegans often struggle to gain.
Tested for banned substances, giving peace of mind for vegan athletes.
Gender-specific versions available, designed for men and women's physiologies.
Uses premium ingredients with research-backed dosages.
The ultramodern NutriGenesis manufacturing process creates high-quality, bio-available nutrients that you just can't find anywhere else.
Finally, NutriGenesis Multi provides a strong base from which to build upon, with Performance Lab's vegan range offering a full range of further supplements should you want them. All designed to be safely used together.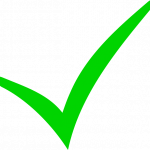 For all the reasons above, we are happy to recommend Performance Lab NutriGenesis Multi as our favourite vegan multivitamin to buy in the UK in 2022.