This page may contain affiliate links and we may earn a small amount of money from any products bought. Our reviews, however, remain independent and impartial.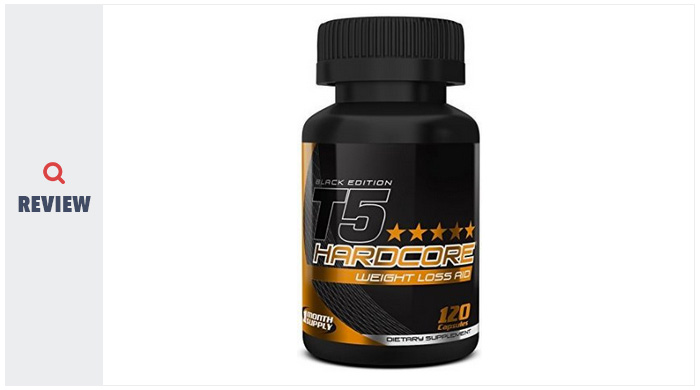 According to the manufacturer eBody, T5 Hardcore is aimed at everyday people who want to lose weight, as well as boxers, bodybuilders and athletes who want to strip body fat without losing muscle. That said, eBody also describes it as the 'strongest ever and most powerful T5 fat burner at this time.'
You know that you should be onto a winner if Men's Health review your fat burner and state that 'By day 21 I'd already lost 6lb and an inch off my waist.' Edward Lane, Assistant Digital Editor, Men's Health.
But is all as it seems? Does T5 Hardcore deliver results in a way that is easy to use, effective and safe?
---
» See the #1 Fat Burner This Year «
---
Ingredients
The key active ingredients in T5 Hardcore are bitter orange (500mg), green tea extract (400mg) and caffeine anhydrous (150mg). This, says eBody, provides the 'strongest legal equivalent' to the popular ECA stack, which stands for Ephedrine, Caffeine, and Aspirin. Ephedrine is now banned for use as a weight loss supplement after a meta-analysis of collected studies showed ephedrine and ephedra could double or triple the chance of heart palpitations, stomach problems, autonomic symptoms or psychiatric problems.
Manufacturers have been looking for legally acceptable alternatives to ephedrine and ephedra ever since, but does legal automatically mean safe? Not necessarily. We have some reservations about certain ingredients in this stack.
The key ingredient in bitter orange is synephrine, a popular alternative to ephedra, banned in 2004 by the U.S. Food and Drug Administration as mentioned above for heart-related side effects. However, synephrine also stimulates the heart, especially when mixed with caffeine, and can cause high blood pressure in healthy adults. As WebMD points out, there is no evidence that synephrine is any safer than the banned ephedra.
The remaining ingredients include Cayenne Pepper 200mg, L-Tyrosine 100mg, Kola Nut 75mg, Guarana Seed Extract 75mg – Gelatin Capsule, Rice Flour, Magnesium Stearate, FD&C Yellow #6, FD&C Red #3, Titanium Dioxide (colour).
Pros
According to the majority of reviews and happy customers on the internet, T5 Hardcore does what it promises – and helps to burn fat dramatically and quickly. One Amazon reviewer claimed to lose one stone in four weeks.
T5 Hardcore has earnt a 4.3 rating out of five stars from 203 reviews, at the time of writing.
The pills are very potent and start to work within one hour.
Both Amazon reviewers and Men's Health Assistant Digital Editor Edward Lane testified that T5 Hardcore also reduces the appetite, helping you to become satisfied with smaller meals. Lane's daily intake dropped by 500 calories. Note too, however, that he also described becoming uninterested in food.
Amazon reviewers also praise the supplement for giving them additional energy, presumably as a result of the caffeine.
Cons
The thermogenic aspect of fat burners uses caffeine to help the body burn calories, but too high a dose – or one that you're not used to – can cause anxiety and sleep problems. T5 Hardcore contains 150mg of Caffeine Anhydrous, equivalent to one 8oz serving or cup of brewed coffee, though the buzz is apparently much stronger.
It also adds additional caffeine in other ingredients such as green tea (the 400mg dose may translate to 60mg of caffeine according to Caffeineinformer.com) It is therefore advisable that you stop drinking coffee while taking these tablets.
The synephrine in T5 Hardcore's prime ingredient, bittter orange, is a worrying ingredient despite manufacturer claims to the contrary. The potential strain this could put on the heart and body is a concern.
Synephrine is already banned by the National Collegiate Athletic Association (NCAA).
As with the Men's Health reviewer, you may notice dramatic initial results when using T5 Hardcore only to hit a wall in later weeks as your body slowly becomes used to the caffeine. At this point, your weight loss may stop and calorie intake may plateau.
A minority of people on Amazon (19 reviewers out of 203) complained that the product didn't do anything for them at all.
---
---
Customer Reviews
The following reviews present a cross-section of views on T5 Hardcore on Amazon UK.




Safety / Side Effects
The Men's Health reviewer, while happy to be losing weight, also described feeling 'grim' during the entire 28 days he took the supplement. His heart was beating very fast, and he describes feeling 'on edge during office hours' and crashing out in the evening. Other reviewers, however, state that they experienced no crash so it may depend on your metabolism. One person complained of pains in the back caused by kidney problems after using T5 Hardcore.
Health Warnings
Not recommended for anyone under 18 or pregnant or nursing mothers. Take medical advice if you have food allergies, or are already under medical supervision.
How to Take It
Take two capsules a day on an empty stomach with water; ensure you take the capsules six hours apart, and don't take four hours before sleep. Drink eight glasses of water a day at least. T5 Hardcore pills, with 1600mg per serving, are said to be very potent and to work within one hour.
Does It Work?
The key ingredients in T5 Hardcore are bitter orange, caffeine anhydrous and green tea extract (which also contains caffeine). There's no denying that this is probably a very powerful fat burning combination for most people. From user reviews, it also seems to be an effective appetite reducer and potent energy-giver as well (thanks to the caffeine).
However, the reports of hearts beating fast, jitters and crashing make us worry about this product, and it's likely too strong for some people. Even then, however, it won't take long for the body to get used to it, and weight loss may eventually plateau.
Conclusion
We wouldn't recommend these pills. We distrust the synephrine in the bitter orange in particular. If you are set on trying T5 Hardcore, however and we can't dissuade you, we would advise you to use it only as a short-term intense weight loss and fat burning boost. It may help to kick start your weight loss and fat-burning efforts, but the pills are not advisable for long-term use.
---
» See the #1 Fat Burner This Year «
---