This page may contain affiliate links and we may earn a small amount of money from any products bought. Our reviews, however, remain independent and impartial.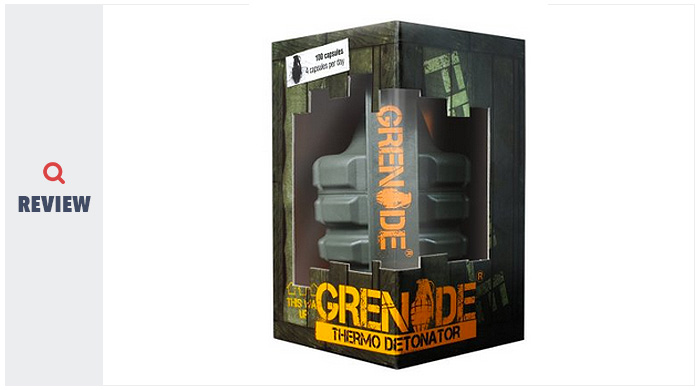 Grenade Thermo Detonator is Amazon.co.uk's bestseller in weight loss supplements with a 3.8 rating out of 5 (from 683 reviews). It is an all-round supplement, explaining its concurrent number one position among fat burners and appetite suppressants on Amazon's bestseller lists.
Ingredients
Green tea, 500 mg; Bitter orange powder: 420 mg; Caffeine: 225 mg; Cayenne: 200 mg; Phenylalanine: 25 mg; Green coffee: 10 mg; Bulking agent (magnesium stearate), gelatin capsule (purified water, colours: E133, E102 and E129), titanium dioxide.
With its high levels of caffeine and green tea extract, most people will notice Grenade Thermo Detonator's thermogenesis properties. Studies suggest that the catechins in green tea help to boost the metabolism and burn fat, particularly so when combined with caffeine. As a bonus, the antioxidants in green tea are also believed to fight free radicals that cause ageing and potential illness in the body, and could potentially help to fight cancer, heart disease, high cholesterol, and diabetes among other illnesses.
The controversial element in Grenade Thermo Detonator is the 420mg of bitter orange, with its key ingredient synephrine. Synephrine is an alternative to the banned ephedra, prohibited because of potential heart issues, and yet synephrine also stimulates the heart. Here it is also mixed with caffeine, another stimulant. WebMD points out that synephrine has not been shown to be any safer than ephedra.
---
» See the #1 Fat Burner This Year «
---
The Pros
As a solid all-rounder, Grenade Thermo Detonator seems to act as a fat burner, appetite suppressant and an energy giver all at the same time.
It has a solid if not outstanding rating of 3.8 out of 5 from hundreds of reviews (683 at the present count) on Amazon.co.uk.
More than half of those reviews (465 at current count) give it an impressive 4 or 5 out of 5 rating.
It is an award-winning product, earning the title of European Diet and Weight Management product of the year three years running, 2013, 2014 and 2015.
Reviews suggest it works well if used alongside a calorie controlled diet and exercise programme as recommended by the manufacturers.
It is nice to read of a weight loss supplement that doesn't promise the earth simply by popping a pill. Grenade says the product should be used to supplement a healthy diet and exercise programme, and that Grenade Thermo Detonator is ideal for endurance, pre-cardio and HIIT training. This is a realistic and sensible approach.
Grenade is a British business that is now selling its products around the world. It doesn't seem to go in for autoship scams, and by all accounts seems to be a trustworthy company.
Grenade says the supplement is one of the strongest on the market while still maintaining its classification as a food supplement.
The Cons
Grenade Thermo Detonator contains 225mg of caffeine per serving, equivalent to about one-a-half 8oz cups of coffee. If you are sensitive to caffeine, you may experience a significant buzz. Even regular caffeine users should reduce their caffeine intake while taking this supplement or you could overdose and experience anxiety and the jitters.
Tested athletes are encouraged to talk to their federation before taking this, as synephrine is banned by some sports governing bodies.
According to some reports, it may be best to cycle this product as the body tends to get used to it after a few months, and it fails to work anymore (see below).
If you are someone who struggles to remember when to take medication, taking four of these pills a day may become a chore.
Consumer Reviews
The following reviews were found on Amazon.co.uk






---
---
Safety / Side Effects
One reviewer reported an increase in blood pressure after taking these tablets, one of the potentially dangerous side effects noted with synephrine. Others reported nausea, stomach problems, headaches and heartburn, possibly caused by the caffeine.
Health Warning
Do not use if under 18, or pregnant or nursing. Do not use if you have high blood pressure or are taking any prescribed medication.
How to Take It
Take two pills after waking, on an empty stomach, plus a further two capsules 30 minutes before lunch. Take with water, in fact make sure to drink eight glasses a day. Alternatively, you can take two tablets before training, but never consume more than four capsules in one day or more than two capsules at a time. Avoid taking less than six hours before sleeping.
Conclusion
There seems to be general consensus that Grenade Thermo Detonator packs a punch – just what you'd expect from pills sold in a plastic box shaped like a grenade. But is it a safe punch? The success of the product and positive reviews suggests that it burns fat, suppresses appetite and helps you lose weight as promised, but it's such a shame that it contains the controversial ingredient synephrine. This, plus the Phenylanine also in this product, affects adrenaline and can put your body into stress mode which is effective for losing weight, but not so great for your heart and blood pressure.
Grenade states that bitter orange has been proven safe, but we've yet to see enough clinical evidence to convince us. For this reason, we are reluctant to recommend Grenade Thermo Detonator.
That said we know that people desperate for weight loss will seek out effective remedies and risk the potential side effects (the 'it will never happen to me' approach). So if you're determined to try Grenade Thermo Detonator, we would suggest starting out slowly and building up. Likewise, use for the short-term and stop taking the capsules if you experience any side effects, such as a fast heartbeat, high blood pressure, nausea, headaches or heartburn.
Be aware too that the large amounts of stimulants in this product may see you bouncing off the walls (hence the encouragement to build up slowly). Ironically, despite dramatic initial results, the body can also become accustomed to caffeine quite quickly and your weight loss can slow or stop altogether after a while.
---
» See the #1 Fat Burner This Year «
---