This page may contain affiliate links and we may earn a small amount of money from any products bought. Our reviews, however, remain independent and impartial.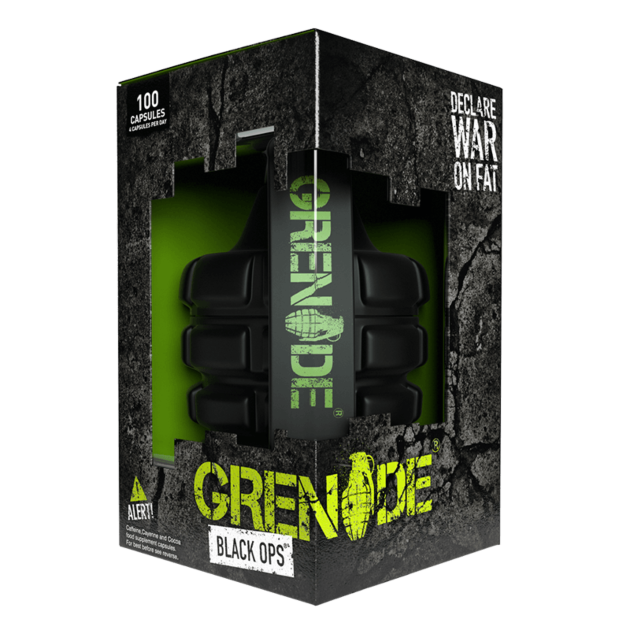 Grenade has been the most prolific fat burner manufacturer in the UK for quite some time. A mix of potent marketing, unique designs and quality supplements has ensured their position over the years.
Grenade tell us that Black Ops is a fat-loss supplement designed to act faster than their extremely popular and award-winning Thermo Detonator®.
With decent reviews on amazon — it's a listed number one best seller — let's see if the bang lives up to the expectations.
---
» See the #1 Fat Burner This Year «
---
Ingredients
Microencapsulated Caffeine
We've all at least heard of caffeine. A stimulant and sleep inhibitor found in coffee and tea and often used in supplements like pre-workout. Microencapsulated caffeine is usually used to mask the bitterness that it can impart in beverages, but it has no effect on the use of caffeine in the body.
It's not a surprise to see it in a fat burner, firstly for its stimulatory effects for boosting your workouts and burning more calories. But also because of its links to fat loss which makes it a prime candidate and good start for Black Ops.
For these benefits, caffeine is recommended to be taken at 200mg. Grenade packs 295mg of caffeine per 2 capsules. This is quite a lot, a dose I'd expect to see in a pre-workout, not a fat burner, and taking the maximum serving of four capsules a day is way above the recommended cap (400mg per day) for safe daily intake of caffeine.
If you do want to try Grenade Black Ops, we would advise taking no other caffeine — remember, as well as coffee, caffeine is also present in tea, chocolate, energy and cola drinks — and to avoid it in the evening.
Another problem with caffeine is that regular drinkers of coffee will not see the same benefits due to tolerance.
Taurine
A common amino acid seen in energy drinks, taurine has long been touted as an ingredient that will boost your workouts, without much evidence it has to be said.
It's a bit disappointing to see taurine in Grenade Black Ops as there is little direct clinical evidence to suggest that it enhances physical performance. It has been linked to a slight increase in exercise capacity in people with heart conditions, but this was at high doses of 1,500mg per day and the improvement was in walking distance.
Some experts also suggest that taurine supplementation may help with weight loss and control (though the jury is still out on those claims) but the amounts needed would be at least 3g per day.
Grenade offers us 275mg per 2 caps, which is generous, but ineffective at boosting either your workout or fat burning.
Cayenne (Capsaicin)
The key ingredient found in hot peppers, capsaicin is claimed to boost fat loss through heightened thermogenesis. There is an encouraging study on rats that were fed differing diets along with Capsaicin which found an 8% reduction in fat mass and a drop in blood triglycerides.
Cayenne pepper is also a useful ingredient in a fat burner because of its appetite suppressant benefits.  A human study for instance, discovered that taking cayenne in capsule form helped to increase feelings of satiety and therefore reduce calorie intake by up to 12%. A handy double benefit. Cayenne pepper also includes antioxidants that help to fight free radicals released during fat burning.
Grenade gives us 250mg per 2 caps in Black Ops, which isn't bad at the top dose (though I wouldn't recommend it due to the caffeine).
Choline
Choline is most commonly used as cognitive enhancer as it turns into a neurotransmitter after consumption. It's an uncommon ingredient to see in fat burners but has shown promise at dose of 2.1g per 80kg bodyweight where female athletes reduced body fat percentage by up to 10% in one week through increased fat metabolism.
It's not surprising to see why Grenade included it in a fast-acting fat burner. But, at only 220mg, it doesn't come close to delivering the active dose needed according to research.
Green Tea
Green tea catechins have wide-reaching health benefits and are first on the list for many people when it comes to fat burning supplements. Well-researched and proven to reduce fat by increasing lipid oxidation and boosting metabolism at doses higher doses of 400-500mg per day. Green tea extract is a great choice and encouraging to see.
However, at a closer look, only giving us 100mg pretty much negates any fat-burning properties.
Theobroma Cacao
Theobroma cacao might improve cognition. This is thought to happen through increased cerebral blood flow and oxygenation. This could be why it's included, but the evidence is tenuous at best.
Theobroma cacao provides no advantages to burning fat.
Blue Green Algae (Aphanizomenon flos-aquae)
Aphanizomenon flos-aquae is a wild grown blue green algae, its common counterpart — spirulina — is farmed and more controlled but offers similar benefits. Blue green algae are connected with a plethora of health benefits and research suggests promise when it comes to physical performance and fat burning.
The main study that saw reduced fat focused on spirulina, and the benefits were documented at 6g of spirulina per day for 4 weeks. The fat loss came as a secondary factor thanks to increased time to fatigue and muscular endurance, prolonging the workouts.
Grenade only offers 20mg of aphanizomenon flos-aquae, which is far too low.
Niacin
Also known as vitamin B3, niacin is an odd ingredient to see. Although it's a potent regulator of cholesterol and blood triglyceride levels, it also causes insulin resistance which offsets the cardiovascular benefits.
Although pharmaceutical doses of niacin have seen a slight increase in fat oxidation along with insulin sensitivity reduction, another study in obese individuals demonstrated no influence on fat mass. Both studies used 500mg of niacin, up to 2g.
Grenade Black Ops comes with a tiny 15mg per 2 capsules.
Bioperine (Black Pepper Extract)
Bioperine is a great ingredient to see. It has no effect on the fat burning process but is added as an enhancer to the other ingredients.
A process in the liver called glucuronidation attaches a glucuronide molecule to drugs and active ingredients in the blood that signal the body to excrete it through urination. This can sometimes stop a large chunk of your supplements from being absorbed. Black pepper extract inhibits this process, making it valuable for supplements and enhances uptake of ingredients.
Recommended at 20mg for optimum absorption-enhancing effects, we are short changed again, with only 5mg per 2 capsules.
Chromium
An essential mineral found in plants and grains, chromium is responsible for normalising metabolism blood sugar but has no effect on fat mass. Although what is interesting is its potential for supressing appetite, especially with those who have a history of poor eating habits.
The appetite suppressive quality of chromium has been seen at 600 micrograms over 8 weeks. We only see 20mcg in Black Ops.
---
---
Pros
Positive reviews and bestseller listing on Amazon.
Trustworthy company.
Cayenne (Capsaicin) is a core ingredient.
Fans say that it can still pack a punch, albeit a lighter one that doesn't last that long.
Grenade allow you to buy a four capsule one-day supply of Black Ops to test the product before committing further. For this, you would need to pay £2.49 at time of writing.
Cons
Caffeine at a disproportionately large dose.
Low doses of choline, green tea extract, blue green algae, niacin, bioperine and chromium.
Little evidence to support taurine.
Theobroma cacao is ineffective.
The high caffeine dose seems to encourage many users to use fewer capsules (some complain of racing hearts, otherwise), thereby limiting how successful Grenade Black Ops can be,
 Customer Reviews
Safety/ Side Effects
The only problem here would be the caffeine. It's at a high enough dose to affect some people negatively.
How to Take It
Take 2 capsules on an empty stomach when you wake up with water.  Take 2 capsules 30 minutes before lunch with more water.
To check your tolerance (probably for the caffeine), take 1 capsule twice per day for the first 7 days.
DO NOT exceed 4 capsules per day.
Who Takes It?
This fat burner is aimed at people looking to do just that — burn fat. If you're looking to trim the waist-line or shred the last few grams to your goal.
Conclusion
Grenade Black Ops starts with a reputable name and an okay price (44 capsules for £30). But the ingredients let it down, specifically the doses.
Even at the maximum 4 capsules a day, some of the key ingredients — the green tea and the choline, for instance — will all still be ineffective. Not to mention that you'll be taking an unadvisable amount of caffeine.
We would have preferred that Grenade cut back on some of the pointless ingredients to increase the doses of the others, and possibly even add additional ingredients such as Glucomannan, a dietary fibre excellent for suppressing the appetite. Green Coffee Bean in a decent dose would also have added to the product's fat-burning potential.
Unfortunately, Grenade Black Ops is a big disappointment.
---
» See the #1 Fat Burner This Year «
---