This page may contain affiliate links and we may earn a small amount of money from any products bought. Our reviews, however, remain independent and impartial.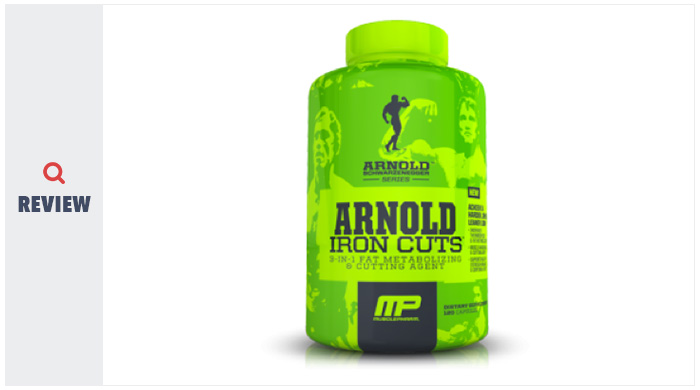 When you think about weight loss, you don't exactly picture Arnold Schwarzenegger. And yet, the former actor and governor of California has put his name to Arnold Iron Cuts, a popular fat burner and number three on our Best Fat Burners of 2016 list.
So what gives? Well, it turns out that, like Arnold himself, this fat burner helps you to lose weight by gaining muscle, also known as 'cutting'. The idea is to preserve and build muscle while losing weight, to give the body more energy to burn fat.
---
» See the #1 Fat Burner This Year «
---
Let's take a look at its ingredients:
The Ingredients
Arnold Iron Cuts claims to offer a three-in-one approach to fat, via three blends
– Muscle Building Maximizer (build muscle to burn fat, relies heavily on the idea of testosterone-boosting to build muscle)
— Thermogenic & Fat Metabolizer (to spark thermogenesis)
— Estrogen & Cortisol Metabolizer (supports the testosterone boost of the first blend, plus dampens down cortisol which traditionally slows down metabolism).
In detail:
Muscle Building Maximizer, 1,000 mg
It's strange to find T-boosters in a fat burner, but this blend contains T-boosters such as D-Aspartic Acid (DAA), Boron, Pumpkin Seed Extract and Fenugreek. The first two on this list are proven T-boosters and are included on our Top Fat Burning Ingredients list. Our jury is still out on Fenugreek, which we acknowledge may work. It's just a shame they opted for plain old DAA and not the more powerful D-AA-CC version of T-booster.
Additional ingredients in the Muscle Building Maximizer blend include Alpha Lipoic Acid (ok, promotes lean muscle mass) and Eriobotrya Japonica, also known as Common Loquat. We can't really work out why the latter is included. According to Examine.com, it is used for cough and flu symptoms, nothing to do with weight loss, fat burning or T-boosting. Even then it may need higher doses than can be taken orally.
Thermogenic & Fat Metabolizer
We would have thought that the thermogenic part of a fat burner would have the highest priority in the ingredients, but at 930mg, it comes in second after the 1000mg T-boosting blend. Arnold Iron Cuts seems determined to do everything its own way.
The good news is that this blend does contain green tea and caffeine, which is an excellent fat burning duo, helping to encourage thermogenesis and boost fat burning.  L-Carnitine Tartrate also helps to burn fat as well as help speed recovery and reduces soreness in the muscles after exercise. These are solid fat burning ingredients.
The thermogenic and fat metabolising blend also contains additional ingredients, Panax Ginseng, Inositol and Thermodiamine™. Panax Ginseng has little evidence as a fat burner (more likely a performance enhancer in the bedroom), while research done on Thermodiamine™ and Inositol is limited. It might well have been better to boost up the three main fat-burning ingredients in here, and leave these out of it.
The blend is finally rounded out by nootropics Vinpocetine and N-Acetyl-L Tyrosine. The latter may be a superior form of Tyrosine, but both are more effective as brain-boosting nootropics than thermogenic or fat burners. They come in handy to boost morale and mental energy, however.
Estrogen & Cortisol Metabolizer
The 144mg dosage contained within the Estrogen and Cortisol Metabolizer is small so we're not sure how much this blend can really do. However, Diindolylmethane (DIM) and Grape Seed Extract are intended to prevent the enzyme aromatase from converting testosterone to oestrogen.
The remaining formula aims to reduce the impact of cortisol (stress-related) on the body, which can make it harder to get rid of those remaining pounds. Cortisol levels typically spike during intense training periods, so this could be a benefit to anyone following an exercise regime.
The logic in both of the blend's aims is sound, but the 144mg may not be enough for them to really work.
In addition, Arnold Iron Cuts also contains vitamin D to support muscular function and strength, included here in a potent form, and Chromium Picolinate, which has mixed research but is popular in weight loss circles.
---
---
The Pros
Arnold Iron Cuts contains some solid fat-burning ingredients.
The real star of the product, however, is its T-boosting blend, which is an original interpretation of a fat burner and contains some powerful ingredients that should work well.
Despite its unusual approach, this formula is likely to burn fat and build muscle if you use alongside a diet and exercise regime.
The ability to balance testosterone and oestrogen is the secret to building muscle
Also offers some powerful nootropic ingredients.
Tailored to the male bodybuilding demographic, which seems very happy with it, judging by the 8.9 out of 10 review on Bodybuilding.com.
The Cons
We don't like it when products hide exact dosages behind proprietary blends. If you have a decent product, there's just no need for it.
There are some ingredients that seem to be included for no apparent reason (i.e., nothing to do with fat burning or testosterone-boosting) and others with limited research to prove they work. Further ingredients are also included in inferior forms.
Others seem to be included at such low dosages (the cortisol and oestrogen-reducing blends, for instance) that we can't say they will work.
Some users have reported mood swings and anger issues when taking this supplement, perhaps a sign that they are particularly sensitive to testosterone boosting.
Customer Reviews
Reviews taken from Amazon.com




How to Take It
A serving size is three capsules.
Safety/ Side Effects
The only real side effect in this formula would seem to come from the caffeine and only for those sensitive to it. There's nothing too hardcore in here otherwise, though it does seem aimed at male bodybuilders, so anyone else should take care. Some people may also be sensitive to the additional testosterone, causing mood swings.
Health Warnings
The product gives a health warning that it contains soy and has been made in a factory that may also process fish, milk, eggs and other potential allergens.
Does It Work?
As we said above, certain ingredients aren't included in promising amounts, but overall this is a pretty solid formula. There are better straight fat-burners, of course, such as Instant Knockout and Animal Cuts, but Arnold Iron Cuts works in a different way.
Conclusion
If Arnold Iron Cuts were limited to 'traditional' fat burning potential, it would be pretty mild. The good news, however, is that its T-boosting potential is strong, as is its muscle-building. Together, these create a decent double whammy on fat – helping to burn it directly and indirectly. It's an unusual but effective formula, particularly so for dedicated bodybuilders, which is presumably the reason it has earnt such good reviews online from this niche.
---
» See the #1 Fat Burner This Year «
---