This page may contain affiliate links and we may earn a small amount of money from any products bought. Our reviews, however, remain independent and impartial.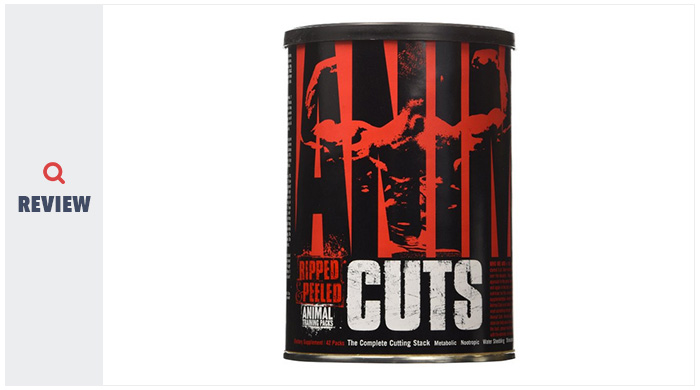 If you're looking for a hard core fat burner, Animal Cuts is a good choice. Originally released in 2006, it is aimed at athletes and body builders who want extreme definition, to get rid of excess water and to gain maximum striations and cuts. In short, it's a one-stop stack designed to help body builders get 'ripped, shredded, and peeled'.
It does so via 40 different ingredients which add up to a whopping 8.5g of supplement a day. Yes, you read that correctly, 40 ingredients and 8.5g of herbs a day. Animal Cuts is as extreme as they come.
The downside? You have to commit to taking as many as NINE pills a day.
Animal Cuts is a far-reaching product that targets just about every aspect of cutting and shredding fat. It does so via eight different pathways (called complexes) to fat-burning success:
Thermogenic complex (raises the body's temperature and burns fat)
Metabolic complex (raises core metabolism in order to convert food into energy and ensure less food is stored as body fat)
Thyroid complex (stimulates thyroid function/ aids thyroid support, which helps to boost metabolism even more)
Diuretic complex (helps shed excess water weight)
Nootropic complex (aids focus and alertness)
Cortisol inhibiting complex (decreases cortisol production/ stress levels, and helps to preserve lean muscle mass)
CCK inhibiting complex (otherwise known as appetite suppressors)
Bioavailability complex (helps to absorb and metabolise the glut of ingredients).
It may not be particularly targeted or streamlined, but it's powerful and it works.
---
» See the #1 Fat Burner This Year «
---
The Ingredients
Thermogenic Complex, 750 mg (also called Stimulant Complex)
It's all about the caffeine in this stimulant complex. Basic caffeine anhydrous is added to three more botanical caffeine sources: yerba mate, kola nut and guarana. There's no way of knowing how much caffeine that adds up to as exact dosages are hidden behind the proprietary blend.
Also included are:
Coleus Forskohlii: Believed to boost cyclic adenosine monophosphate in the body, helping to promote fat loss. It's just a shame this version isn't standardised.
Raspberry ketones:  Very trendy but in our one to avoid list of fat burning ingredients. It may work, but only in massive quantities and there's really no independent human clinical evidence of that as yet.
Evodiamine: Examine.com states that Evodiamine's fat burning potential has been looked into, but 'no significantly promising evidence has been shown' at this point in time.
It looks like a lot of the thermogenic potential in this stack relies on the caffeine.
Metabolic Complex, 750 mg
Animal Cuts supplies four different types of tea extract, all standardised for polyphenols, but it's the Green tea extract that is standardised for EGCG, the compound most associated with fat burning. As this is the first ingredient listed in this complex, we can only hope that it makes up the majority of the 750mg, but there's no way to know.
Thyroid Complex, 350 mg
The thyroid is crucial when it comes to weight loss; how well it works is likely to be instrumental in your fat burning mission. The thyroid hormones influence your ability to burn fat, produce energy and maintain a healthy metabolism; it's our metabolic thermostat, if you like. Animal Cuts' thyroid complex includes L-Tyrosine (raw material for thyroxine, T4 thyroid hormone) and olive leaf extract. The latter contains oleuropein which has been implicated in increasing thyroid hormones and aiding fat burning, though further research would be welcome.
The final ingredient in this complex is Salvia Officinalis, a fancy sounding name for basic sage. Sage is thought to stimulate the thyroid, but it may also boost oestrogen and prolactin, the female hormones.
Water Shedding/ Diuretic Complex, 800 mg
This complex includes six different herbs that are all thought to have diuretic qualities — Dandelion Root, Uva Ursi Leaf, Juniper Berry Fruit, Hydrangea Root, Celery Seed and Buchu Leaf. The first two are probably the most effective and at 800mg for all, the serving should be enough to work. Animal Cuts describe these as the 'potassium-sparing herbs', claiming they should encourage water loss without leaching key electrolytes such as potassium (as many synthetic diuretics are prone to do). This, in turn, preserves the muscles.
Nootropic Complex, 500 mg
Nootropics are commonly called brain boosters and are included here to aid focus and alertness, and help you stay on the fat burning track. The majority of fat burners only work if you stick to a strong exercise regime in the first place, and this complex presumably aims to help you be motivated enough to do that.
The good news is that it includes some top-rated nootropics, Huperzine-A, Bacopa Monniera and DMAE. Together this mini-stack should promote alertness, motivation, mood and mental energy.
Cortisol Inhibiting Complex, 300 mg
Dieting can increase the amount of cortisol, the stress hormone, in the body which can interfere with normal hormone production and lean muscle mass. Animal Cuts uses Ashwagandha, Phosphatidylserine and Magnoila Bark extract, along with Eleuthero. Ashwagandha is a strong anti-stress herb; Eleuthero (Siberian ginseng) is recognised for its anti-stress abilities, while Phosphatidylserine is more well known for memory help, though it may dull cortisol spikes after training. We're not quite sure why magnolia bark is included here as it hasn't been shown to reduce cortisol.
CCK Inhibiting Complex, 300 mg
This is the appetite control portion of the Animal Cuts formula. Included here is Cha-De-Burge, a South American tree bark-herb, and Jojoba seed as well as apple pectin. The theory is that these herbs help to cut down on carb and sugar cravings.
It's true that Jojoba shows promise in animal trials for appetite reduction, though there is little evidence that Cha-De-Burge works as yet.
Bioavailability Complex, 500 mg
The idea behind this complex is to boost the absorbency of the rest of the ingredients and to help the body metabolise them better. The cayenne pepper, ginger and grapefruit included in this stack help to boost metabolism and burn fat, but are hit and miss when bioavailability is considered. Research shows that they may improve absorption of some ingredient but reduce absorption of others.
BioPerine ® is by far the best ingredient in the bioavailability complex. It boosts absorption while also increasing thermogenic activity, just what you want in a fat burner. Quercetin has also been shown to boost absorbency of Green tea catechins.
---
---
 The Pros
Animal Cuts attacks fat burning, shredding and weight loss from many different angles.
It combines a lot of tried and tested ingredients alongside some newer promising ones.
The majority of its complexes are the real deal, in particular the thermogenic, metabolic, thyroid, diuretic, cortisol-inhibiting, and nootropic complexes. All look solid with time-tested and proven ingredients in decent dosages.
The complex idea, while elaborate, is a good one and adds synergy to the overall package. The thyroid complex, for instance, helps to ramp up metabolism even further, and the idea of providing herbs to reduce stress and aid focus tackles the motivation aspect of shredding, exercise and weight loss.
It offers a MASSIVE 8.5g serving size a day.
The company is reputable and has been around for more than 35 years.
Animal Cuts is a very popular choice among the body building fraternity; is easily available and has lots of positive reviews online.
There's no denying there are a lot of pills to take throughout the day but the benefit of colour coding them means that you don't have to take every one if you don't want to. If the diuretic makes you visit the bathroom too often, for instance, skip the blue pills. If the thermogenic one gives you hot flushes, don't take that pill. Animal Cuts allows customisation.
The Cons
Perhaps the biggest drawback to Animal Cuts is the sheer amount of pills you have to take – nine in total. That's a lot of pills to remember.
There's also quite a lot of caffeine in this fat burning stack, potentially too much for those people very sensitive to it.
Another big drawback of Animals Cuts is the potential for side effects. With 40 different ingredients, there's a high chance of some issues. Common side effects reported include feelings of fatigue and weakness, lot of sweating, mild headaches, nausea and occasional hot flashes. See more in our section on Side Effects below.
There seems to be no clinical trials conducted with Animal Cuts so far.
Animal Cuts hides its formula behind annoying proprietary blends or complexes which reveal ingredients but hide exact dosages. It's a common flaw among supplement companies, and one that annoys us no end.
We need to know exactly how much caffeine is included in Animal Cuts, for instance, to ascertain just how effective and how safe this supplement is.
There are much more targeted fat-burning formulas out there; Animal Cuts works by virtue of sheer numbers and dosages, but its formula is all over the map.
Customer Reviews
Reviews are from Amazon UK


Safety/ Side Effects
There are so many ingredients in Animal Cuts that we can't even begin to guess what side effects or interactions you may experience. It's probably fair to warn that you should be careful when taking this supplement. Judging by feedback online, side effects reported include nausea, headaches, heartburn, sweats, dry mouth, increased heart rate, insomnia and nervousness. Anyone sensitive to caffeine may find Animal Cuts particularly problematic.
Removing certain pills from the mix may help to reduce adverse reactions if you can identify which complex is causing the problem in the first place. Exercise and a healthy diet may also reduce the intensity of any side effects.
Health Warnings
Seek medical advice if suffering from a medical condition or taking prescription medicine; not designed for anyone under 18.
How to Take It
Take Animal Cuts twice a day for 21 days in a row for maximum impact. Don't take both packs at the same time, but leave at least four to six hours between the two. Ideally, take one pack before cardio and on an empty stomach. You can take just one pack a day if you wish, but note that you won't experience its full effects. As we mentioned above, should one particular complex in Animal Cuts cause you problems, it should be fairly easy to cut it out.
After 21 days, take one week off before starting another three-week cycle if you so desire until you reach your goals.
Does It Work?
Animal Cuts is our second choice fat burner for sale on the UK market in 2016. It may not be targeted or elegant, but the sheer number of ingredients means that it works, and works powerfully. Let's face it if only half of its complexes did the trick, it would still help shredding success.
Conclusion
It may not be a highly targeted or streamlined fat burner, but the Animal Cuts formula offers flexibility AND power, lots of power.
Don't be fooled into thinking it doesn't know what it's doing just because it throws so many ingredients at you. There's a lot of skill in this formula, and it's impressive how the supplement is able to target so many different aspects of fat burning and shredding. It's probably the best complete fat burner that we've seen to date.
We do wish Animal Cuts wouldn't hide behind proprietary blends, especially as it has the space to make sure the majority of its ingredients are in clinically effective dosages. It just isn't needed and acts as a red flag, rightly or wrongly.
Using Animal Cuts should increase metabolic performance, boost energy, stimulate thermogenesis and keep you calm while boosting your motivation. That's a lot of oomph for one formula, even if it does come in nine pills.
Note that this is a serious product for serious body builders; it is not a good option for entry-level fat burning.
---
» See the #1 Fat Burner This Year «
---