This page may contain affiliate links and we may earn a small amount of money from any products bought. Our reviews, however, remain independent and impartial.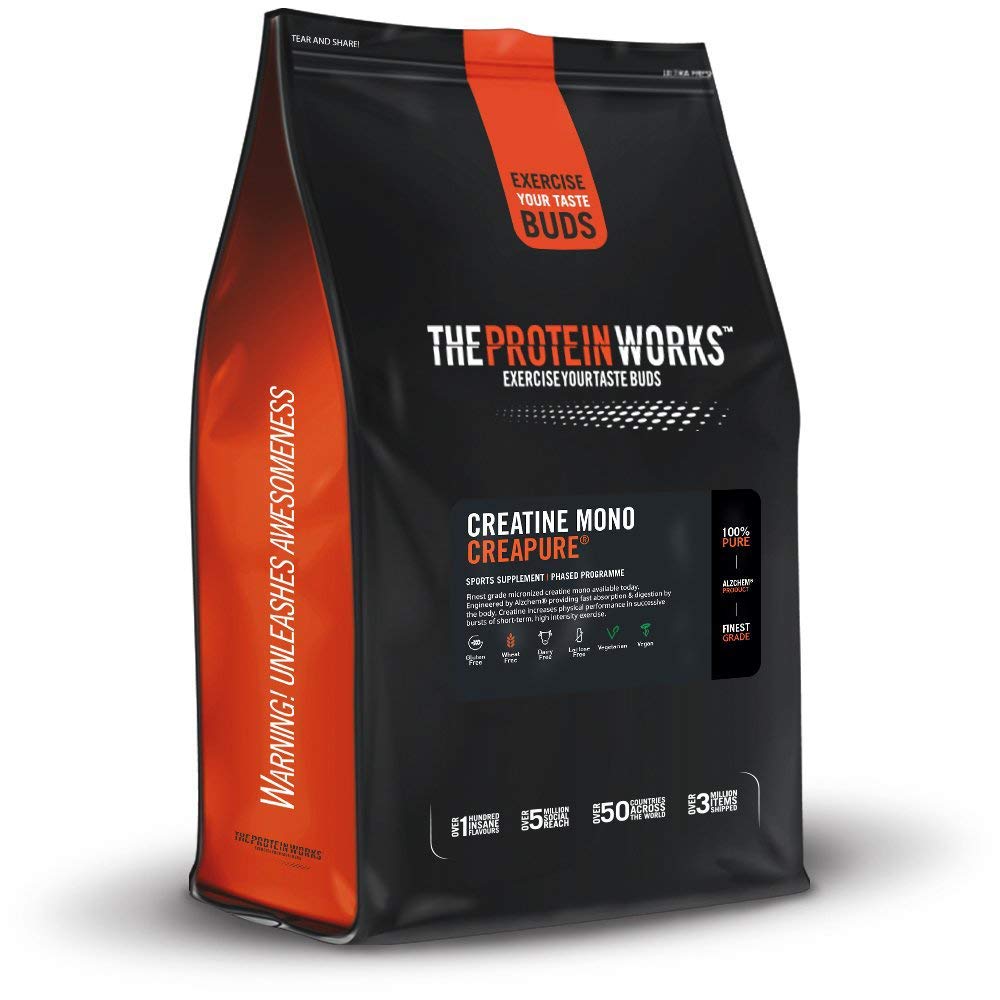 The Protein Works is an established supplement manufacturer in the UK, having first launched in 2012 and earning several awards for its products and business along the way. We expect pretty good things from the company that became the bespoke nutrition supplier to Everton Football Club, so does The Protein Works Creapure Creatine Monohydrate deliver? Let's find out…
Creatine monohydrate powder is one of the most popular creatine supplements available. There are others, like creatine ethyl ester for example, but studies have repeatedly shown that creatine monohydrate is the best option if you are looking to supplement your creatine intake to help with physical training.
Here Comes the Science…
When you exercise, particularly when performing short, high intensity muscular contractions, your body utilises a molecule called Adenosine Triphosphate, or ATP for short. ATP has been called "the universal currency of the cell" and provides energy for your muscles when, combined with water, it loses one of its three phosphates to produce Adenosine Diphosphate, or ADP. The breaking off of this phosphate creates the energy that fuels your muscles during your workout.
Creatine binds to that now lonely third phosphate to form a molecule called phosphocreatine, which helps convert ADP back in to ATP. This reaction uses water as well which is why many people will tell you that it's important to up your water intake if you are using creatine. This is sound advice that you should follow.
The Protein Works Creapure Creatine Monohydrate is powerful, offering 5g of the highest quality creatine monohydrate per serving. This high-quality creatine is called Creapure and is the product of a German company called AlzChem.
The Protein Works creatine monohydrate is also cost-effective, particularly when compared to other products that also contain Creapure's world renowned formulation.
The Ingredients
The unflavoured version of The Protein Works product contains 100% Creapure creatine monohydrate. The flavoured pouches offer slightly less as they also contain sweeteners and flavouring, but you'll hit very close to the 5g per serving with those as well.
What is it about creatine that makes it one of the most widely used supplements in the world? It's not just popular amongst bodybuilders and powerlifters; it's used by competitive sports players, endurance athletes and many others from all ages and walks of life to enhance their performance.
The reason is that creatine stands head and shoulders above the countless other performance enhancing supplements out there, thanks to the overwhelming body of scientific evidence supporting its benefits. Evidence not just for athletic performance, but for building lean muscle mass, supporting muscular recovery and even a growing amount of evidence that creatine provides cognitive benefits and could be used to help treat certain neurological conditions.
Creatine is a naturally-occurring enzyme that you have plenty of in your body already and around 95% of the creatine in your body resides in your muscles. Creatine already forms part of many people's diets as it can be found in meats including beef, pork and fish. Because it is so readily available in foods and has repeatedly been shown to be very safe to take, it has never found its way anywhere near a banned substance list.
The Pros
Contains Creapure – the gold standard in creatine supplements. Protein Works promises the product contains 100% pure AlzChem Creapure
The Protein Works Creapure Creatine Monohydrate is one of the best value for money supplements that contain Creapure
Available flavoured or unflavoured
Micronized 200 mesh creatine is quickly digested and absorbed in to your muscles
Creatine monohydrate is the easiest form of creatine for your muscles to absorb
Happy users say The Protein Works Creapure Creatine Monohydrate has given them more energy and power and helped them to recover quicker.
The Cons
Some unhappy customers complain that the powder mixes poorly which can leave a gritty residue in your shaker
Flavoured options are much pricier, and some users report that they are very sickly
Customer Reviews
The following reviews come from the official The Protein Works website. Click to enlarge

The following reviews come from Amazon UK.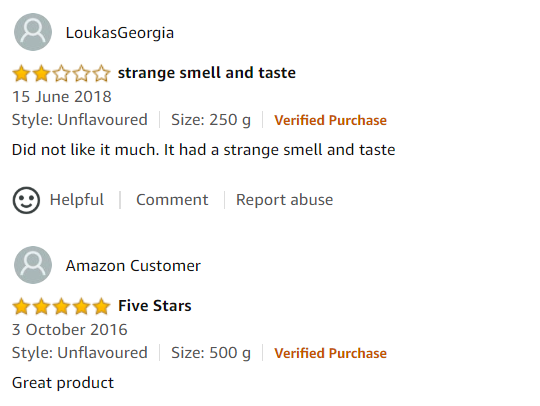 Safety/ Side Effects
Creatine has been studied for years and as well as producing a wealth of evidence to support its considerable list of benefits, these studies have also presented many opportunities to investigate the adverse effects of creatine. Those opportunities have not produced much in the way of safety concerns or possible side effects, making creatine one of the safest (and, possibly as a result, one of the most popular) supplements in circulation.
There are a few guidelines to follow to ensure you are using creatine supplements as safely as possible though. It's important to drink a lot of water as the reactions that creatine helps to take place in your body, whilst beneficial for working out, use a lot water. Unless you up your water intake to around 4 litres per day, you could suffer from dehydration.
If you are healthy and following a good nutrition and exercise plan, however, you are very unlikely to encounter any adverse side-effects. In the interests of full disclosure, the list of possible effects includes cramping, digestive problems and weight gain (mostly due to increased water retention). That said, studies agree that creatine is one of the safest supplements on the market.
How to Take It
The Protein Works recommends consuming 1-2 servings daily by mixing the powder with water or juice in a shaker. One serving equates to 5 grams and this is generally considered to be the optimum dose. You can take up to two servings per day which would provide 10g of creatine but the added benefits of doubling your intake are unlikely to outweigh the fact that you're also doubling your cost by burning through each bag twice as fast.
The company also recommends that you stop taking the supplement for one week after using it for eight weeks in a row, despite the fact that research has shown that creatine is safe to take for at least 21 months on a continuous daily basis. Perhaps they are being a bit over-cautious here.
There are no hard and fast rules on the best time to take creatine in the same way that whey protein is almost always taken immediately following a workout. If you go for the unflavoured powder, then you can make life nice and simple for yourself by adding it to your normal post workout shake.
Who Takes It?
Whilst creatine has been shown to improve performance across dozens of different forms of training, it is most commonly used by people looking to increase strength and the rate at which they can build lean mass.
If this is your goal, then you would be well advised to incorporate a supplement like TPW's creatine monohydrate into your nutrition regime. For those engaged in different forms of training, creatine can still provide a host of benefits such as faster recovery as well as injury prevention and protection from neurological damage resulting from damage to the brain or spine.
Does it Work?/ Conclusion
The short answer is yes, it works. For the long answer you could go back as far as the early 90s when creatine first became popular and then look at all the studies that have been conducted between then and now, and the answer would still be yes. Creatine can be massively beneficial to your training and studies are still being conducted to investigate more as yet undiscovered advantages it can offer.
More specifically, what The Protein Works have created here is a product that offers measurable results, incredible value and excellent quality. The reviews are almost unanimous that The Protein Works Creapure Creatine Monohydrate is one of the best creatine monohydrate formulations currently available.
Where to Buy
You can buy The Protein Works Creapure Creatine Monohydrate from the official The Protein Works website, or from Amazon UK.