This page may contain affiliate links and we may earn a small amount of money from any products bought. Our reviews, however, remain independent and impartial.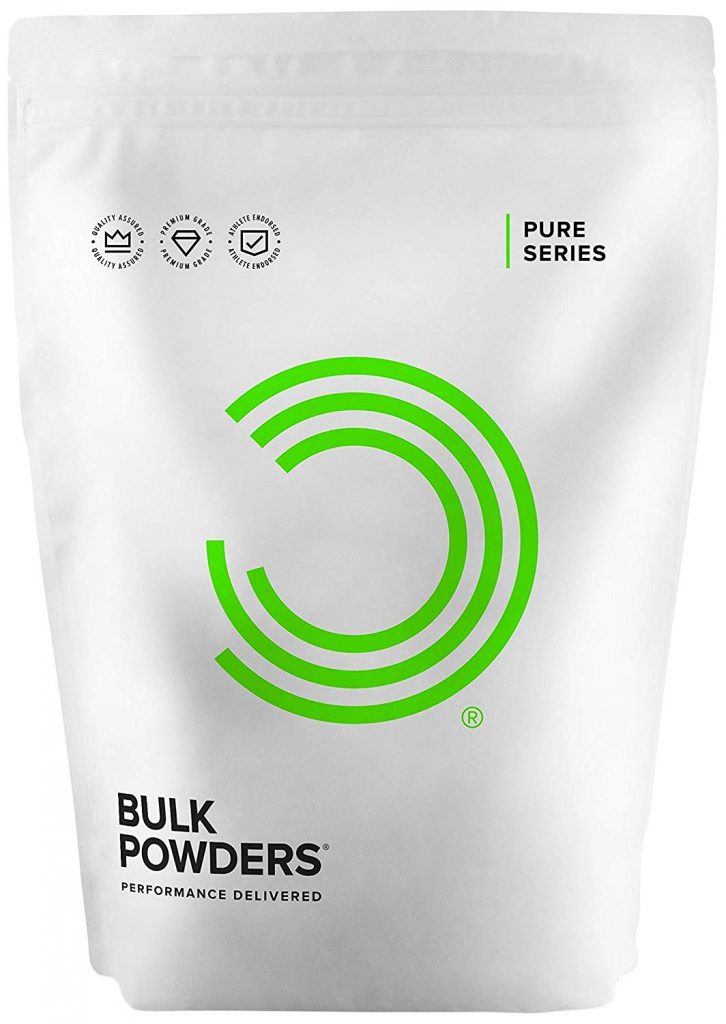 Bulk Powders Creatine Monohydrate is a highly pure and fast absorbing supplement designed to support a variety of training goals. It stands out among the many other creatine products on the market thanks to its extremely competitive price point that does not require you to compromise on quality.
With most supplements you tend to find that opinion is divided, particularly amongst the scientific community, on whether it actually works as advertised. Creatine, however, is one of the most well researched supplements around and most studies agree that it does provide significant benefits for athletes.
Bulk Powders  itself cites the fact that 90% of all athletes competing at the 2012 Olympics had some form of creatine as part of their nutritional programme, implying that it does indeed benefit almost any type of athlete.
More recently, the International Olympic Committee released a study that examined dozens of different supplements to see whether they provided any real benefit. Of all the supplements designed to boost performance, creatine was named alongside only a couple of others as the only ones that had "good evidence" that they actually delivered on their marketing promises. You can read more on that study here.
The Ingredients
There are a few variations of Bulk Powders Creatine Monohydrate; it comes in the classic unflavoured variety but also two flavoured options. The unflavoured pouch contains 100% creatine monohydrate in a powder that is fine enough to mix easily and quickly. The flavoured options have a slightly lower percentage of creatine in them as they also contain flavouring, citric acid, colouring and sucralose (an artificial, zero-calorie sweetener). The flavours available are apple & lime and mixed berry.
Creatine monohydrate is supported by the International Society of Sports Nutrition for benefits including, but not limited to; improved performance during high-intensity physical exercise, reduced recovery time, injury prevention and increased cognitive performance. We mentioned that creatine featured heavily in the 2012 roster of Olympians, but there is documented evidence that athletes competing back in 1992 at the Barcelona Olympics had already caught on to the potential that creatine has to improve performance and recovery times.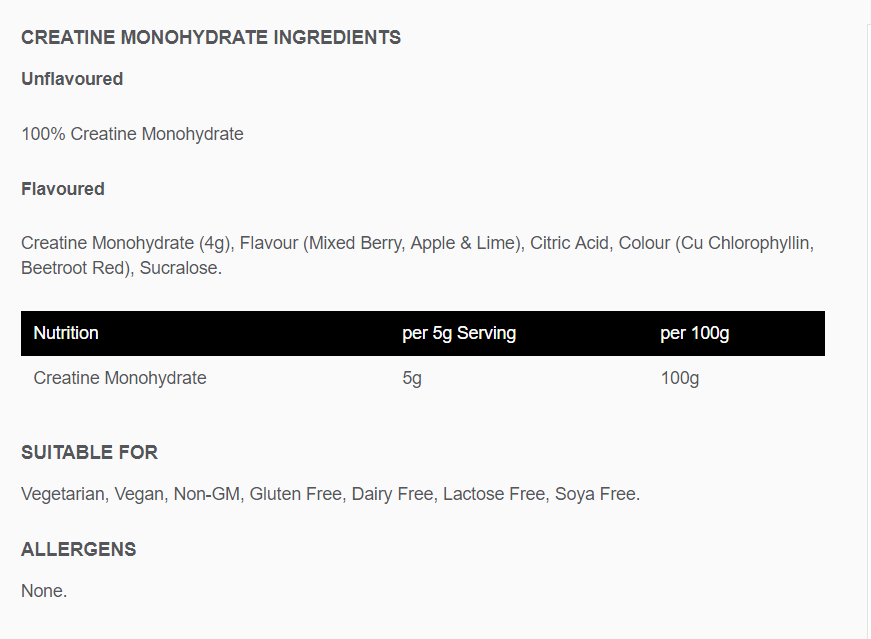 How It Works
Creatine occurs naturally and a good amount will already be present in your body. It is of particular benefit for some athletes to supplement their creatine levels by using supplements like Bulk Powders Creatine Monohydrate. Creatine works by converting Adenosine Diphosphate (ADP), which is a by-product of explosive muscular exertion, back in to Adenosine Triphosphate (ATP), which is the fuel your muscles need to continue working in that way.
When your muscles perform work, ATP loses a phosphate and becomes ADP. Creatine binds to this now spare phosphate and forms phosphocreatine, which then interacts with the ADP molecule and reattaches the phosphate to convert it back in to ATP, ready to be used again. It's a neat cycle that your body performs while you are working out and boosting your creatine levels and is said to allow you to work out harder, for longer and recover faster.
The Pros
Creatine monohydrate is recognised as a superior form of creatine
At 99.9% purity, it is one of the most potent forms of creatine monohydrate available
Amazing value for money
Mixes easily for rapid absorption
Comes with a scoop and resealable bag to keep the powder fresh
Bulk Powders Creatine Monohydrate is vegetarian and vegan-friendly as well as GM, gluten, lactose, soya and dairy-free.
Bulk Powders is a trusted, known company in the UK supplement market, established since 2005
The company pledges to sell (the majority of) its products at the lowest prices in Europe
Bulk Powders and its products have won numerous awards over the years, including Best Sports Nutrition Brand (Natural Muscle Forum) and Men's Health Supplement Awards.
The Cons
Honestly not much to say here – the scoop doesn't exactly match the serving size so you need 1.5 scoops to make a 5g serving, which could be a bit annoying, perhaps.
The flavoured options provide a slightly smaller serving of creatine as it also contains flavour and sweetener.
The packaging is a bit boring? I'm really struggling here.
Customer Reviews
The following reviews come from Amazon UK. Click to enlarge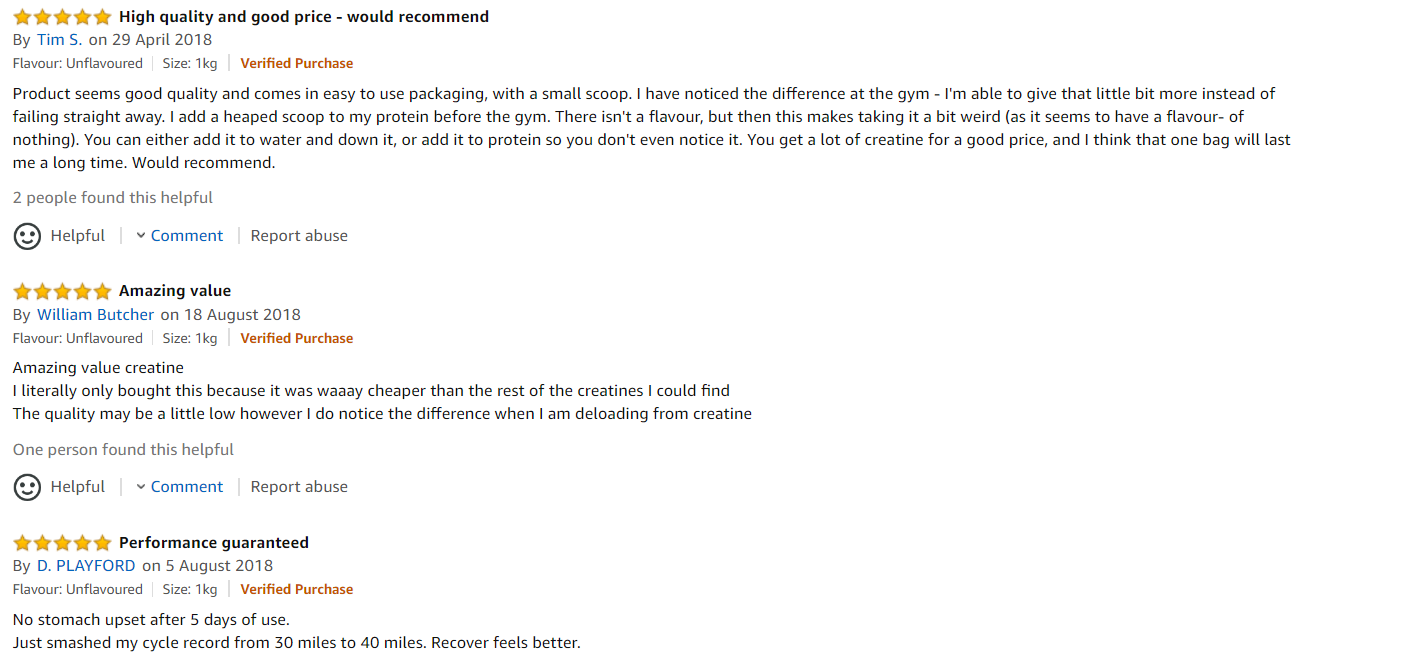 Safety/ Side Effects
Creatine monohydrate is considered to be one of the safest supplements around, as proved by the scientific and medical evidence. There are, as ever, potential side effects though and these range from nausea and dizziness to gastrointestinal pain and fever. Anyone with existing kidney or heart complaints should avoid it but for everyone else, provided you take only the recommended dose and keep your fluid intake up, Bulk Powders Creatine Monohydrate should be safe to use.
How to Take It
If you're unsure how to take creatine, then Bulk Powders provides some helpful information. The manufacturer recommends you take 3 – 5g (1 – 1.5 scoops) after you work out to replenish your stores of ATP and support recovery. This diverges slightly from the general consensus that creatine should be taken before you work out, but research shows that timing is less crucial than consistency when supplementing creatine. You should have one serving per day every day, whether you are training or resting.
Bulk Powders also recommends that you take at least 75ml of water per gram of creatine to help your muscles absorb and use it all, as well as consuming a fast releasing carb like Dextrose to support this even further.
If you have unflavoured powder then you will want to mix it with your normal post workout shake or some fruit juice. If you go for one of the flavoured powders then just mix with cold water and away you go.
Who Takes It?
Bulk Powders advocates that its creatine monohydrate can be used by a range of athletes and sportspeople from powerlifters to endurance athletes and there is certainly evidence to suggest that creatine has useful applications way beyond helping you to lift more.
The strongest supporters of creatine tend to be those training to gain strength, lean muscle mass and power due to creatine's main function – increasing the amount of fuel available in your muscles to produce explosive movements. Other groups that could benefit greatly from creatine include those who play high impact sports and endurance athletes including swimmers, cyclists and wrestlers.
Conclusion
Users of Bulk Powders Creatine Monohydrate swear by it and love the outstanding value that the product offers compared to other creatine supplements. You don't need to compromise to get this value though, as Bulk Powders provides you with the recommended 5g of 99.9% pure creatine monohydrate per serving in a highly soluble and, if you fancy it, tasty powder that's easy to take before or after working out.
More generally, the scientific evidence in support of creatine's effectiveness is overwhelming, with a long list of benefits it can provide to an equally long list of different types of athlete.
Where to Buy
You can buy Bulk Powders Creatine Monohydrate from the official Bulk Powders website or from Amazon UK. Note that 1kg costs as little as £10.99 from the latter at the time of writing.