This page may contain affiliate links and we may earn a small amount of money from any products bought. Our reviews, however, remain independent and impartial.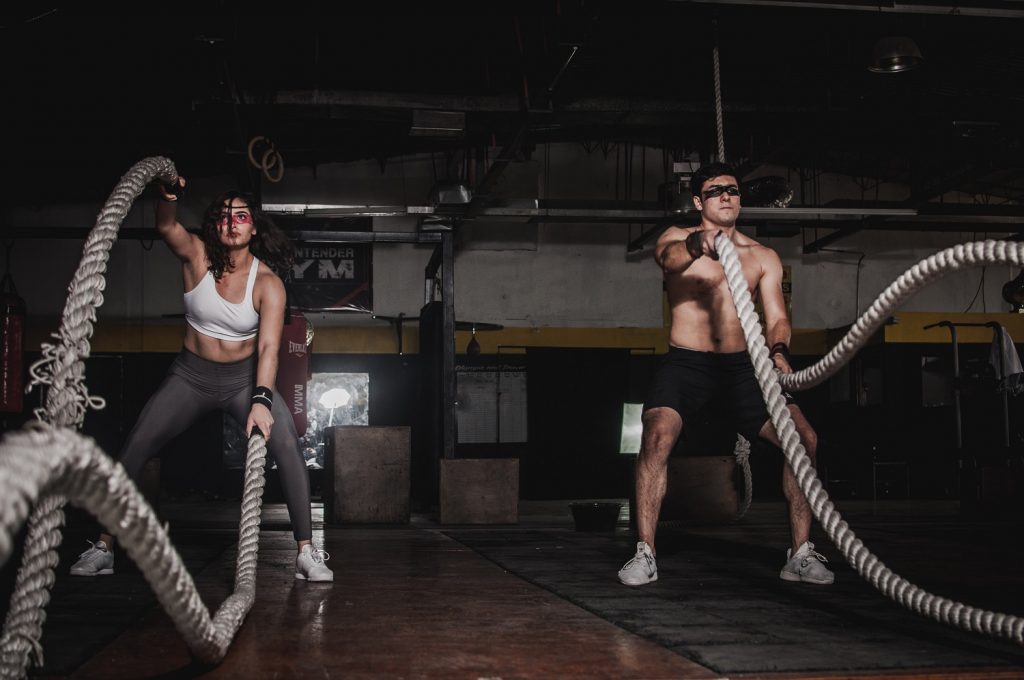 As a vegan and a gym fan, you're no doubt aware of how important your protein intake is. You're probably working hard to make sure you choose a complete protein or a mix of proteins to deliver your amino acid needs, but here's something you may not be considering: are you getting enough Branched Chain Amino Acids (BCAAs)?
Vegan BCAAs should be an important factor in your training and diet regime. But the truth is, plant-based diets aren't abundant in BCAAs, and unless you reach a certain threshold, they won't kick-in. Supplementation, therefore, is often the easiest way for a vegan athlete or anyone following a vegan lifestyle to maintain that all-important level.
Let's examine BCAAs in detail…
What are BCAAs?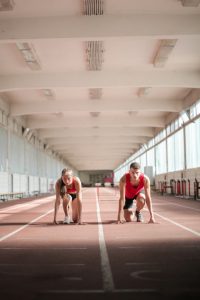 Amino acids are the building blocks of protein. There are 20 in total, all needed for various functions in the body, but nine of those cannot be manufactured by the body. These are described as essential amino acids and must be gained via diet or supplementation.
The nine essential amino acids are:
Histidine
Isoleucine
Leucine
Lysine
Methionine
Phenylalanine
Threonine
Tryptophan, and
Valine.
Of these nine essential amino acids, three are all-important for muscle and exercise gains. They are known as Branched Chain Amino Acids (BCAAs). Their name refers to their molecular structure but you don't really need to worry about that – all you need to know is that these particular essential amino acids are the most useful when it comes to building muscle and physique and for helping your training needs. They can help significantly.
The three Branched Chain Amino Acids are:
Leucine
Isoleucine, and
Valine.
Of the three BCAAs, Leucine is arguably the most valuable, thanks to its contribution to protein synthesis and building muscle.
Together BCAAs represent up to 40% of all the essential amino acids found in the muscles. BCAAs are broken down in the muscles as opposed to the liver (where most other amino acids are broken down), which gives them tremendous influence.
---
---
Benefits of Vegan BCAAs
Vegan BCAAs can Build Muscle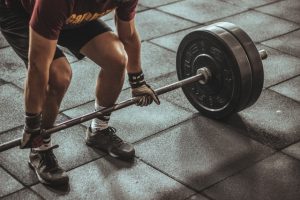 Of all the BCAAs, leucine gets the most attention. That's because it helps muscle anabolism, or muscle growth. It influences growth hormone and activates the enzymes responsible for protein synthesis and muscle-building. It achieves this by activating the mTOR protein, which induces muscle protein synthesis. Leucine is by far the most comprehensively studied of all the BCAAs.
And here's the extra good news for vegans – research shows that leucine is particularly effective at promoting lean muscle gains in those who struggle to gain enough dietary protein. You're no doubt doing everything you can to gain enough complete protein, but there's no denying that it's harder to achieve for those who don't eat meat, fish, or dairy, so supplementing with BCAAs is a great choice for your fitness.
BCAAs Protect Muscle Tissue
As well as helping with muscle anabolism, BCAAs can help to prevent muscle catabolism, or the breakdown of muscle. Consuming them before or after a workout helps to maintain muscle stores and prevent breakdown for energy.
Vegan BCAAs can Reduce Fatigue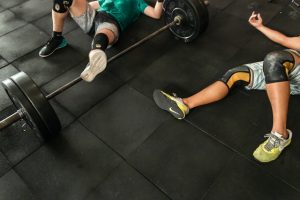 Here's another great benefit of BCAAs and one that often gets overlooked in the rush to examine their muscle-building potential: BCAAs can reduce fatigue, allowing you to train harder for longer.  Mental and physical tiredness can interrupt your training sessions, and supplementing with BCAAs can slow that process.
A 1997 study looked at BCAA supplementation and RPF, the Rate of Perceived Exertion – in other words, how difficult you perceive exercise to be while you're doing it. Consider lifting your personal best one day feeling full of energy and vigour, and then compare it to the same weight after a hard day and a poor night's sleep. It will feel much harder to achieve – that's your RPE. And here's the good news – the study found taking BCAAs significantly reduced RPE.
BCAAs help to reduce levels of tryptophan and serotonin in the brain. These brain chemicals tell your brain that you're tired, which can bring workouts to a crashing end. Reducing them, therefore, helps to delay your perception of muscle fatigue. It's not surprising then that certain research suggests BCAAs can improve physical and mental performance as well. By going head-to-head with the tryptophan receptors in your brain, BCAAs may delay the onset of fatigue while training which means that you can keep going. Extra reps! Extra benefits! Extra muscle building!
Another study examining BCAA supplementation during endurance exercise proved that taking BCAAs during long-distance running helped with physical and mental performance enhancement.
---
---
BCAAs Can Improve Recovery Time
There is significant evidence that taking vegan BCAAs can reduce muscle soreness and boost recovery time. Research shows that BCAAs reduce protein breakdown during an exercise session and reduce levels of creatine kinase, an indicator of muscle damage.
Take this graphic, provided courtesy of Performance Lab. It shows the dramatic difference between muscle soreness after exercise when taking a placebo (grey line) versus when taking BCAAs (blue line) for men and women.

A 2013 study said: "The intake of the BCAA is presumed to help contribute to enhancing exercise performance by exerting its influence on fatigue substances, muscle damage substances, and energy metabolism substances."
​Further BCAA studies have identified that BCAA intake can contribute to reaction times and improve aerobic exercise.
BCAAs Provide a Source of Muscle Energy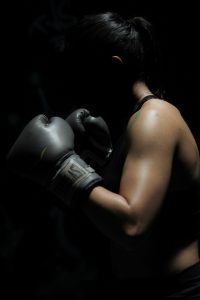 When you're working out, your body uses glucose as a primary source of energy. When the body runs low on glucose, it can break down BCAAs to maintain the ATP energy your muscles need. Interesting fact – BCAAs are the only amino acids that can be burnt for energy.
Taking BCAAs therefore seems to help preserve muscle glycogen stores during exercise so taking in more BCAAs might well help you to have more energy in the 'tank' when it comes to your exercise regime.
In short, vegan BCAAs should be in your gym bag. Let's recap the benefits…
VEGAN BCAA BENEFITS IN A NUTSHELL
BCAAs can:
Encourage muscle protein synthesis
Reduce rate of muscle breakdown
Speed up recovery and muscle regeneration
Fight the chemicals that make muscles sore and stiff
Aid with muscle contraction
Boost ATP muscle energy levels
Fight fatigue to boost your performance
Potentially also boost the immune system
The beauty of BCAAs is that they can be taken before, during, or after a workout depending on how you want to use them!
---
---
Why Should Vegans Take BCAAs?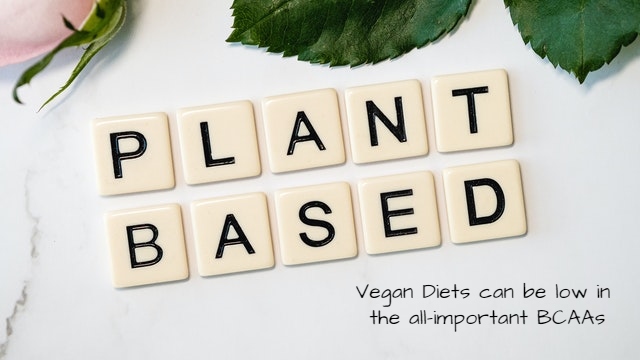 We'd argue that anyone wanting to improve their physique and training regimen should take BCAAs, but it's certainly true that BCAAs are particularly important for vegans.
As we said in our introduction, plant-based diets don't tend to be abundant in BCAAs. The richest sources of essential amino acids are chicken, eggs, dairy, and red meat – all things you're avoiding as a vegan. As a vegetarian, you might supplement your amino acid intake with a whey protein post-workout shake – but whey is derived from milk and is a no-go for vegans (or the lactose intolerant).
As a vegan, you could supplement with soy protein, a complete protein, but let's be honest: there are issues there too. Estimates suggest more than 80% of the global soybean crop is now Genetically Modified.
Vegans, therefore, are often left to combine plant proteins in a strategic way throughout the day to ensure they gain a complete range of essential amino acids. That's a lot of work, and unless you're actively monitoring your proteins and know their exact chemical composition, it can be hard to maintain generous amino acid reserves. Harder still to ensure you take in enough leucine, isoleucine, and valine to attain and maintain the threshold you need to reach before their benefits kick in.
And don't forget – if you're active, your muscles will have a higher amino acid demand to begin with! That's true for vegans and non-vegans alike. Exercising in a fasted state will also cause your BCAA reserves to be oxidised quicker – so you'll need to supplement to keep them topped up.
In a nutshell: the easiest way to guarantee that you can meet the all-important leucine threshold — and benefit from the other BCAAs too – is to supplement.
What to Look for in a Vegan BCAA
Here's what you should look for in a quality vegan BCAA…
Vegan credentials.
Obvious, we know, but some BCAA products source their BCAAs from animals, so you'll need to look for a product that uses plant-based BCAAs. Always check the labels for ingredients such as gelatine – note that this is often included in capsules or tablets, even if it's not in the main ingredients list. It's worth making sure whatever BCAA you choose uses plant-based capsules.
Ratio
Look for a ratio of 2:1:1 of Leucine, Isoleucine and Valine. This ratio mimics that found in nature and is more effective. The amount of Leucine included should be double that of the other BCAAs. Beware, however, manufacturers that load up on leucine – offering a 4:1:1 ratio or higher – just because they've heard that leucine is the most important BCAA. As ratios increase, clinical trials show that safety and research-backed benefits decrease.
Eco-Friendly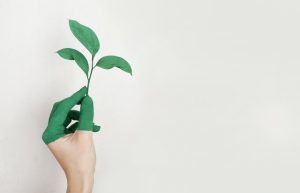 You don't want to choose a BCAA that damages the environment or uses unhealthy ingredients. Look for products that are free of GMO and other allergens and are made with eco-friendly manufacturing processes.
Clean Formula
Here's where you also need to pay attention. Many BCAAs are crammed full of synthetic or artificial fillers and more; BCAA powders are the worst culprit for this… simply because BCAAs DO NOT TASTE NICE. If they didn't add in all the extras to make it palatable, you just wouldn't be able to consume it. We're talking artificial flavours, sweeteners, colourings, and masking agents. As someone concerned with health and fitness, you want to avoid these. One way to avoid them, opt for your BCAAs in capsule form…
---
---
BCAA Capsules vs BCAA Powders: Which Is Best?
So, which should you choose – BCAA capsules or vegan BCAA powders? If we're honest, this probably comes down to personal preference, but we'd vote for vegan BCAA capsules every time. They are more convenient, easy to take anywhere, no messing. Plus, they don't need the sweeteners and artificial flavourings to make them taste better either; they're flavour-neutral.
Of course, you'll still want to double check that any capsule BCAA products you use are vegan-friendly and don't contain any artificial or synthetic sweeteners or additives. Annoyingly, some BCAA tablets still do add fillers.