This page may contain affiliate links and we may earn a small amount of money from any products bought. Our reviews, however, remain independent and impartial.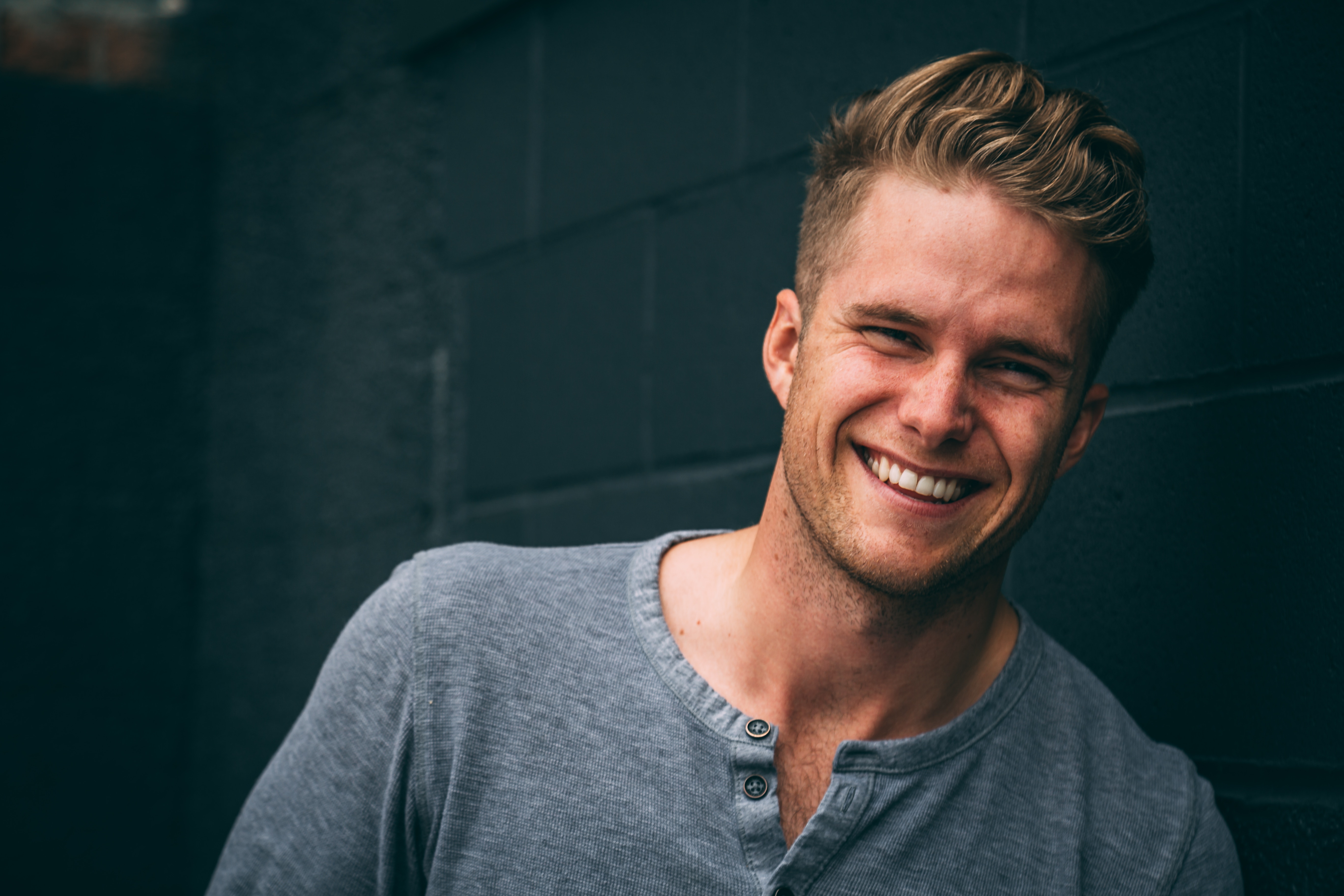 About half of UK adults take some form of vitamin supplement, with multivitamins being the most popular. While women have traditionally led the interest in such dietary supplements, men are increasingly turning to them as well. Which is partly why the global multivitamin and supplement market is expected to keep growing by 4.6% from 2018-2022.
Multivitamins combine all the essential vitamins and nutrients our body needs on a day-to-day basis, with formulations that can vary in quality from brand to brand and product to product. Brands have also widened their product ranges to appeal to certain profiles and health-related desires. The most common multivitamins for men are focused on the generic,active, 50+, prostate health, and energy. 
What To Look For In a Multivitamin For Men
Why choose a gender-specific multivitamin? It's important to choose a male-focused supplement because men and women have different nutritional needs — men need less iron, for instance — and a different ratio of recommended daily vitamins/ minerals to women. Ideally we'd get the majority of our vitamins from diet, although that's not always possible. It's certainly not always likely, either. As the U.S. Department of Agriculture warns, most men across all age groups are deficient in practically every nutritional category, except for meat and beans. Specifically, men between 31 and 50 should eat 350% more dark green vegetables and 150% more fruit every day.
A male-oriented supplement can help to tackle such deficiencies and keep in mind that the interaction of nutrients in a multivitamin may actually be more useful than opting for individual supplements alone.
Check the label for age guidance too — our nutrient requirements change as we age. Men over 70, for instance, need more vitamin D than younger men, and studies show most of them don't get it. Age-specific multivitamins can ensure you get the correct vitamins and minerals for your stage in life.
There are some vitamins that benefit everyone — such as vitamin A, vitamin D,  the B vitamins (older men may need more vitamin B12) and vitamin C — so make sure you choose a formula that contains a decent mix of these. The general advice is to choose blends with close to 100% recommended daily amount of the more important vitamins as you can, but avoid megadoses that can potentially be dangerous. Vitamin A in particular can be toxic in high amounts.
Our Choice of the Best Men's Multivitamins in UK in 2019
We've reviewed the men's multivitamin market in the UK to bring you some of our favourite recommendations for the best male multivitamins.
Best Natural Multivitamin For Men: Performance Lab Whole-Food Multi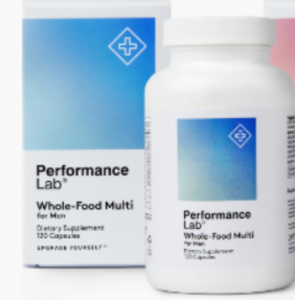 Performance Lab Whole-Food Multi is our top pick in terms of a natural multivitamin for men and, let's be honest here, we like A LOT. It provides vitamins to protect the heart (folic acid, vitamin B6, vitamin B1, vitamin C, vitamin E and selenium), along with zinc, vitamin D and boron. This gives us a comprehensive product effectively targeting testosterone production, the health of the immune system and the support of strong muscles and bones.
What we love about Performance Lab Whole-Food Multi is the fact that vitamins and minerals used in the formula are grown using a groundbreaking proprietary technique called BioGenesis, conducted under laboratory control. As a result, these nutrients are much closer to how they are found in nature as opposed to the synthetic variations you often find in other multivitamins, and the body can absorb them much more easily.
We absolutely love this product and would not hesitate to recommend it in a heartbeat to any man looking for a quality natural multivitamin supplement for overall health.
Read our full Review of Performance Lab Whole-Food Multi
BUY: Only available direct from Performance Lab
Best General Male Multivitamin: Wellman Original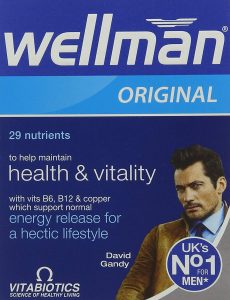 Wellman is a brand that is part of Vitabiotics, the UK's leading supplement brand. Vitabiotics and its brand Wellman scores a well-deserved entry in our best multivitamins for men in 2019 with its classic blend Wellman Original. This product supplies all the basics men need to stay in good health every day: vitamin C, vitamin E, coenzyme Q10, L-carnitine, vitamin B6, vitamin B12 and vitamin D.
We love the fact that an extra kick is added through the presence of Siberian ginseng extract and citrus bioflavonoids. Thanks to those ingredients, Wellman Original focuses particularly on increasing overall energy levels and strengthening the immune system.
While Vitabiotics, one of the most respected supplement brands in the UK, delivers an effective and potent blend, the only downside is the presence of some ingredients in large amounts that do not bring anything really valuable to the overall multivitamins. In addition, some ingredients can interact with anticoagulants.
Read our Full Review of Wellman Original
BUY: From Vitabiotics or Amazon UK
Best Multivitamins for Men Over 50:
First Place: Nature's Way Alive! Men 50+ Soft Jell Multivitamin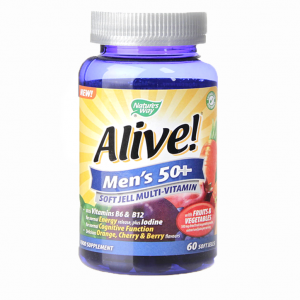 Nature's Way, the leading herbal supplement in the USA, has brought its winning formula for men over the age of 50 this side of the Atlantic, and it is a big success for British consumers. Nature's  Way Alive! Men 50+ Soft Jell is packed with all the vitamins and minerals need after the age of 50, and adds an extra natural kick with a proprietary blend of fruit and vegetables.
While men do not go through menopause like women, they do experience changes in their hormonal balance with age. Metabolism slows down, testosterone levels decrease and the prostate becomes at risk of enlarging. In order to minimise the effects of these changes, men should include nutrients such as lycopene, vitamin E and zinc in their diets or the supplements they take.
Nature's  Way Alive! Men 50+ Soft Jell includes all of these in decent dosages, and has packed them into a chewable tablet. The presence of the fruit and vegetable blend really made the difference for us, as natural sources of vitamins are better absorbed by the body.
This product is suitable for vegetarians and is free of gluten, soya and dairy. As an added bonus, it tastes great and provides a smart solution to those who have trouble swallowing chunky tablets.
Read Our Full Review of Nature's  Way Alive! Men 50+ Soft Jell Multi-Vitamin
BUY: From Nature's Way UK
HONOURABLE MENTION: Centrum Men 50+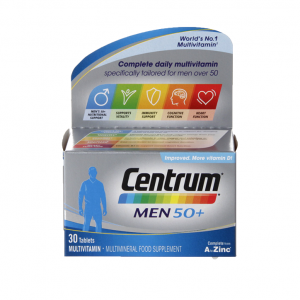 A second multivitamin supplement aimed at men over the age of 50 has made our list of best multivitamins for men in the UK this year. This time, it is Centrum's Men 50+, the senior formula from the self-assessed most popular vitamin brand in the world.
Centrum Men 50+ delivers a quality formula which provides all the basics men over the age of 50 should be looking for in a multivitamin supplement. Vitamin E, zinc, vitamin D, B vitamins, chromium, molybdenum and selenium among others are all part of the winning recipe that contributes to increasing metabolism, supporting prostate health and reducing symptoms from lower testosterone levels.
Centrum Men 50+ is also really potent when it comes to increasing the strength of the immune system. This is particularly useful in the winter, when bodies become more vulnerable to viruses around. In addition, the product is free from nuts, lactose, gluten and wheat.
Centrum Men 50+ only gets an honourable mention because of the fact that, in spite of being a great overall product, it does not add any extra twist to a somewhat classic recipe. The lack of lycopene is also regretted, as it is a great element that helps fight against prostate enlargement and prostate cancer.
Read our Full Review of Centrum Men 50+
BUY: From Centrum UK or Amazon UK
Best Multivitamin for Male Reproductive Health: Wellman Prostace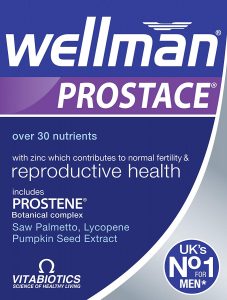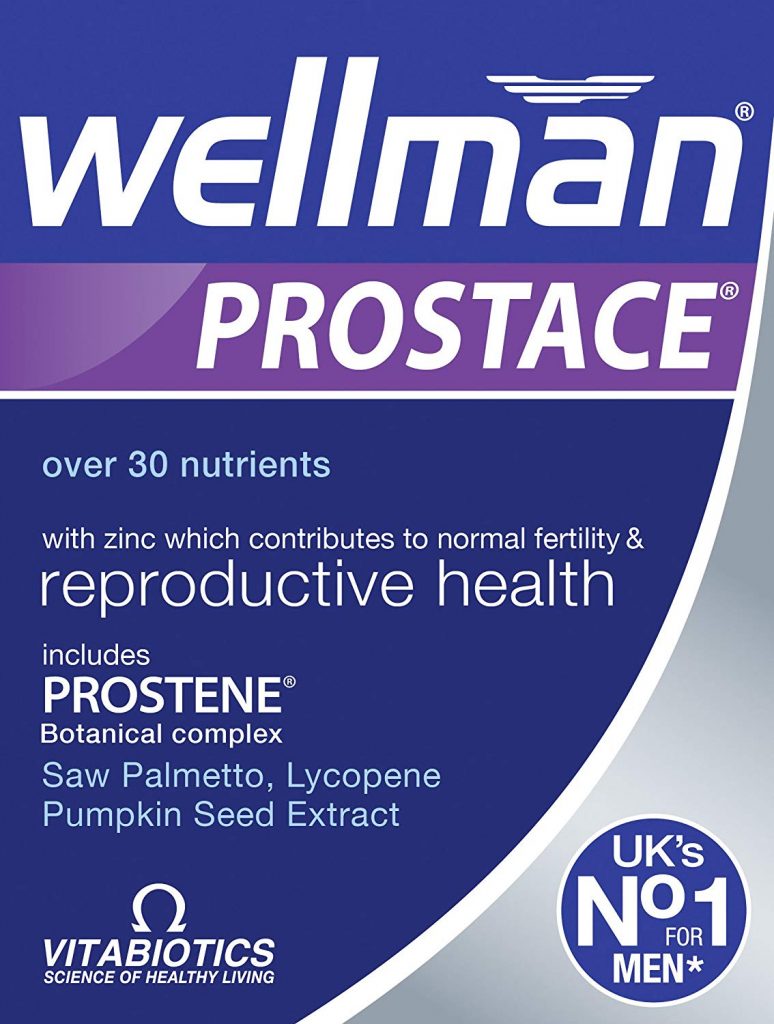 Wellman earns a second spot on our Best Male Multivitamins of 2019 with a product specially targeting the men's reproductive health while boosting the immune system and increasing overall energy levels. As per usual, Vitabitoics does not disappoint and has delivered a great supplement that really works if we trust the numerous reviews we have found online.
Indeed, many users have reported seeing a dramatic improvement in their prostatitis symptoms, even after just a few days of regular use. This is due to a winning formula containing saw palmetto, enzyme Q10, lycopene extract, vitamin E, beta-sistosterol, zinc and B vitamins, among others.
We love the fact that Wellman Prostace does not focus only on reproductive health, but also takes care of men's daily needs. As a consequence, Wellman Prostace is a great multivitamin and does not require its user to take any other multivitamin supplement at the same time. It is convenient and efficient.
The only thing we could regret here is the size of each tablet, which can be a bit hard to swallow for some, and the fact that when taken on an empty stomach, this multivitamin supplement tends to cause stomach pains. Apart from those minor inconveniences, we highly recommend Wellman Prostace!
Read our Full Review of Wellman Prostace
BUY: From Wellman UK or Amazon UK
Best Multivitamin for Active Men: Optimum Nutrition Opti-Men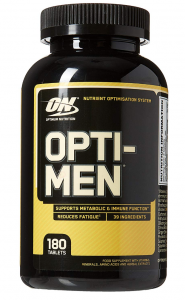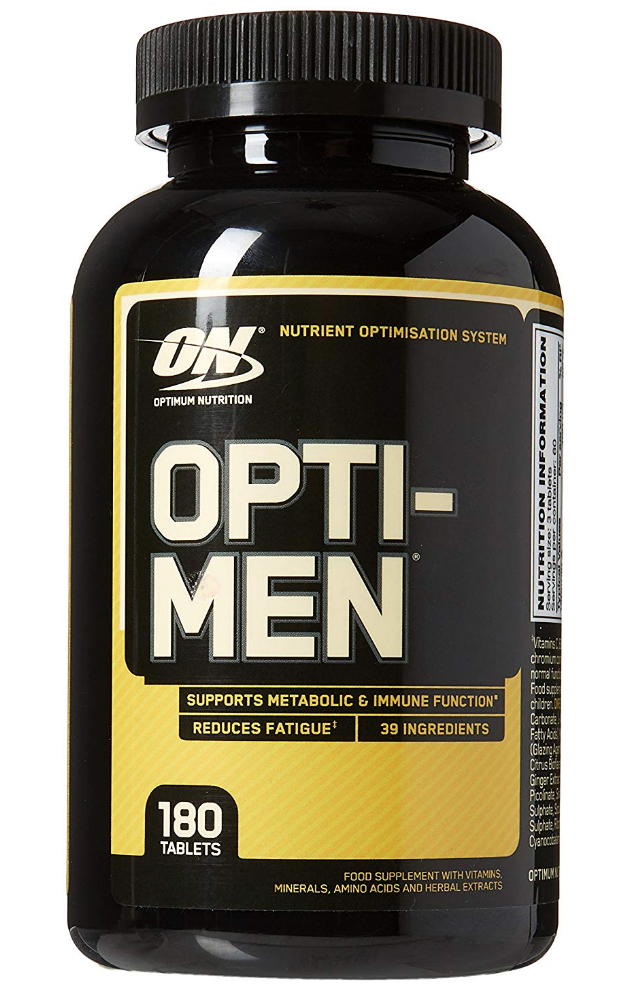 Optimum Nutrition is a brand specialising in fitness supplements. As such, they have brought their popular multivitamin formula targeting the needs of active men over from the USA to the UK, making a few changes to comply with local regulations.
Opti-Men contains all the ingredients active men should expect:  vitamin D, vitamin E, vitamin C, B vitamins, copper, chromium, and a blend of amino acids. Looking at user reviews, this blend effectively increases energy levels, supports the immune system and helps enhance physical performances while exercising. However, the UK recipe does seem to be slightly less potent than its American cousin.
That said, Opti-Men is a product that delivers, does the job required from it, and we would happily recommend it to our active readers. Be warned, however, that there are several versions of Opti-Men, with different formulations, currently being sold in the UK, which can be quite confusing for the customer. To know which one is the official, up-to-date version, please refer to Optimum Nutrition's official UK website or read our full in-depth review below.
Read our Full Review of Optimum Nutrition Opti-Men
BUY: From Optimum Nutrition UK