This page may contain affiliate links and we may earn a small amount of money from any products bought. Our reviews, however, remain independent and impartial.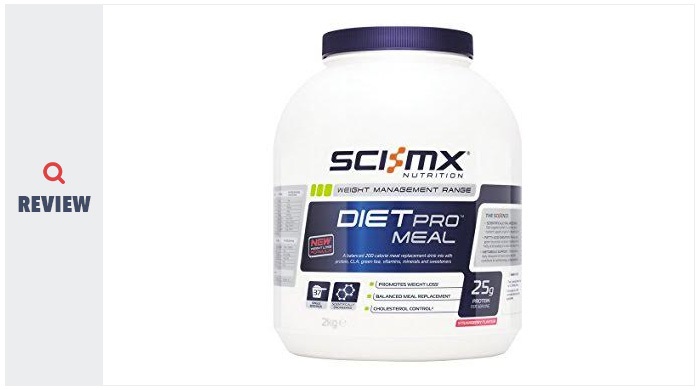 SCI-MX Nutrition has produced a diet high-protein meal replacement drink that aims to help people lose weight while maintaining lean muscle, the Holy Grail of weight loss.
Each 54g serving (one level scoop) contains nearly 200 calories alongside 25g of premium protein, as well as a whole host of supportive minerals and vitamins to preserve metabolism, boost flagging energy while dieting and keep cholesterol under control.
Note that SCI-MX Nutrition Diet Pro Meal is first and foremost a protein powder and not simply a diet shake along the lines of SlimFast, for instance. It aims to aid lean muscle maintenance while also encouraging weight loss as part of a calorie controlled diet. As such it tends to contain more protein (25g per serving) than traditional meal replacement shakes (14g per SlimFast serving, for instance).
Let's take a closer look at its ingredients and see if SCI-MX Nutrition Diet Pro Meal protein powder lives up to its promises.
<<< SPECIAL: See our Best Protein Powders to Buy in the UK in 2020 >>>
The Ingredients
Diet-Pro Protein (Calcium Caseinate, Soya Protein Isolate, Whey Protein Concentrate, Peptide Bonded Glutamine Rich Hydrolysed Wheat Protein, Whey Protein Isolate, Egg Albumin), Maltodextrin, Skimmed Milk Powder, Glycine, Actilight (Inulin Fibre), Fructose, MCT Oil, Rice Starch, Conjugated Liniloeic Acid, Cellulose Gum (Stabiliser), Red Beet Powder (Colouring), Flavouring, Lactase Enzymes, Potassium Citrate, Green Tea Extract (Camellia Sinensis), Sucralose (Sweetener), Nicotinamide, Biotin, Potassium Iodate, Pteroylmonoglutamic Acid
SCI-MX Nutrition Diet Pro Meal contains several different forms of protein:
Calcium Caseinate
Usually made up of about 90% protein, calcium caseinate is derived from fresh skimmed milk. Widely held as one of the best forms of quality protein available, it is chock full of amino acids and minerals and is slow to be digested. The bonus is that it provides a sustained release of amino acids, helping athletes, gym goers and bodybuilders avoid a catabolic state (the breakdown of muscle).
One of the amino acids mentioned above, and found in plentiful supply in calcium caseinate, is L-glutamine, a key amino acid for building muscles.
Soya Protein Isolate
According to the nutritional information provided by SCI-MX, the second highest concentration of protein included in SCI-MX Diet Pro Meal is soya protein isolate.
Made from de-fatted beans and usually made up of 90% protein, soy protein isolate has a full complement of amino acids, and higher levels of glutamine and arginine than whey protein, traditionally considered superior to soy. It also contains decent amounts of vitamins and minerals.
The inclusion of soy in bodybuilding or sports products/ supplements has traditionally been controversial, with many bodybuilders shunning it for supposedly raising oestrogen and decreasing testosterone. Recent studies, however, have debunked that theory and demonstrate that soy protein can work just as well as whey protein, albeit not as quickly.
Whey Protein Concentrate
You'll find whey protein in a lot of protein drinks, shakes and products, if not in the majority, because it's rapidly-absorbed and can spark protein synthesis and muscle growth in as little as 40 minutes after absorption.
Why protein concentrate is cheaper than whey protein isolate (which is also included in SCI-MX Diet Pro Meal) and contains significantly less protein than the latter. Concentrate typically contains 30-80% protein, compared to whey protein isolate's 90%-plus.
Peptide Bonded Glutamine Rich Hydrolysed Wheat Protein
Here's a mouthful for you — peptide bonded glutamine rich hydrolysed wheat protein; try saying that 10 times fast. This is yet another form of protein in SCI-MX Diet Pro Meal and it's a slightly controversial one.
Let's split it up to learn more about this form of protein. Hydrolysed protein is essentially the act of adding water to protein polymers to break them down into tiny groups of protein called peptides (small groups of amino acids) in order to boost absorption.
One of the amino acids we get from this process is glutamic acid, or glutamate. Wheat protein contains a lot of glutamine, meaning the hydrolysed version will contain a lot of free glutamate.
So now we know how peptide bonded glutamine rich hydrolysed wheat protein is created, the question is why? What benefit does this form of protein offer over the many others included in SCI-MX Diet Pro Meal?
Glutamine is a buzz word when it comes to muscle gain, with fans arguing that it can help build lean muscle and boost recovery from exercise. The research isn't quite as convincing. So far, the only proven muscle gain via glutamine supplementation has been for people with trauma or a muscle wasting disease. As such, the jury is still out for its effectiveness on healthy people.
Note that hydrolysed wheat protein can still contain gluten and be a problem for people with celiac disease. (Another name for hydrolysed wheat protein is glutamine peptides, so beware).
Whey Protein Isolate
As mentioned above, whey protein isolate tends to contain 90%-plus protein and has low cholesterol, lactose and hardly any fat. Its rapid absorption and quick muscle-building effects make it a popular post-workout choice.
Egg Albumen
Yet another protein in SCI-MX Diet Pro Meal, egg albumen is really just egg whites, which tend to contain the bulk of an egg's protein. On its own it is lactose-free, though the remaining protein in SCI-MX Nutrition Diet Pro Meal is likely to render it unsuitable for anyone with lactose intolerance.
Egg white protein supplies all 10 essential amino acids the body needs from food, making it a complete protein. It is digested at moderate speeds, helping to keep protein synthesis going for longer.
Note that we do not know the BCAA (branched-chain amino acids) and leucine count in SCI-MX Nutrition Diet Pro Meal, which is a shame as this would give us a very good indication of its potential for success.
Maltodextrin
The primary carbohydrate in SCI-MX Nutrition Diet Pro Meal is maltodextrin, a complex carbohydrate made from rice, corn or potato starch. It's a popular one in weight loss and sports nutrition supplements as it's cheap to produce and generates a fast insulin spike without a subsequent rapid drop in blood sugar. It helps to replenish energy, encourage protein synthesis and aid recovery after exercise.
Green Tea
Green tea is one of SCI-MX Nutrition Diet Pro Meal's key weight loss ingredients. Green tea is a proven fat burner, helping to increase the levels of the norepinephrine hormone and spark thermogenesis. Green tea has been proven to reduce total fat mass, especially good for abdominal fat.
Here's the catch. The University of Maryland Medical Centre recommends drinking two to three cups of green tea a day in order to drink enough to help you lose weight. Other experts put the total needed at between 400-500mg in order to make it effective for fat burning. So how much is included in SCI-MX Nutrition Diet Pro? Err, that would be 60mg per 100g, or 32mg per 54g serving. According to experts, it's nowhere near enough to be effective, even if it is highly concentrated.
It's also unlikely to provide much of an energy boost either, as the caffeine within it will be small.
Conjugated Linoleic Acid (CLA)
Another weight loss ingredient but this time more controversial, CLA has shown impressive results in animal trials, but its success has yet to translate to humans. A review of eight different CLA clinical trials showed such conflicting results – some people losing 7.5lbs while others gained 11lb – that its weight loss credentials are far from guaranteed.
The Pros
SCI-MX Nutrition Diet Pro Meal has 200 calories per shake
Includes a decent serving of protein, 25g, per shake.
Includes actilight fibre, which the manufacturers say can curb hunger and cravings and user reviews on Amazon UK seem to agree
Hey, plenty of vitamins and minerals can't be a bad thing, right?
Green tea is a recognised proven weight loss ingredient and can be very effective if included at the correct dosage.
Judging by the reviews on Amazon, the taste does seem pleasurable.
SCI-MX Nutrition says that iodine, niacin and biotin help to maintain normal energy and metabolism.
Meanwhile folic acid and niacin are included to reduce tiredness and fatigue, and in particular support energy levels when dieting.
Has a high dosage of CLA, 1.7g per serving.
The Cons
The official website of SCI-MX Nutrition says that each serving of its Diet Pro Meal has 60mg of green tea. This is disingenuous as a 54g serving actually contains 32mg of green tea. The 60mg mentioned is actually for 100g of the product, more than a serving.
Either dosage is unfortunately too small to be likely to do much, even if you do have two shakes a day.
The 1.7g of CLA per serving of SCI-MX Nutrition Diet Pro Meal is high, but the jury is still out on just how effective CLA is for healthy humans.
SCI-MX Nutrition's Amazon UK page seems to suggest using the shake as a snack between meals, but its official manufacturer page considers it more of a meal replacement. Slightly confusing message. If you did have two or three as a snack as the Amazon page suggests, you would be consuming an additional near 600 calories a day. Hard to see how that could help you lose weight even if your other meals are calorie controlled.
Not quite sure why it needs so many different forms of protein.
 Consumer Reviews
All customer reviews come from Amazon UK.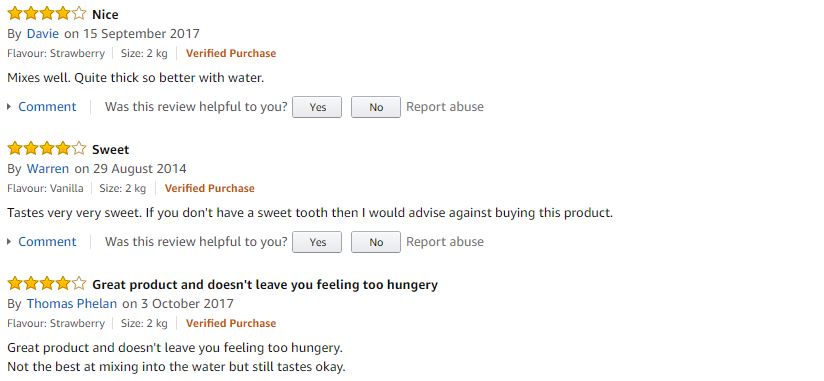 Who Takes It?
SCI-MX Nutrition Diet Pro Meal is suitable for anyone who seeks a meal replacement option with a high protein count and diet-support nutrients.
How to Take It?
The official manufacturer's website recommends using a shake as a meal replacement, and you should substitute no more than two shakes/ meals a day.
To make, mix one 54g scoop with 300ml of water. Shake for ten seconds and leave for another 30 seconds before drinking.
Side Effects/ Safety Warning
Should be used as part of a calorie controlled diet and you are recommended not to exceed three servings a day.
Conclusion
For a protein shake with added diet support, SCI-MX Nutrition Diet Pro Meal could stack up better. It has a decent protein count and the right idea with the green tea, but dosage of the latter is small and its CLA count may be beneficial or not, no-one knows.
That said, as a high-protein meal replacement shake it should work adequately, and it certainly seems to have a lot of independent fans on Amazon UK.
Weight loss may be possible if used as a meal replacement as each serving contains just under 200 calories, and its use of fibre and different proteins should lend themselves to satiety, reducing the chances of snacking between meals.
For that reason, we are happy to recommend this product.