This page may contain affiliate links and we may earn a small amount of money from any products bought. Our reviews, however, remain independent and impartial.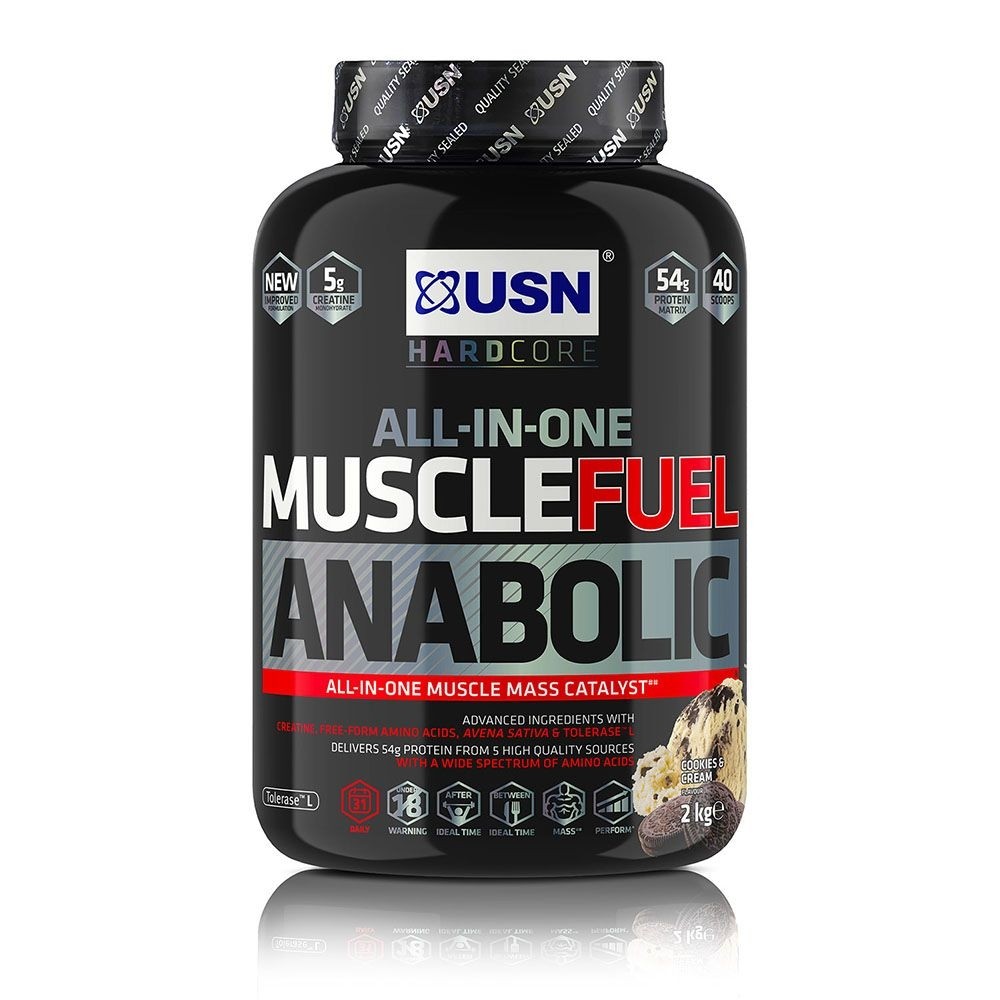 One of the market leaders in sports nutrition, USN brings us their big mass gainer — Muscle Fuel Anabolic.
USN is a sports nutrition and supplement company with world class athletes and ambassadors across bodybuilding, rugby and fitness. The company attributes much of its success and notoriety to the pure reputation of their products
Their Muscle Fuel Anabolic has been causing a stir, on Amazon specifically. Achieving a #1 Best Seller ribbon, over 1,170 reviews and 4.2 out of 5 stars.
So, is this the shake to boost your carbs and protein in a big way? Let's find out.
---
» See the #1 Mass Gainer This Year «
---
Ingredients
Carbohydrate Matrix
Maltodextrin
A product of hydrolysed starch, maltodextrin is polysaccharide — a chain of simple sugars. With one of the highest GIs available, it provides an injection of energy and a spike to blood sugar but doesn't cause as impactful a 'sugar crash' as glucose. But both glucose and Maltodextrin both causes low-grade systemic inflammation.
Maltodextrin isn't particularly sweet and is often added to improve the 'mouthfeel' of foods and beverages.
Dextrose Monohydrate
Another name for D-glucose, Dextrose monohydrate is a simple sugar that does what it says on the tin. High GI, D-glucose will also cause a drop in blood sugar. Highly bioavailable, it's the building block of carbs and your bodies favoured source of energy.
Fructose
Found in small amounts in fruit, fructose is sweeter than glucose, and when synthesised and added as a sweetener, it bears no health benefits over regular table sugar (sucrose). Although it has the sweetest taste, fructose is absorbed more slowly, through the small intestines, and causes less of a spike in blood sugar than glucose.
Muscle Fuel Anabolic contains 26g of sugar out of a total of 81g of carbs. This is quite a lot of sugar, considering the daily cap for simple sugar for adults is 30g per day.
The Carbohydrate matrix will cause a spike to your blood sugar. Not just from the sugar content but because there are no low GI carbs listed.
A small sugar-boost can be favourable in a post-workout scenario to provide the carbs necessary for repair and recovery; however, the nutrition community is still debating the benefits or drawbacks of larger doses of high GI carbs compared to lower GI carbs. This is due to the insulin response. Although insulin promotes muscle anabolism (building) it also reduces amino acid availability in the blood. And amino acids like leucine actively promote muscle protein synthesis.
Ideally in a mass gainer you'd want a blend of quick, punchy energy as well as low GI carbs like oats to provide sustained energy, making it more effective.
Protein Matrix
Whey Protein Concentrate
Our first of the proteins in this blend, whey protein is one of two proteins found in milk, and it isn't a surprising addition. Whey concentrate is cheap, easy to digest and quick to absorb and highly researched.
What is surprising is that USN don't provide the percentage protein content. Concentrate is typically 35-85%, and other USN 'Muscle Fuel' supplements' include whey protein concentrations of around 45%, so we can assume it's on the low end. The extraneous ingredients from the low-grade whey will contribute to fat and carb content in the shake.
Soy Protein Isolate
Some stigma still surrounds soy protein. But the isolate will be 90% protein and proven to be just as effective at repairing muscle as whey protein and just as quick absorbing. The only downside to soy is the slightly reduced leucine content, but this shouldn't be a problem in Muscle Fuel Anabolic as there are plenty of added BCAAs.
Egg Albumen
Also known as egg white, egg albumen is slower absorbing than whey and the soy isolate and provides a great bridge into the slower absorbing proteins. It's a complete protein, meaning it contains all the essential amino acids the body can't produce; it's just a shame we don't get a breakdown of the weight of each protein in the matrix.
Calcium Caseinate
Calcium caseinate is sourced from milk. By chemically altering the pH, the milk separates its casein and is combined with calcium hydroxide. It's a harsh process compared with casein and whey production, and the calcium caseinate is denatured — meaning the protein's natural structure has been disrupted and destroyed — held together by its strong peptide bonds.
Denatured protein is still usable in the body, but it makes it far slower at getting into the blood stream and to your muscles. The positives? It's cheap and soluble in water. It's mainly used in instant creams and milks.
Milk Protein Concentrate
A blend of casein and whey, usually 80/20. It's cheap, fairly un-processed, and a cost-effective way of boosting your protein consumption.
Casein is everything calcium caseinate should be in this supplement. It's a quality source of protein that many advocates will use over whey. It forms a gel in the gut and slowly absorbs, meaning long, sustained protein throughout the day and night.
Overall, I'm a little disappointed in this matrix. It offers the key elements of fast through to slow absorbing proteins, but the quality is varied, and not in the good way. The egg albumen is a nice addition but the calcium caseinate seems like a cheap way of boosting protein content and mixability, when a quality casein would have been superior.
With no breakdown of the protein content, the only indication is the 36g per 100g on the nutrition table. This is a pretty standard content for a mass gainer.
Creatine Monohydrate
Our reliable friend creatine makes an expected appearance, and USN delivers. The molecule responsible for saturating your muscles with chemical energy, you can't go wrong with creatine monohydrate. The quality is reliable and at 5g per serving you won't need to supplement with extra creatine (unless you're on a loading phase).
L-Glycine
Amino acid and neurotransmitter (chemical messenger that transfers signals across the synapse), glycine has been shown to reduce fatigue and boost cognition through improving quality of sleep.
This is a great ingredient to see, especially if you're hitting the gym hard. Sleep is extremely important, and that extends to muscle building. Quality sleep influences hormones that are directly involved in muscle building.
However, the advised dose is 3-5g with meals and before bed, and USN only offers us 1.1g per serving.
B-Hydroxy B-Methylbutyric acid (HMB)
A metabolite of the muscle protein synthesis boosting amino acid leucine, HMB is a great addition when paired with every athletes' favourite amino acid. Being a metabolite simply means it's a product of leucine being broken down. This happens to about 5% of leucine in the body and HMB has been seen to be very effective at reducing muscle breakdown.
It's far less effective than leucine at inducing muscle protein synthesis, so taking both of them together as seen in USN's Muscle Fuel Anabolic is a great formula.
Beta-Alanine
A building block of carnosine — a molecule that buffers acid in the muscles during anaerobic exercise — beta-alanine increases muscular endurance. A standard dose sits at 3-5g, but unfortunately, we only get 1g per serving in Muscle Fuel Anabolic.
Branch Chain Amino Acids (BCAAs) Powder
We all know them. Simply put: the three essential amino acids that are proven to improve muscle growth. Leucine is our primary BCAA, it directly induces muscle protein synthesis and Isoleucine pulls glucose into cells. More research is needed into the effects of isolated Valine. We get a combined dose of about 9g per serving in USN Muscle Fuel Anabolic , which is middle of the road, but you want to hit around 20g combined per day.
Other Ingredients
Tri-calcium phosphate, Magnesium lactate, Tri-potassium citrate, Stabiliser (cellulose gum), Sodium chloride, Taurine, Sweeteners (Sucralose, Acesulfame-K), L-Glutamine, Avena sativa, Vitamin blend (Ascorbic acid, Pteroyl-l-glutamate, D-alpha tocopherol, Nicotinamide, D-calcium pantothenate, Retinyl palmitate, Methylcobalamine, Biotin, Cholecalciferol), Glutamine peptide (Gluten), Anti-caking agent (Silicon dioxide), Zinc bisglycinate, Tolerase™L (pH-stable lactase).
---
---
Pros
Impressive reviews on Amazon and USN.
Amazon no. 1 best seller.
Good value.
Soy protein isolate is a quality ingredient.
Great content of creatine.
HMB works in synergy with leucine.
Cons
Quite high sugar content.
No slow-carbs.
Protein blend is cheap, and no weights/ percentages are given.
Calcium caseinate is inferior to casein.
Not enough L-glycine for researched benefits.
Low dose of beta-alanine.
Customer Reviews
The following reviews are from Amazon UK. Click to enlarge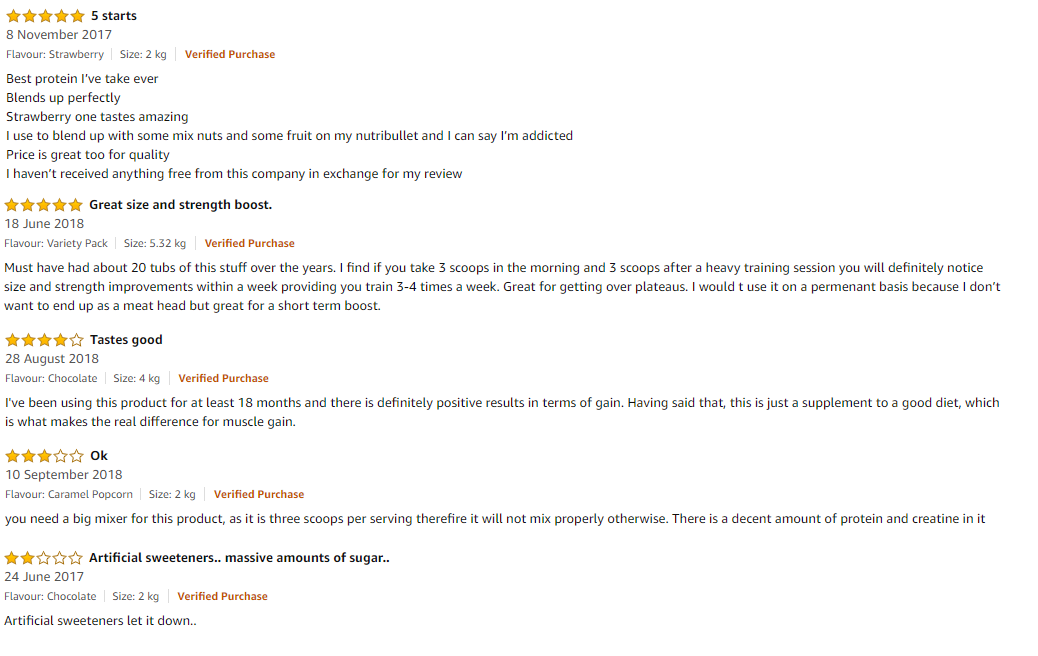 More Products from USN
Safety/ Side Effects
No safety concerns or side effects from the stated ingredients are expected at the listed doses. Although with protein shakes, and mass gainers specifically, you can experience some indigestion and bloating. You might feel some tingles with the beta-alanine, but the dose is so low that it's unlikely. Always consult the label for allergens.
How to Take It
Add three heaped scoops (150g) to 500-600ml of water in a shaker and blend for 30 seconds.
USN advise having 1-2 servings per day but highlight that if you weigh less than 80 kilos, not to exceed 2 servings per day for the first 5 days and only 1 serving per day after. For those over 80 kilos, take 2-3 servings per day for the first 5 days then reduce to 1-2 servings per day.
Who Takes It?
This mass gainer is aimed at the general gym-goer who is looking for an "all-in-one shake".
Conclusion
Despite the positive peaks in the ingredient list, I find it difficult to come around to this shake. It's not a hard-gainer shake at 564kcal per serving, and its carb content is all high GI and there to enhance flavour rather than to aid sustained recovery.
The protein matrix is cheap. The soy isolate and egg albumen do act as a segue from the fast whey and soy into the slower milk protein and calcium caseinate, however, which is a positive. Maybe I'd feel differently if the ratios of each protein were given.
The price: this is probably where the popularity comes into play. USN sell Muscle Fuel Anabolic for £32.99 per 2kg, which is on the cheaper side of average. But, with various offers and promotions, Amazon currently lists every flavour at £19.99 for 2kg. For this price, with the creatine and amino acid profile, it's a good value product, about £1.50 per shake.
---
» See the #1 Mass Gainer This Year «
---