This page may contain affiliate links and we may earn a small amount of money from any products bought. Our reviews, however, remain independent and impartial.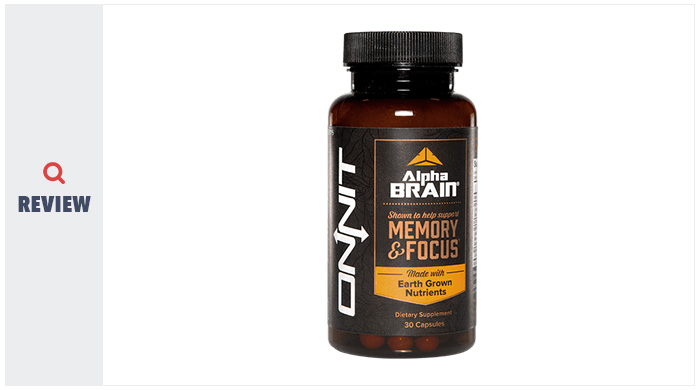 There aren't many nootropic stack products that are backed by human clinical trials, so the fact that Alpha Brain has two behind it makes it stand out from the crowd. It's certainly a popular product, having sold more than 34 million capsules to date.
Manufacturers Onnit says Alpha Brain is clinically studied to help 'memory, focus and processing speed.' The human trials, held by the Boston Center for Memory, seem to suggest Alpha Brain can boost verbal memory, alpha brain waves (generating a relaxed alertness), and cognitive processing speed. Let's take a look at its ingredients to see how it can achieve that…
Ingredients
Alpha Brain uses natural powerhouse nootropics such as Bacopa monnieri, L-Theanine, Vinpocetine and Huperzine A and more, split across different blends.
The Onnit Flow Blend tackles stress and includes L-Theanine, known to boost Alpha brainwaves to create a feeling of relaxed awakening, and Oatstraw, which does something very similar. It also includes another one of our natural nootropic favourites, L-Tyrosine, which gives a boost to brain power particularly when stressed or sleep-deprived, and rounds it out with Phosphatidylserine, which helps to create new neurons and thus boost memory. This mix accounts for 650mg of the supplement.
The Onnit Focus Blend (240mg) includes both Bacopa monnieri and Huperzine A, both powerful nootropics. Bacopa acts as an antioxidant, protecting neurons from damage, as well as improving memory retention, restoration and formation. Huperzine A is very potent, and helps to maintain levels of the vital neurotransmitter acetylcholine in the brain. This in turn aids focus, memory, reasoning and learning. The final ingredient in the Onnit Focus Blend is a choline supplement, Alpha GPC, which also boosts acetylcholine levels. It optimises the brain, boosts memory, mental processing, attention span and speed of thought.
Finally we have the Onnit Fuel Blend (65mg), a combination of Pterostilbene and Vinpocetine. The former is an antioxidant that can promote new neural connections, while the latter increases blood flow to the brain, bringing fuel. Vinpocetine is often prescribed to delay the onset of dementia in patients around the world. There is one last ingredient in this blend, L-Leucine; however this is not a recognised nootropic so we don't know what it is doing here.
These three blends complement Alpha Brain's star ingredient and proprietary formula, the AC-11®, a form of the Cat's Claw herb, included here in 350mg. Its patent suggests AC-11® can repair damage to DNA caused by age and environmental stress, thus aiding brain health and improving cognitive processing.
We can't really give you a definitive view on AC-11® as very little is currently known about it, other than certain studies do support Onnit's claim that AC-11® can repair DNA. Whether this results in significant cognitive benefit, however, is yet to be demonstrated.
AC-11® is backed by vitamin B6 (10mg), a nootropic ingredient which helps to boost long term memory and protect neurons.
The Pros
Because it is a proprietary formula, only Alpha Brain can include AC-11®, which could be Alpha Brain's ace in the hole. If further research proves its benefits, Onnit would be in an excellent position as the only provider of what may turn out to be one of the strongest nootropics.
AC-11 and L-Leucine aside, Alpha Brain contains some of the best and proven nootropics around.
The official Onnit website has reviews from 349 people, who give the product a 4.3 rating. Happy customers report feeling more motivated and focused, their brain sharper and clearer, and they are more productive.
Alpha Brain is caffeine-free, GMO-free and gluten-free.
Most nootropic stack products do not have any human clinical trials behind them while Alpha Brain has two, confirming its benefits (see later for more on this).
The Cons
The biggest drawback of Alpha Brain at the moment is the lack of information regarding AC-11 (Cat's Claw). There is no independent verification that it does what Onnit claims (peer-reviewed studies suggest that it does have the ability to repair damaged DNA, but none have followed through to cognitive results).
Examine.com does not recommend the use of Cat's Claw (Uncaria Tomentosa) at this time, due to lack of human evidence and worries over sourcing. It also describes it as an immune booster and doesn't refer to cognitive abilities at all.
Alpha Brain's three blends also prevent us from knowing the exact dosages of each individual ingredient, and in particular whether they are included in clinically effective amounts.
Alpha Brain also lets itself down by including some great nootropic ingredients but failing to use the superior forms of them. L-Tyrosine, for instance, would be more effective as AcetylL-Tyrosine, while the Pyridoxine Hcl version of vitamin B6 isn't believed to be as effective as P-5-P.
Talking of vitamin B6, the 10mg dosage included in Alpha Brain is a little bit on the low side.
Several of the negative reviews on the Alpha Brain website focus on the price of the supplement, with people complaining it is expensive. Others say the supplement just didn't work for them.
While it is great that Alpha Brain has two human clinical trials behind it, the actual sample sizes are quite small, and the authors themselves admit that more research and duplication is needed before the results can be considered definitive.
Customer Reviews
The following reviews are taken from the official Onnit website:



The following are on Amazon.com, where Alpha Brain has a 3.3 rating out of 5 after 739 reviews.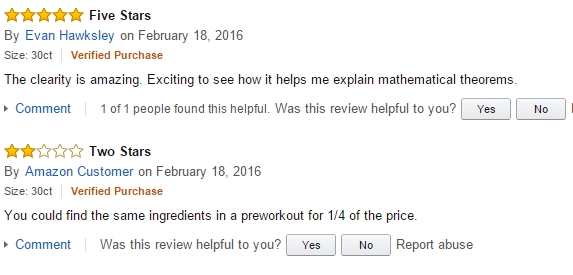 Safety/ Side Effects
Onnit has sold more than 34 million capsules of Alpha Brain and there are few reports of any side effects. The fact that it does not contain caffeine is a bonus, and all the ingredients within the supplement are generally considered safe. Some users have, however, reported mild headaches.
Health Warnings
Onnit advises you to consult a doctor before taking if you are pregnant, nursing, take any medications or have or suspect a medical condition.
How to Take It
For improved mental performance, Onnit recommends taking two tablets in the morning or early afternoon, ideally with a light meal. To enhance your dream state, take them instead four to six hours before sleep. Never take more than three capsules in 24 hours
Does It Work?
Does Alpha Brain work? Thirty-four million capsules sold would surely suggest it does. As do numerous reviews on the internet, and two clinical human trials (caveats above aside).
Editor's Note: On a personal note, I used to use Alpha Brain until Mind Lab Pro came along, and it worked for me. I noticed a definite improvement in my motivation and focus, and discovered I had more mental energy to face the day. As promised, it boosted my verbal memory, focus and concentration; the results just weren't as pronounced as they are with Mind Lab Pro.
Read more on Mind Lab Pro and our Top Rated Nootropics of 2019
Conclusion
Alpha Brain uses solid and effective nootropics in its blends, and may have a secret weapon in AC-11 should further research prove its effectiveness. It's just a shame that while the manufacturers are obviously committed to creating an effective product, it still feels the need to hide behind blends that obscure individual dosages. We do have to give Alpha Brain props, however, for resisting the lure of caffeine and for the (albeit small) human clinical trials.
The majority of customers for this product seem very happy with it, and so this is one nootropic stack that we are pleased to recommend.
Where to Buy
You can buy directly from the Onnit website, or buy Alpha Brain from retailers like eBay and Amazon. It is also available at the Vitamin Shoppe. It does not seem to be available at GNC as yet.