This page may contain affiliate links and we may earn a small amount of money from any products bought. Our reviews, however, remain independent and impartial.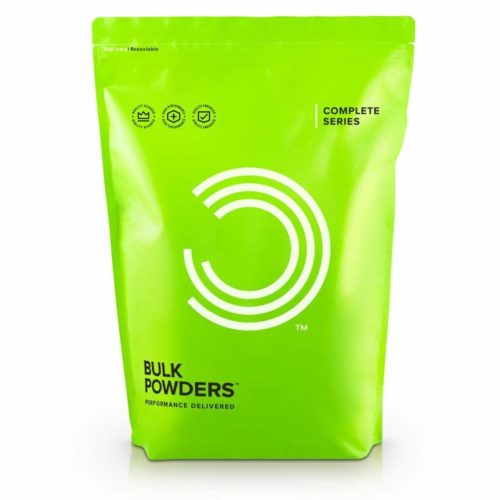 Bulk Powders are notorious for their level-headed approach to designing their supplements, and Complete Mass looks to be no exception.
Mass gainers can often be loaded with sugar and need an industrial blender to whip them into a drinkable state. But when it comes to building muscle, there's no doubt they're a powerful tool in your supplement arsenal.
From the outset, Complete Mass is simple, clearly defined and seriously good value, so let's take a closer look.
---
» See the #1 Mass Gainer This Year «
---
Ingredients
Slow and Fast Release Protein Blend
Whey Protein Concentrate (40%)
An expected addition, whey protein is the fast part of the protein blend, and a concentrate is standard in mass gainers. Whey is a bi-product of making cheese and yogurt and is then processed to strip the extraneous fats and sugars while preserving the complete amino-acid profile.
Bulk powders produce their own supplements which lends to their ethos of high quality at affordable prices, and I really hope this is the same concentrate as seen in their Pure Whey which sits at 82% protein by weight and is of brilliant quality… and it will remain a hope as the whey percentage isn't listed.
Milk Protein Concentrate (40%)
Slightly less processed than whey, milk protein is made up of a 1:4 ratio of whey to casein. It's a cheap and pretty effective way to get your casein in which is the slow element of the Complete Mass protein blend.
Casein is a longer chain protein compared with whey; this slows its breakdown and absorption which is perfect for stringing out the bio-available protein for your fatigued muscles to use in repair. Casein also has the interesting nature of forming fibre-like gel in the intestines which further slows its absorption.
Even though micellar casein is more expensive in its pure form, I'd usually prefer to see it instead of milk protein due to the fats and sugars contained in milk protein. But in this case, the other sugars in Complete Mass are so low that this is actually a great choice by Bulk Powers and saves costs that would otherwise be passed onto the customer.
Egg White Powder (20%)
Egg white powder is pretty much what you'd expect: separated white from the yolk and dried into a powder. The egg white, also known as the albumen, has had most of the fat removed and is pretty much pure protein with some B vitamins.
Fat absorbing and high in leucine — our favourite muscle building amino acid — eggs are a must in your bodybuilding diet.
Adding them to Bulk Powders Complete Mass no doubt improves mix-ability and the mouthfeel, compared to some of the stodgier ingredients, as well as providing a variation of protein. Which we can definitely call a positive.
Ultra-Fine Scottish Oats
I love oats. And so should you. The main difference between a mass gainer and normal whey (or other) protein shake is the added carbohydrates that provide you with the calorific boost to hit that 20% above-your-maintenance calorie intake needed to build mass.
Bulk Powders uses only oat flour to provide the extra carbs in Complete Mass and this really great to see. Not only are oats low GI, meaning they don't raise blood sugar sharply like refined sugars, but they're also linked with a load of health benefits thanks to being high in beta-glucans.
Beta-glucans are sugars found in bacteria, yeast, algae, oats and barley that help reduce LDL (bad) cholesterol leading to improved cardiovascular health and reduced risk of heart disease and stroke. They've also been linked with a boosted immune system and reduced blood pressure.
Glutamine
Glutamine is the most abundant of the 20 naturally occurring amino acids, found in meat and eggs and in high quantities in whey and casein. Unless you're deficient or eat a diet where these foods are avoided, like vegans or low dairy, glutamine probably doesn't need to be supplemented, though it can be beneficial in some cases.
Common belief assumes that glutamine helps to increase muscle mass, but research suggests supplementing doesn't increase muscle mass or body composition in athletes already consuming decent quantities of meat and dairy. However, it may help athletes and gym goers recover strength quicker following resistance-training sessions and reduce muscle soreness. It may also potentially reduce the likelihood of infections in intense-training endurance athletes.
L-Leucine
L-Leucine… our big BCAA and always welcome in any muscle building supplement. Activator of the mTOR which then promotes muscle protein synthesis, Leucine should be in your supplement regime.
The inclusion here by Bulk Powders is clever. Research into the degree of skeletal muscle protein synthesis in response to taking leucine has shown that even though leucine interacts positively with the mTOR activator-protein, it only does so down one pathway. Insulin, however, works down another.
So, by consuming Leucine with enough carbs to raise insulin levels, the mTOR activator is maximised down both pathways. In other words, the carbs-insulin muscle protein synthesis synergises with Leucine consumption to boost muscle building. The 5g included in Complete Mass is spot-on too.
MORE: Best BCAAs to Buy in UK in 2019
At-a-Glance: Bulk Powders Complete Mass
---
---
Pros
Simple and effective ingredients
Solid protein blend
Broad spectrum of amino acids
Super-low in sugar (1.7g per serving)
Added Leucine synergises with carbs
Good value for money
Not a giant portion
Cons
Milk protein instead of micellar casein
A hard gainer may need to consume more than one portion per day (538 calories per serving)
Some users complain about the poor taste and chalky texture
User Reviews
The following reviews comes from Amazon UK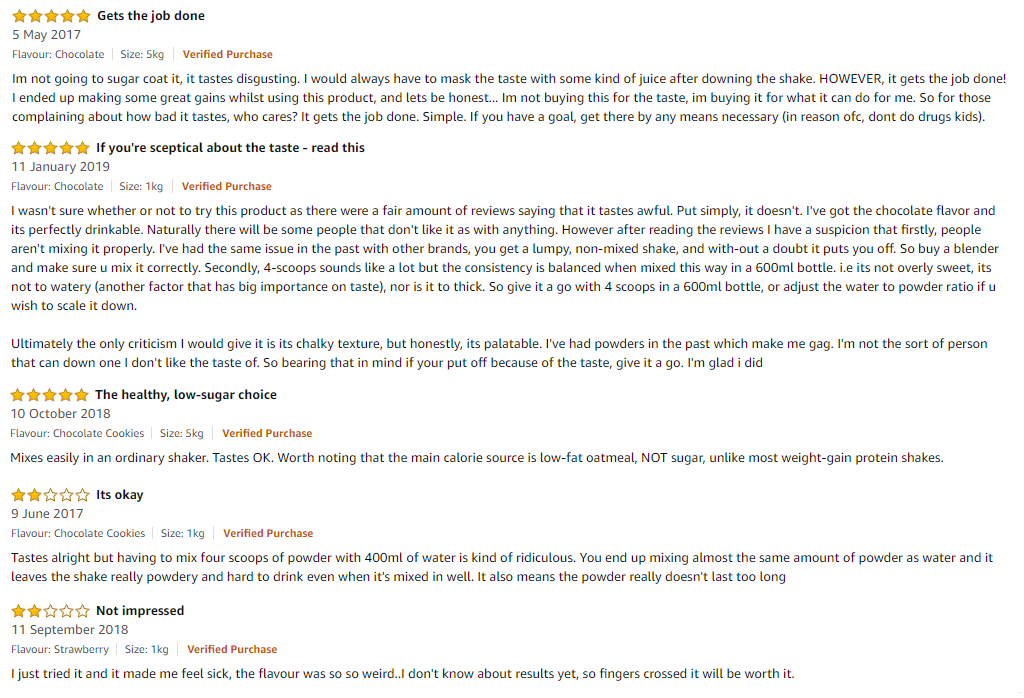 Safety/ Side Effects
Other than the listed allergens below, you shouldn't experience any side effects at the listed doses. As with all protein supplements, some bloating or indigestion is sometimes reported.
Listed allergens: gluten, milk, soya, milk, egg
How to Take It
Add four scoops (135g) of Complete Mass and 400ml of water to a shaker and blend. Take 1-3 servings per day.
Who Takes It?
Bulk Powders Complete Mass is for anyone hitting the gym who's looking to build muscle mass. Whether you're new to building muscle or been lifting for a while without the results you want, Complete Mass is designed to give your nutrition the healthy boost in calories it needs to start building muscle.
Conclusion
On the outset, the one downside to this product is that it only provides 538 calories per serving. However, I think this is a hidden benefit.
The problem with huge, gloopy, 1,000 calorie mass gainers is that unless you're on point with your nutrition around the clock, they're so filling you'll end up pushing back or missing a meal.
With Complete Mass you can take it post-workout and you'll be ready for your next meal no problem.
The big winner here is the simplicity of the ingredients and the carbs-leucine synergy. The latter pairing will elevate muscle protein synthesis and the milk protein will provide lasting protein for the following hours.
So many mass gainers are stuffed with sugars to raise the calories on the tin, but here it's just low-GI oats that provide your muscles with the clean energy they need to build muscle.
By not adding refined, expensive or extraneous carbs or sugars, Bulk Powders cut costs without skimping on quality.
I'm firmly in the camp of keeping your supplements clean, effective and intelligent and Complete Mass is a decent example of this without the hefty price-tag.
---
» See the #1 Mass Gainer This Year «
---