This page may contain affiliate links and we may earn a small amount of money from any products bought. Our reviews, however, remain independent and impartial.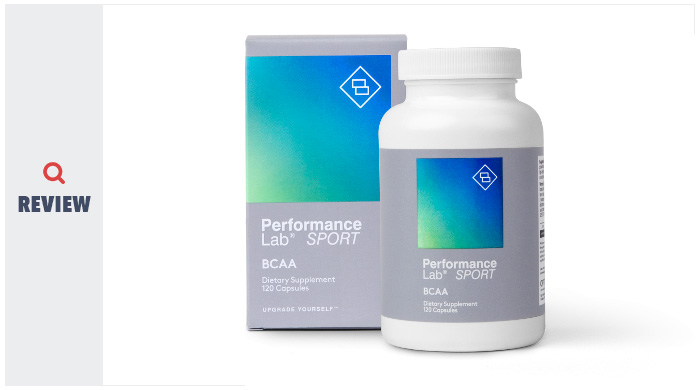 Branched-chain amino acid (BCAA) supplements have made a come back in the fitness and bodybuilding communities in recent years and there's a good reason for that. There is more research supporting the use of BCAAs and their effectiveness than there is on most other supplement types on the market.
BCAAs are used by athletes to boost exercise performance and to reduce protein and muscle breakdown during intense training. This review focuses on Performance Lab® SPORT BCAA, which is, heads up, our favourite BCAA supplement on the market today by far.
Performance Lab® SPORT BCAA
Performance Lab® SPORT BCAA describes itself as a foundational supplement for muscle growth and development. It supports protein synthesis and muscle maintenance, lean muscle development and provides energy for the muscles.
The branched-chain amino acids in Performance Lab® SPORT BCAA are specifically designed for performance and muscle durability by:
Aiding muscle construction,
Increasing the rate of protein synthesis while slowing down the rate of muscle breakdown
Enhancing anaerobic and aerobic performance,
Optimising ATP energy levels within muscle tissue
Reducing the impact of fatigue-inducing chemicals that make the muscles stiff and sore
Increasing the rate of muscle regeneration and recovery.
But it is its cleanliness and its simple formula that puts it head and shoulders above its competition. Performance Lab® SPORT BCAA has strong potency and excellent muscle-building ratio, making the most of this ultimate nutrient for the muscles.
BUY Performance Lab SPORT BCAA
The Ingredients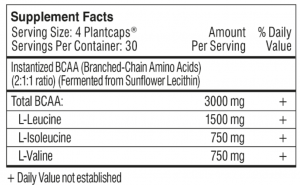 Performance Lab® SPORT BCAA is a standalone BCAA supplement, and we like the fact that it doesn't feel the need to add any bells or whistles to complicate it.
It includes L-Leucine (1500mg), L-Isoleucine (750mg) and L-Valine (750mg) in a clinically effective 2:1:1: ratio. This matches the natural ratio of branched-chain amino acids found within muscle tissue, potentially making it easier for the body to absorb and use. The 3,000mg  in Performance Lab® SPORT BCAA provides a solid dose of all three amino acids.
Fermented from Sunflower Lecithin, these are also premium highly bioavailable forms of the amino acids, helping Performance Lab® SPORT BCAA to be even more potent. This natural clean form of BCAA may support greater muscle building activity and have fewer digestion-related issues.
The Pros
Clean, premium and solid BCAAs
Fermented from sunflower lecithin for improved digestive comfort and tolerance
Natural and safe
Provides support for long-term fitness goals and exercise
Exceptionally clean label. Performance Lab® SPORT BCAA is vegan-friendly and contains no GMO ingredients. It is also GMP-certified; synthetic additive, gluten, soy and allergen-FREE, and uses prebiotic-infused 100% natural Plantcaps®
It offers the best 2:1:1 BCAA formula ratio in generous dosages
Prevents muscle catabolism or break down
Almost immediate absorption into muscle tissue
Prevents fatigue; encourages energy level stabilisation
Discounts available for multiple box purchases
Free Worldwide shipping on Orders over £150
The Cons
Only available at the official website and not for sale on Amazon or High Street stores.
Safety/ Side Effects
Brand-chained amino acids are one of the safest sports and fitness supplements out there. Based only on natural ingredients, BCAAs pose little to no side effects. True, some people have reported fatigue and loss of coordination when taking BCAAs but that appears to be with very high dosages which this product doesn't deliver. (Note too that mega dosages of BCAAs may also deplete B vitamins with associated health issues. Stick to Performance Lab® SPORT BCAA and you will avoid that problem.)
The clean and potent sunflower lecithin formula contained in Performance Lab® SPORT BCAA amino acids are free from GMO, gluten, soy, colorants, preservatives and other synthetic additives that might decrease tolerance.
There should be no need to cycle this product.
How to Take It
For optimal and best results, Performance Lab® SPORT BCAAs are taken 2-4 capsules 45-60 minutes before a workout and 2-4 capsules after the workout. During extra high intensity workouts, the dosage may be increased by extra 2-4 capsules in the middle of the workout session.
Who Takes It?
BCAA supplements are a perfect sport and fitness foundation for any fitness programme. BCAAs are highly recommended even for complete amateurs and sports professionals.
Does it Work?
Brand-chained amino acids are a broad-spectrum muscle growth, regeneration and protection supplements for proper muscle health. Their effectiveness has been proven in numerous clinical studies. BCAAs have been shown to reduce exercise-induced muscle damage, for instance, while leucine in particular has been shown to increase muscle mass and training performance.
Participants given BCAAs during exercise reported feeling 15% less fatigue as a result of supplementation.
BCAAs may even boost the immune system as was proved in this study on triathletes where supplemented athletes reported fewer infection symptoms.
There are many more studies. As I said at the beginning of this review, BCAAs have been researched probably more than any other supplement on the market today.
Conclusion
BCAAs are so versatile that many manufacturers have been rolling them in with other supplements, seemingly unable to avoid the temptation of dropping them into proprietary blends or making them more complex.
We say there is just no need for it; all it does it dilute their power. We love the fact that Performance Lab® SPORT BCAA doesn't get bogged down with 'formulating' unusual concoctions – instead, it delivers a standalone natural highly bioavailable top-notch BCAA supplement.
BCAAs may well be the most valuable supplement you can take to pack on lean muscle mass, helping to boost endurance and training intensity in the gym, as well as encourage muscle growth and prevent its breakdown afterwards. Consider it a pre- and post-workout at the same time, and heck, an intra workout too. It's not one to skip.
Performance Lab® maintains its superior standard of supplements with Performance Lab® SPORT BCAA. Its emphasis on purity (fermented sunflower, the purest source around) and absorption (its 2:1:1 ratio, ideal for muscle uptake), helps it claim the top spot. Deservedly so.
Continuing with the pure theme, Performance Lab® SPORT BCAA is gluten, soy, allergen and GMO-free; contains no additives or synthetics; is free from banned substances; uses Plantcaps® and is vegan friendly. You don't get much cleaner than that.
BUY Performance Lab SPORT BCAA