This page may contain affiliate links and we may earn a small amount of money from any products bought. Our reviews, however, remain independent and impartial.

We select the best supplement stacks for performance at the gym, at work, at rest and play…
In this article, we're going to talk about stacking supplements: why you might want to, how to do it and what to look for in an ideal performance stack. We're also going to recommend some of our favourite stacks and combinations of products for you to try out. But first, what do we mean by stacking?
About Stacking
The idea of a stack is a very simple one: it's combining different supplements to get the best effects of each – and possibly even better benefits than if the individual supplements are taken independently.
Here's a super easy example: instead of taking a pre-workout supplement before exercise, or just taking a post-workout after exercise, you take both! Perhaps you even combine them with an intra-workout to ensure you're supporting your training before, during and after. That's an example of functional synergy or stacking supplements towards a specific goal, as we'll come to talk about shortly.
In a nutshell, you gain more benefits by combining some supplements together than you would taking them independently, or not taking them all. The key, of course, is to find the products that go well together – safely and effectively – which is where our recommendations come in!
Stacking is a pretty common idea in elite athletes and bodybuilders because nutrients tend to interact in interesting and beneficial ways. Equally, you're probably already getting some examples of nutrient stacking in your diet when combining different foods.
The idea is similar but when you combine supplements, you're focusing on a more concentrated and deliberate kind of nutrient intake. Supplements offer a way of capitalising on these combinations with high-concentration products and allow you to control your intake closely and use it to optimise performance/health.
Today we're going to look at some examples of stacking and some principles of best practice. These will help you get the most out of the supplements you take and evaluate the market in an informed, actionable way.
Types of Synergy: Why You Should Stack Your Supplements
There are only two reasons for stacking supplements, but they tend to be convincing on their own and together. The first reason is synergy: some compounds work best when combined or taken on the same day. The second reason is simply convenience.
The synergy of some compounds with others could be chemical or functional. Chemically synergistic compounds are more effective when combined than when taken separately – like L-theanine and caffeine, or Piperine and Citrulline Malate. There's a biological mechanism for them working better together.
Equally, functional synergy is when two products or compounds are best combined for the same goal. As I mentioned above, a pre- and post-workout product are synergistic since they contribute to the same goal – this isn't what you'd call synergy in a biology class, but the contribution to the same end goal is a significant positive reason to combine the two.
Convenience, on the other hand, is easy to understand. Taking a well-structured supplement stack allows you to ease off the pressure of "does this supplement or that one work?". The combination covers all the bases and can make the selection and use of a supplement much simpler!

How to Choose a Supplement Stack
Obviously, read our guide. Now you're here and doing that bit, there are a few factors to look at:
Ingredient Synergy: do the ingredients work well together? Things like caffeine and theanine (or choline with a vitamin B complex) are a perfect example, while Piperine combines well with everything. Take the time to look for the best combinations for your goals!
Functional Synergy: this is about the goals that products contribute to. Workout performance, recovery, sleep, or energy levels are all simple and effective examples you'll see all over the market.
Individual product quality: Duh. You want a stack made up of individually high-quality products and ingredients. A great source, brand, and manufacturing practices add up to a better product – whether you're going for a stack or just one supplement.
Value and Combination: if you can, get your stacks designed to work together or sold all in the same place at a price adjustment. There are great practical or functional benefits you can get by finding a product line that is designed to work together – and we'll see that with lines like the Performance Lab SPORT range or the Hunter products.
Keep these simple steps in mind when you're looking for supplement stacks and remember that a stack is only as good as the weakest link. Consistent excellence is what we're looking for here – and even better if they combine to be even better than they would be alone!
Our Favourite Supplement Stacks
Some of the following stacks are already sold together, which is great as it tends to save you money. Other products may need to be bought separately, but we've tried to choose complementary products from the same lines to make it easier.
Now that you know the sort of things to look out for in a performance stack, you can also try to make your own stack too!
The Traditional Workout Stack: Courtesy of Performance Lab SPORT Range
Performance Lab Pre, Carbs, and Post-Workout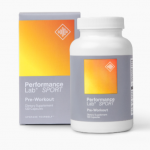 This stack is an upgraded take on your usual workout supplementation – polished and improved for the new generation of supplements.
Performance Lab's SPORT Pre, Carbs, and Post are the key players in this stack. It should be easy to understand what this aims to do based on the names alone: pre-, intra-, and post-workout nutritional support for the best performance and recovery.
We've mentioned the SPORT Pre before, as it's one of our favourite pre-workout products. This kind of product is aimed at preparation to support the best performance during your training – a key determinant of your results.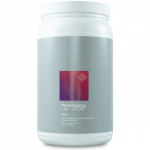 The SPORT Carb is there because carbohydrates are great for exercise. They are your body's short-term fuel source, and proper carb intake is key to reducing fatigue and improving your performance. Taking them during a workout will improve physical and mental performance.
The Post-workout supplement is designed to capitalise on a good workout. During recovery, nutrient needs are higher so your muscles and body can repair, replenish, and grow. The creatine, pink Himalayan salt, and coconut water in Performance Lab Post all add up to maximise rehydration and electrolyte balance after a workout – a key factor in recovery and reducing muscle damage.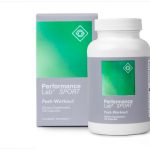 By combining Performance Lab Pre and Post, you're combining beta alanine and creatine (in superior form, Creapure®), a combination shown to product the best muscle benefits. Adding Performance Lab Carb helps to give you the energy you need to make your workout count.
All supplements in the Performance Lab line are designed to work well together safely and effectively. As all these products are stim-free, you don't need to worry about excessive caffeine intake from combining them.
Additional Benefits: These products are GMO-free, 100% vegan and free from common allergens and synthetic additives. They are also made in an FDA approved lab to GMP standards.
BUY: You can buy Performance Lab Pre, Post and Carb directly from the Performance Lab website.
MORE: Read our individual reviews on:
**********
The Burn and Work Stack: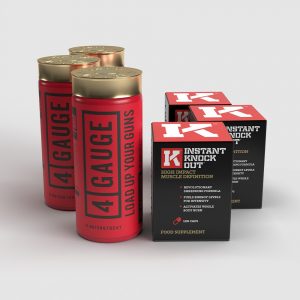 This combination synergises a fat burner and pre-workout. The combination of a high-quality fat burner with an impressive pre-workout makes total sense. The idea is to contribute to all-round fat loss while also improving your performance during the time you're using the most calories: during exercise.
Don't forget: a fat burner on its own will do little. It needs to be combined with a strong diet and exercise regime in order to encourage additional fat loss, so what better product to combine it with than a pre-workout that helps you to train for longer and harder. Together, both products can help you gain maximum muscle gain/ definition while helping you target your ideal body fat percentage.
The capsaicin and green tea extract in Instant Knockout, for instance, work together to increase calorie use and preferentially burn fat instead of muscle. While the caffeine and theanine in 4Gauge combine well with these to increase overall calorie use and awareness, while reducing side effects, which is a great synergy
The result of this stack? Maximising fat burning while also improving workout performance. Contributing to short-term fat loss but, perhaps more importantly, long-term metabolic wellbeing!
BUY: Both these products are made by the same manufacturer, who is already selling them as a stack. Buy 3 months' supply of both, with free worldwide delivery, for £149 at time of writing. There is a discount of more than £30 when buying together as a stack.
MORE: Read our individual reviews on:
 **********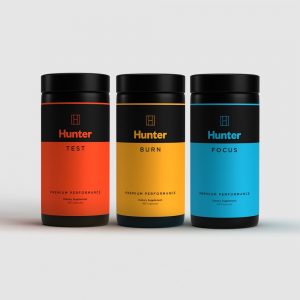 This is a male performance/wellbeing stack that takes advantage of the fact that the three Hunter products – Burn, Test and Focus – are designed to be safely taken alongside each other. The combination contributes to comprehensive support for performance, fat burning, health, better workouts and a stronger focus.
As the names imply, Burn is a fat burner. Test is a T-booster, while Focus is a nootropic.
Hunter Burn uses glucomannan to suppress the appetite and matcha green tea and Capsaicin to boost thermogenesis. However, the secondary ingredients like D3 and L-Theanine are stand-out within the industry. These are the kind of additional layers of wellbeing and mental performance support that really make it stand out as one of our favourite fat burners for the over 30s/ 40s man.
Hunter Test is even more specifically aimed at men who want to live their best lives from their 30s onwards. It's a product that aims to combat testosterone deficiencies and support normal hormonal wellbeing – especially with reductions in stress, contributing to healthy hormonal balance.
For example Vitamin D also contribute to overall wellbeing and metabolic/hormonal support – especially in men who are past their 20s. Compounds like vitamin D and DAA offer testosterone support in the short- and long-term, while Ashwagandha and Ginseng combat stress and testosterone suppression.
Hunter Focus is the Hunter take on a nootropic – or mental performance product. This improves focus, tackles stress, and aids memory, concentration, and fights fatigue. This combines well with Hunter Test for better mood, mindset, and mental performance!
If you combine the three of these, you're investing in vitality and performance. The focus is clearly on men – and specifically those in their 30s onwards, who want to take back control of their body and mental/physical performance.
BUY: You can buy a ready-made stack of the Hunter trio, sold in a three months' supply (three bottles of each, nine altogether). We're not going to lie – it is a big commitment at £399, but you do benefit from a £96 discount when buying the stack together rather than individually.
MORE: Read our individual reviews:
**********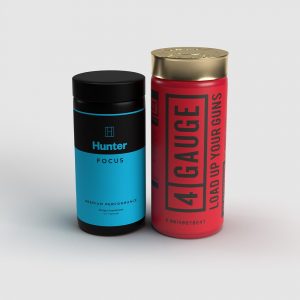 Once again, the name gives the game away; this is a stack designed to improve energy and focus. It does this in both the short- and long-term with ingredients like Choline and N-Acetyl-Tyrosine that fight fatigue and improve focus.
On top of this, you're going to be getting nutrients like Theanine and ALCAR, which are proven to be some of the absolute best mental support nutrients. These are positive influences on everything from mood to memory to fatigue-fighting. The result is a happier, healthier, sharper mind – and it even improves your response to the caffeine in 4Gauge, with fantastic results.
4Gauge is a pre-workout supplement, which means it primarily focuses on the short-term energy and focus you need to have your best workout. This is important because the perception of fatigue is a huge make-or-break factor in how good a session is (especially if you're having a busy day).
The Hunter Focus – as mentioned above – is a supplement for general, all-day mental performance. It contributes to the long-term nutrient-based energy levels you feel throughout the day with vitamin B and other key, commonly-deficient nutrients.
Combining the two is a powerful way to improve your mental and physical performance at all times,  whether you need the extra boost to maximise your training or just empower yourself during long working days (or nights)!
BUY: You can buy the one-month Starter Energy & Focus Stack direct from the manufacturer for £69, a saving of £11 when compared to buying them separately.
MORE: Read our individual reviews on:
Stim-Free Energy and Focus Stack: Performance Lab Energy and Mind Lab Pro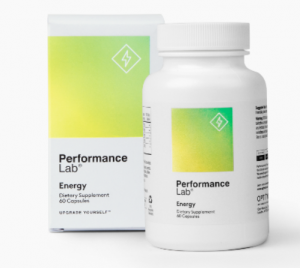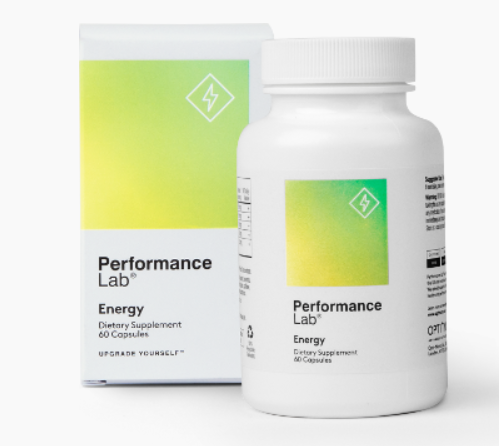 If you're looking for a stimulant-free version of the above energy and focus stack, you can ditch the caffeine and go with the nutrient-driven energy of Performance Lab's Energy and Mind Lab Pro supplements.
These products lean on key brain-boosting amino acids to support your performance, without any of the caffeine. Not everyone can handle caffeine and stim-free supplements enable you to control your caffeine intake.
Performance Lab Energy works by boosting your own energy at a cellular level, encouraging the body to naturally produce more of the ATP energy you need to power every single cell and function in the body.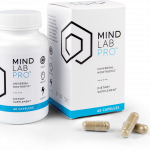 The addition of Mind Lab Pro to this stack will also provide significant mental and psychological support – crucial when one in 6 people report mental health conditions. This product includes 11 proven nootropics, including anti-anxiety and focus ingredients like NALT, Rhodiola and theanine.
Mind Lab Pro is one of the strongest nootropics around and includes ingredients to look after long-term brain health.
This stack is an excellent alternative if you're concerned for your caffeine intake or just want a nutrient-based approach to mental performance without any compromise in quality or effectiveness!
BUY: Buy Performance Lab Energy from the Performance Lab website
Buy Mind Lab Pro direct from the manufacturer at https://uk.mindlabpro.com/
MORE: Read our individual reviews of
**********
The Night & Day Support Stack
Performance Lab Mind and Performance Lab Sleep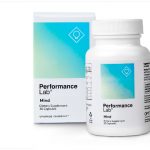 We're coming back to Performance Lab for the night and day performance stack because they are both caffeine free and contribute to proper circadian rhythms. These are the waking/sleeping cycles that are attuned to the cycles of day and night.
The caffeine-free Performance Lab Mind nootropic is a great way to improve daytime mental performance without compromising your night-time rest and recovery. This contributes to an even better day time because – as you should know – quality sleep means quality waking hours! Sleep deprivation negatively influences mental and physical energy, performance and focus.
Performance Lab Mind has earnt its position as our Number 1 Nootropic to Buy in the UK in 2020.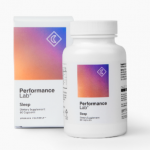 The Sleep supplement takes this as its starting point; improving sleep is the goal and it does this brilliantly. It uses l-tryptophan, magnesium and an all-natural form of melatonin (Montmorency tart cherry) to lower blood pressure, reduce stress and help you fall asleep easier and enjoy a more restful sleep.
Combatting daytime anxiety and supplementing key sleep-supporting nutrients like the above produces a more restful, effective, and ultimately performance-boosting sleep!
BUY: Performance Lab Mind here
MORE: Read our reviews on:
 PAIRS WELL WITH: Whole-Food Multi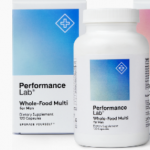 If you want to make your own performance stack or add a further product to the mix, we recommend Performance Lab Whole-Food Multi (for men or women). This multivitamin offers nature-identical forms of common vitamins and minerals with all the co-factors, enzymes and more that you find in nature. This makes them more bio-available and easily absorbed by the body.
Final Thoughts
Overall, we like stacking as a way of maximising your results without putting too much extra work into your daily routine. The combination of supplements allows you to squeeze out the maximum value and benefit of each product and support your own goals.
There are tons of quality combinations – these are just our favourites. We recommend looking into what nutrients support your goals and which ones combine, because a well-built stack like those mentioned above can make a serious difference to whatever results you're chasing.
Building a great diet combined with a quality supplement stack goes a long way, and we hope you take this information and put it to work in your own fitness journey! If you've got a favourite combo or any questions about the products/stacks/principles we've listed, let us know!