This page may contain affiliate links and we may earn a small amount of money from any products bought. Our reviews, however, remain independent and impartial.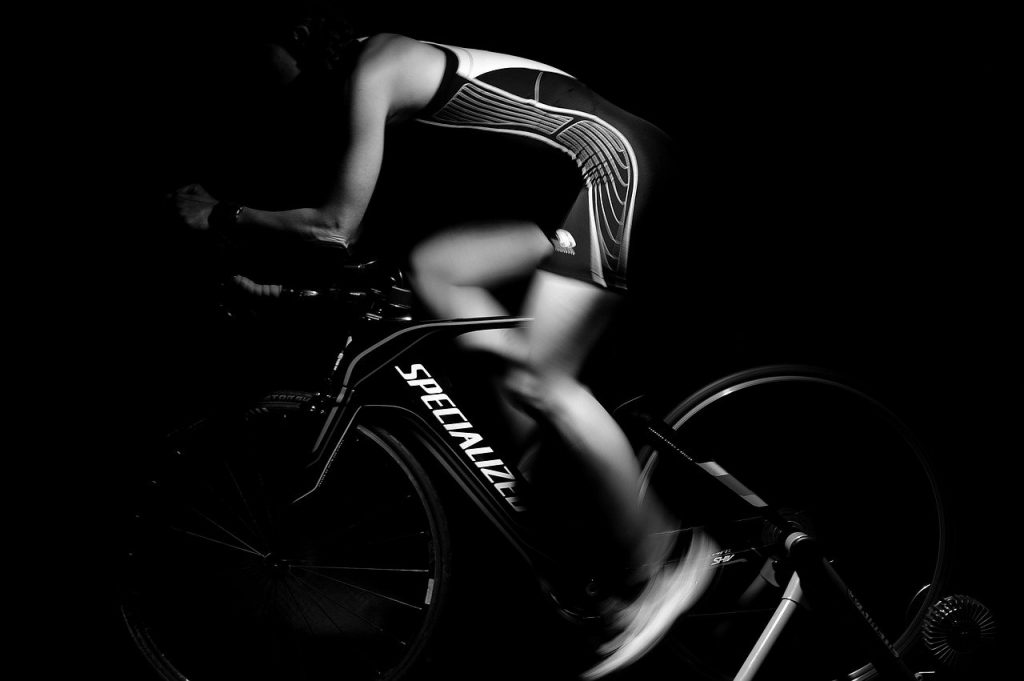 If you're not including Branched-Chain Amino Acids (BCAAs) in your supplement stack, then you're missing out on gains in muscle growth, strength and power. Make 2020 the year you finally reach new heights on your fitness journey by trying one of our recommended 'best BCAAs to buy in the UK in 2020'.
Why Use BCAAs?
What are BCAAs exactly? You'll have deduced already that they are amino acids. Amino acids are the building blocks of protein, and there are 20 of them. Your body can produce 11 of these naturally, the remaining 9 you need to get from your diet. These 9 are called 'essential' amino acids.
Of these 9 essential amino acids, 3 form the group known as BCAAs, and they are leucine, isoleucine and valine. If you were to look at the molecular structure of these amino acids, you would see that each of them has a branch off to the side of the main structure. This is how they got their name.
But if you're already taking a protein supplement, why should you add BCAAs as well? This is a great question, and one that often stops people from investing in BCAAs separately. Unfortunately, those people miss out on these 3 key benefits…
Build More Muscle
BCAAs, and in particular leucine, encourage muscular protein synthesis. When you work out, the rate of protein synthesis in your body goes down. This means that when you have your protein shake after a workout, your body is not being particularly effective at using that protein.
Taking a BCAA will increase protein synthesis and therefore help you build more muscle.
Recover from Exercise Faster
So, we've established that BCAAs help proteins to be used more effectively to build and repair muscle. During the post workout phase this means faster recovery and more gains. The effect continues during rest days too, meaning your body stays in an anabolic, muscle-building state for much longer than it would without additional BCAAs.
Have More Energy
BCAAs are different to other amino acids because they are broken down in your muscles rather than your liver. This means they help you produce more energy from your muscles during exercise.
BCAAs can also fight fatigue in your brain too. This happens because the volume of amino acids in your body can limit your body's ability to transport tryptophan to the brain. Fatigue increases as more tryptophan crosses the blood-brain barrier, so more BCAAs means less tryptophan in your brain and a reduced sense of fatigue.
These are significant benefits, and ones that you mostly can't get from other supplements. BCAAs compliment protein perfectly, and the two together can really turbo-charge your muscle building potential.
What Should You Look For in a BCAA?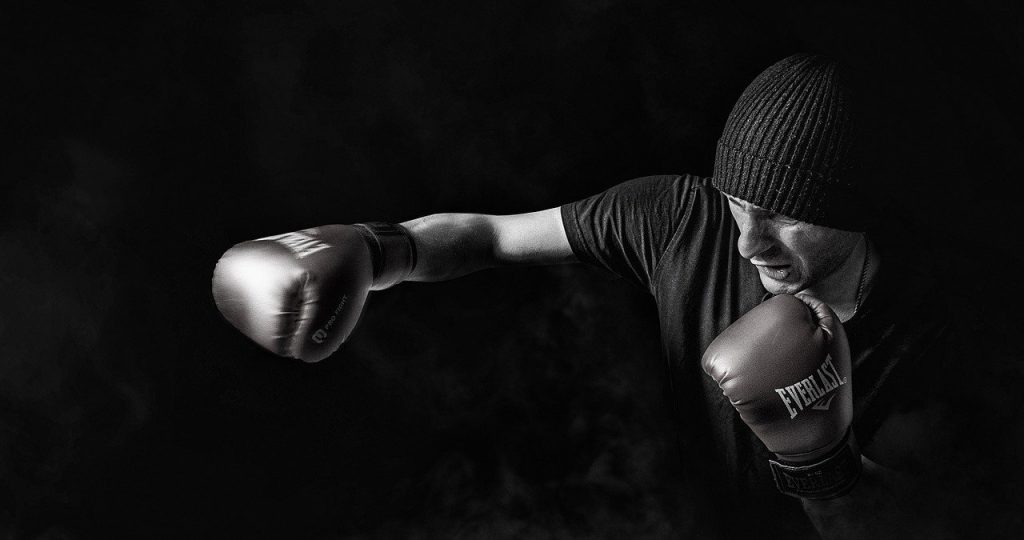 The main thing to be sure of before buying a BCAA is that the formula does indeed contain the 3 BCAAs; leucine, isoleucine and valine, and in a sensible ratio too. The best BCAA supplements contain at least 2 parts leucine to 1 parts isoleucine and valine. There's no defined recommended dose, but you should aim for 3-6g of total BCAAs per supplement dose.
You can get BCAAs in powder or capsule form, and it's really a matter of personal preference. The powders are absorbed a bit faster, but capsules are easier to carry around and take on the go.
We recommend avoiding BCAA formulas with a lot of unnecessary filler. One or two other ingredients are fine, as long as they complement the effects of the main ingredients. Mostly you want to look for simple formulas that are transparent about the ingredients and quantities used.
So, with that in mind, let's look at the best BCAAs to buy in the UK in 2020!
The Best BCAAs to Buy in the UK in 2020
Performance Lab® SPORT BCAA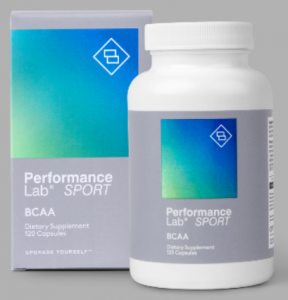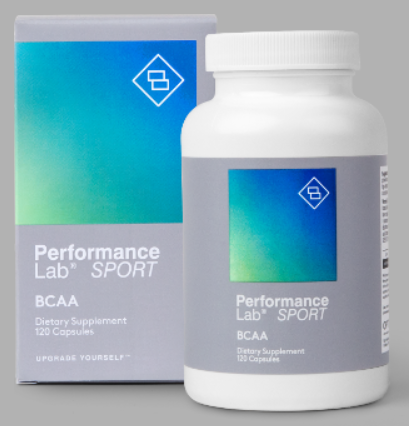 What more can we say about Performance Lab® that we haven't already said? They topped our list in 2019 and no one has managed to topple them in 2020!
Their BCAA supplement is part of their SPORT range of products, which have all been engineered to deliver exactly what your body needs to maximise exercise performance.
Performance Lab® SPORT BCAA is a straightforward, no frills formula that employs a 2:1:1 ratio in its dose. The total amount of BCAA per serving is 3g which hits the nail squarely on the head. It comes in capsules so it's super easy to take as you head into the gym.
The biggest advantage of Performance Lab® supplements over any others is the level of quality. They are serious about creating the most bioavailable supplements possible, and they do so while avoiding the use of soy, allergens, GMO or anything else that might upset the delicate balance of your body.
At £20 for 120 servings, there is tremendous value to be had here as well. Check out our full review here and head over to the Performance Lab website to grab yours now.
BUY: Direct from the Performance Lab website. At the time of writing, Performance Lab currently have a 'buy two get two bottles free' offer, which makes it even better value.
PAIRS WELL WITH: Performance Lab Protein. Add BCAA and Protein together to boost your BCAA intake even further to 5.9 g in total (2.7g leucine, 1.5g isoleucine and 1.7g valine). You also benefit from a vegan-friendly plant-based brown rice protein that is genuinely comparable to whey, with studies showing the leucine transport from its brown rice source is faster than with whey.
Optimum Nutrition Gold Standard BCAA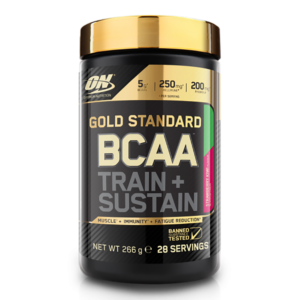 Also known for quality, Optimum Nutrition have added some extra ingredients to their BCAA supplement to support a healthier immune system and provide some other great benefits.
You get 5g of BCAAs in roughly a 2:1:1 ratio (2.6g leucin, 1.2g isoleucine and 1.2g valine if we're splitting hairs) plus vitamin C and Rhodiola Rosea – a herb that has adaptogenic benefits like preventing exhaustion and improving cognitive performance and mood.
This is a great all-rounder thanks to the ratios and added ingredients, the only drawback is the price, but then again you always get what you pay for with ON, and what you get is exceptional quality and guaranteed results.
You can read more in our full review here.
BUY: From Amazon UK
Scivation Xtend BCAA Powder
Another one making the cut again from 2019 to 2020 is Scivation Xtend BCAA powder. This formula is fairly simple, pairing the 3 BCAAs with another a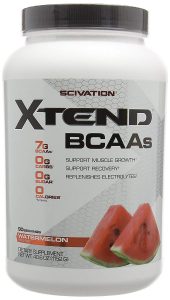 mino acid, glutamine, for a total serving size of 7g.
Glutamine is a 'conditionally essential' amino acid, meaning there are some circumstances where your body won't produce enough. It's a common supplement ingredient thanks to the benefits it brings to your immune system and intestinal health.
Recent findings have pointed to a possible benefit to recovery time as well, which means that glutamine will help your muscles recover even faster after a workout.
Price-wise it's on the top end, but it will get to work in your body quicker because it's a powder, and the added glutamine is worth the little bit of extra expense.
If you want to read more about Scivation Xtend BCAA then check out our full review.
BUY: From Amazon UK
The Protein Works BCAA Extreme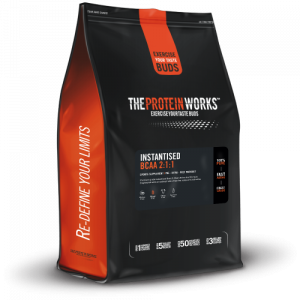 Our 2019 list featured the vanilla BCAA powder from The Protein Works, but this year we're going for BCAA Extreme, the upgraded version. Why? Well, go big or go home, quite simply!
TPW have gone for a 4:1:2 ratio of leucine, valine and isoleucine here and added some extra ingredients for enhanced immune system support. Like Gold Standard BCAA from ON, this includes vitamin C but TPW have thrown in magnesium as well, which has been shown to reduce fatigue during exercise and increase physical performance.
BUY: Direct from The Protein Works
Grenade Defend BCAA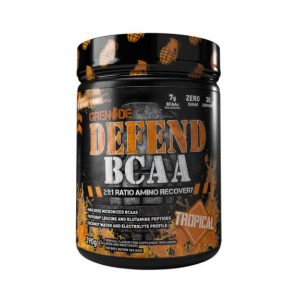 Rounding out our list of the best BCAAs to buy in the UK in 2020 is Defend BCAA from Grenade. This is a reimagining of their full spectrum amino acid supplement and they have stripped the formula right down to provide a very healthy dose of BCAAs with added glutamine and an electrolyte blend for added protection for your muscles as you work out.
The serving size is a whopping 13g, the biggest on this list, but this provides 7g of BCAAs, 1g glutamine and 325mg of electrolytes. It comes in powdered form so you have the option of halving the serving size occasionally if you want, which will make the tub last that little bit longer.
The ratio of BCAAs is spot on at 2:1:1, predictably excellent from the Grenade team. The biggest advantage here is the speed at which Defend BCAA is absorbed, thanks to the micronized quality of the powder. If you take full doses then it's the priciest of our picks, but for a product of this quality, you expect to pay a premium price.
Summary
Each of our picks offer something a little different, but they are all variations on the same theme. That theme is a way of levelling up your workout game past the obvious pre- and post-workout essentials like creatine and protein. You can think of BCAAs as a catalyst that improve every stage of the workout cycle.
If you have never used a BCAA before, or you have tried one not on this list and been disappointed then do yourself a favour – grab one of these and say goodbye to plateaus, slumps and wasted workout days forever.